Nathalie Anguezomo Mba Bikoro
Live performance Last Sundance (2016); photographic work Future Monuments - Forbidden Histories (2015); Installation SMy Name Is (2016).
As part of the co-curatorial section UNDER A DIFFERENT SUN. Obscured Histories, Female Perspectives by Chiara Cartuccia & Celeste Ricci | EX NUNC.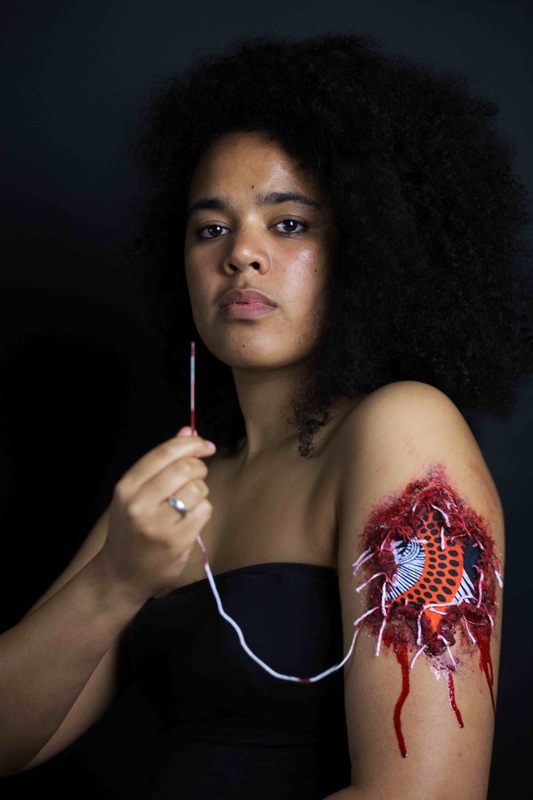 Nathalie Anguezomo Mba Bikoro, Future Monuments: Forbidden Histories (2015). Courtesy the artist.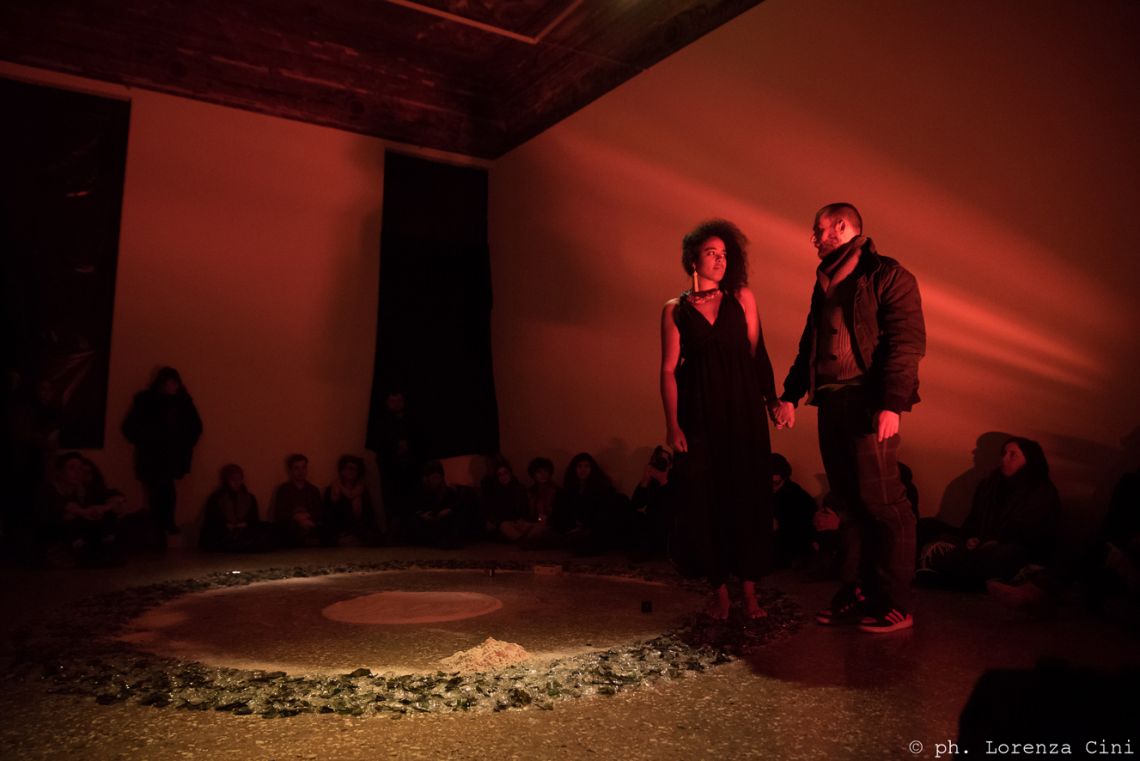 Nathalie Anguezomo Mba Bikoro, Last Sundance. Durational performance at the III Venice International Performance Art Week 2016. Image © Lorenza Cini
Nathalie Anguezomo Mba Bikoro is an interdisciplinary artist originally from Gabon and now based in Berlin, whose works develop projects between communities and collecting fractured narratives for social change through identity, memory, dialogue, history and multi-lingualisms. She investigates the creolisation of identities which comment on the fractured senses of the human condition, its constructions and interrogates counter-historical narratives of speculative futures, their landscapes and of the geopolitical imaginary.
The VENICE INTERNATIONAL PERFORMANCE ART WEEK 2016 presents:
The live performance Last Sundance,

a performance exercise on colonial memory denouncing the post-colonial urban systems against indigenous communities.

The Sun Dance is a ceremony practiced by some indigenous people of America and Canada, primarily those of the plains cultures. This performance is a promise, a warning, a legacy to First Nations peoples and their continuing fight against cultural amnesia and cultural genocides of past and modern colonisation and slavery, as well as the historical erasure and extermination of diverse Asian diaspora communities and their century-long battles of resistance against violence and racism.

The photographic work Future Monuments - Forbidden Histories (2015)

recounts honorary memory to the African Diaspora prisoners of the Third Reich during WWII. Germany's history to its colonial past has been largely neglected and makes cities like Berlin today contested terrains for belonging and to its meaning for national identity.

Forbidden Histories

launches the first intervention in the series of an open community discussion commemorating and remembering those who risked their lives to build our own in a different future yet to be written. The intervention is a proposal, a billboard to the city and a publication to investigate the irresponsibility of the German state for annulling this part of history and to create a visible memorial and archive for a global network. The memorial commemorates our collective wills and memory for the murdered African Jews in Europe and African Diaspora.

The installation

My Name Is

(2016) is part of the project

Squat Monument

telling the story of the production of World Histories; those are based on colonial systems, which strongly resists also today.
+ LIVE DURATIONAL PERFORMANCE
Presented with the kind support of the BRITISH COUNCIL.