• PERFORMANCE ART FILM PROGRAM at MoCA Belgrade (2021)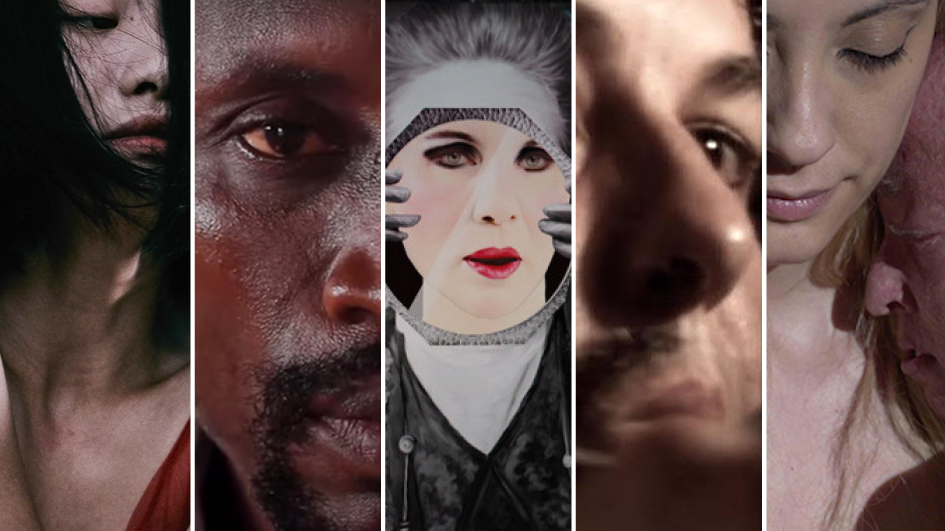 Museum of Contemporary Art Belgrade (MoCA) and VENICE INTERNATIONAL PERFORMANCE ART WEEK
present PERFORMANCE ART FILM PROGRAM
Curated by VestAndPage as part of the Performance Art Program conceived by Marta Jovanović
Museum of Contemporary Art| Auditorium Protić, Belgrade, Serbia
Starting from October 31, 2020 in regular screenings according to Covid-19 regulations
A conversation around Performance art and film between Marta Jovanović and VestAndPage streamed live on Friday, October 30, 1 pm
+ Kindly reserve your seat by sending the e-mail at info@msub.org.rs. +
The spread of the pandemic undermines yesterday's certainty. Systems are failing. Our vulnerabilities emerge and remain exposed as raw flesh. Too many people and artists are now facing unprecedented life hardship. An invisible virus is conspiring against everyone's health, the most precious gift given to us, while widespread social crises and economic recession rise at every latitude. The past squeezes into the present and forces the future to bounce back. It is as if we were walking on a tightrope with few skills left. Thus, to reach the other side, at least its edge, we take our risk, and we continue, taking care of the breath of performance art, for it inspires our resistance.
— VestAndPage
The VENICE INTERNATIONAL PERFORMANCE ART WEEK founders and curators VestAndPage have conceived the PERFORMANCE ART FILM PROGRAM at MoCA Belgrade in collaboration with artist Marta Jovanović, curator of the PERFORMANCE ART PROGRAM, to support Serbian emerging performance artists, thus, sensitising the nation's cultural institutions in this regard during these precarious times. To explore intersections, metabolisms and contaminations that exist between performance art, filmmaking and docufilm, the Performance Art Film Program will showcase an original selection of over 30 performance art films: repertoires of acclaimed performance artist pioneers and masters like Hermann Nitsch, ORLAN, Stelarc, Paul McCarthy, Guillermo Gómez-Peña (La Pocha Nostra), Franko B, Ron Athey (the film by Catherine Saalfield), late Chris Burden (the docufilm by Tim Marrinan and Richard Dewey), Lydia Lunch (the movie by Beth B), alongside ground-breaking productions of internationally recognised artists including Jelili Atiku (the documentary by Karen Andersen, Lotte Løvholm and Nanna Nielsen), Francesca Fini, Hugo Glendinning and Adrian Heathfield, Hsiang-Yun Huang and Sun-Ni Ji, late Jon John, Paul King, Kyrahm + Julius Kaiser, Pyotr Pavlensky (the documentary by Irene Langemann), Preach R Sun, VestAndPage, filmmaker Robert Adanto, and awarded art critic Waldemar Januszczak. On the last evening, emerging Serbian performance artists will present their performance-based films and videos specially imagined for this occasion. The screening of the films will take place regularly. The film program is at free admission for a limited audience due to the COVID-19 regulations. Please reserve your seat by sending an e-mail at info@msub.org.rs.
Program Partners: Italian Cultural Institute and Austrian Cultural Forum, Belgrade
---
Saturday 31 October 2020, 20:30
HERMANN NITSCH: 122. AKTION (2005)
Saturday 7 November 2020, 20:30
ORLAN: OMNIPRESENCE (1993)
Saturday 14 November 2020, 20:30
FRANKO B: MILK & BLOOD (2015)
STELARC: VIDEO SELECTION (2012-20)
TRANSHUMAN ARTIST STELARC (2014) 8min 54sec

SHORT DOCUMENTARY (2020) 11min 00sec

PROPEL BODY – BODY ON ROBOT ARM (2016) 6min 03sec

REWIRED REMIXED (2016) 5min 21sec

EAR ON ARM SUSPENSION (2012) 8min 18sec

RECLINING STICK MAN (2020) 4min 47sec

SPINNING, BREATHING: EVENT FOR MULTIPLE SUSPENSION (2012) 9min 40sec

SITTING SUSPENSION: MODULATED BREATHING (2017) 6min 08sec

SHADOW SUSPENSION (2013) 3min 12sec

STELARC EXOSKELETON (2013) 1min 47sec
Saturday 21 November 2020, 20:30
GUILLERMO GÓMEZ-PEÑA: ETHNO-TECHNO (2004) and HOMO FRONTERIZUS (2011)
Saturday 2 January 2021, 20:30
PAUL McCARTHY: PAINTER (1995)
Saturday 9 January 2021, 20:30
OTTO MÜHL AND HERMANN NITSCH: AKTIONEN (1978)
HERMANN NITSCH: 130. AKTION (2010)
Saturday 16 January 2021, 20:30
PAVLENSKY – MAN AND MIGHT (2016) by Irene Langemann
Saturday 23 January 2021, 20:30
PREACH R SUN: FOR WHITES ONLY (2016)
Saturday 30 January 2021, 20:30
JELILI ATIKU: LAGOS IN RED (2013) by Karen Andersen, Lotte Løvholm and Nanna Nielsen
BEIJING SWINGS (2003) by Waldemar Januszczak
HSIANG-YUN HUAN AND SUN-NI JI: NARROW GATE (2020)
Saturday 6 February 2021, 20:30
KYRAHM + JULIUS KAISER: Performance MOVIE SELECTION
HUMAN INSTALLATION I: GENDER OBSOLESCENCE (2010) 3min 55sec

(A)MARE CONCHIGLIE (2015) 46min 56sec

ECCE (H)OMO, GUERRIERI (WARRIORS) (2017) 16min 9sec

OLTRE IL CORPO / BEYOND THE BODY (2016) 33min 00sec
Saturday 13 February 2021, 20:30
KYRAHM + JULIUS KAISER: DOCUFILM SELECTION (2014-19)
DRAG KING: IL SOGNO DI JULIA (2014) by Claudio del Signore 11min 51sec

CLOSE YOUR EYES AND FLY (2019) 38min 31sec

DAVIDE E GOLIA (2019) 44min 48sec
Saturday 20 February 2021, 20:30
SPIRIT LABOUR (2019) by Hugo Glendinning and Adrian Heathfield
FRANCESCA FINI: HIPPOPOETESS (2018)
FRANCESCA FINI: OPHELIA DID NOT DROWN (2016)
VESTANDPAGE: PLANTAIN (2018) |
Serbian premiere
VESTANDPAGE: ANAM CARA – Mirror in the Mirror (2020) |
Serbian premiere
RON ATHEY – JON JOHN – PAUL KING: Film and video selection
HALLELUJAH! RON ATHEY: A STORY OF DELIVERANCE (1998) by Catherine Saalfield 1h 30min 00sec

RON ATHEY: ST SEBASTIEN AT 50 featuring Russel Mac Ewan and Jon John (2012) 9min 07sec

HEARTS IN SORROW (2016) 29min 12sec

LOVE ON ME (2017) 7min 25sec

FOREST (Jon John Estate Cut) (2019) 10min 25sec
BURDEN (2016) by Tim Marrinan and Richard Dewey
BORN JUST NOW (2018) by Roberto Adanto
LYDIA LUNCH: THE WAR IS NEVER OVER (2019) by Beth B |
Balkan premiere
Serbian emerging performance artists
present their performance-based films and videos specially imagined for this occasion.
NB: The dates indicated above may be subject to change. In case that should arise circumstances of force majeure which the Museum and the curators did not know of or could not have predicted, prevented or removed, (such as an aggravation of the present pandemic COVID -19), and that significantly hinder performing the film program. In such a case, the Museum and the curators will define a future time where circumstances will be more favourable to showcase the film program.
PRESS
ELLE SERBIA Projekcije filmova u Muzeju Savremene Umetnosti u Beogradu startuju od 18 časova (Nov 21, 2020)
PLEZIR MAGAZIN Spektakl u operacionoj sali (Nov 17, 2020)
The VENICE INTERNATIONAL PERFORMANCE ART WEEK is the independent live art exhibition project conceived by artist duo VestAndPage in 2012 and curated since then. It is co-organised by Studio Contemporaneo, non-profit cultural association; We Exhibit, Venice Open Gates, Live Arts Cultures and European Cultural Centre, GAA Foundation, which hosts the project in its premises in Venice, Italy.
The Performance Art Program at the Museum of Contemporary Art in Belgrade is a brainchild of the artist Marta Jovanović. It is designed as a contemporary platform to provide artists and curators from the country, the region as well as internationally, a field of action in which the exchange of ideas, experiment and creation are basic rules. This "live platform" will include performances, round tables, lectures, workshops, film screenings, and exhibitions of both local and international artists working and creating within the discipline. It aims to support local artists and initiatives, as well as to facilitate interaction and co-creation with international artists and curators in the field of performance art. Belgrade is one of the most significant historical capitals of performance art, not only in the region but also in the world: the Serbian (former Yugoslav) Avant-Garde that rose to prominence in the 1970s, with artists, filmmakers and curators including Marina Abramović, Rasa Todosijević, Neša Paripović, Ješa Denegri among others. By creating the Performance Art Program at MoCA Belgrade, the Serbian contemporary art scene is taking a step closer to the world capital cities in the domain of contemporary art.
For more information please visit https://eng.msub.org.rs and www.veniceperformanceart.org.

The VENICE INTERNATIONAL PERFORMANCE ART WEEK heartily thanks the participating artists and film directors for their generosity and commitment in making their works available for the realization of this program.