U̷n̷d̷e̷r̷ ̷S̷c̷a̷r̷s̷ A poetic witness by Marisa Garreffa
To listen is to speak.
There is power in being witness.
The wax body reaches, in youth and age, according to the skin's creases. We surrender to time together. A tremble of muscle quivers its path through crowded bodies, bearing the weight of water. What do we reach for? I reach for you. We reach and we fall, together. The arms are shaking with weight, black water ready to spill, to seep into floors of marble, truth in the stain. Reflect me.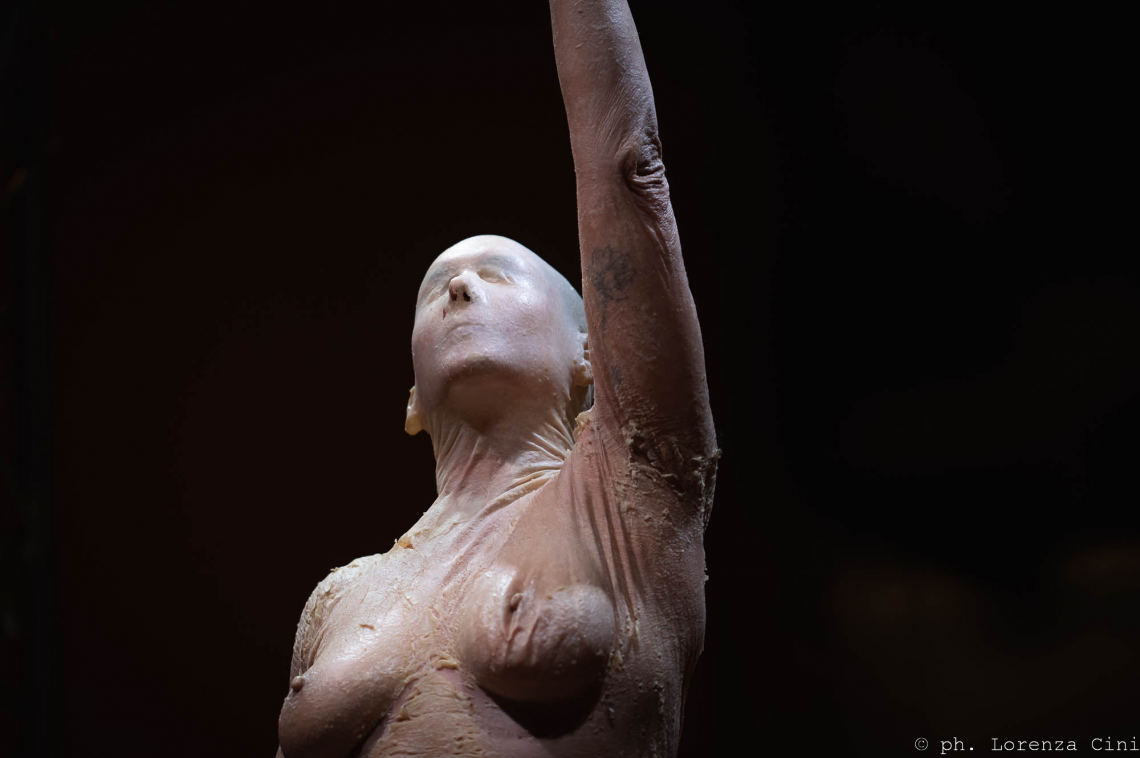 There is no body without scars.
We reach. Support. Quiver.
A single voice to hold all voices soars from a figure of stone. Soaring notes of a single string are enough to conjure the rupture of time and space.
We do not know to where we move.
I photograph in words.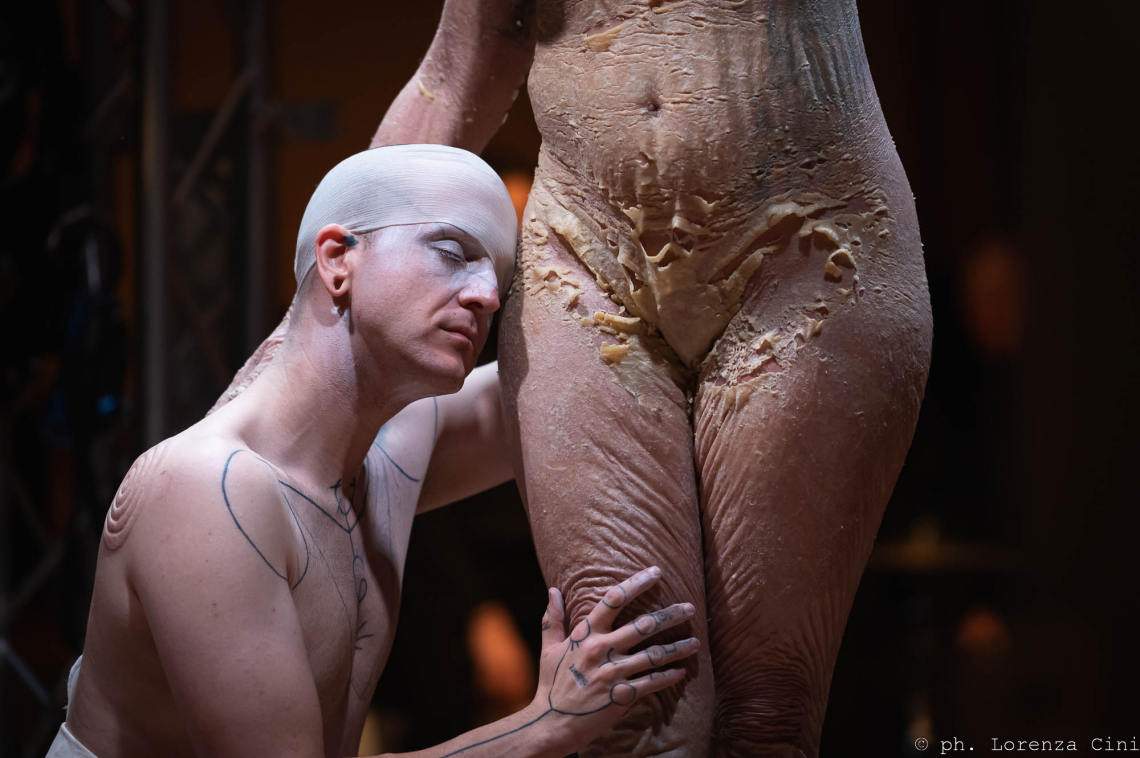 Breathe with me. We are slowing in time, we are entering the other world together, the symphony of cthonic tones blending into a passage that leads us through doorways. Seven chambers. Innumerable souls.
There are coins waiting for the ferryman.
Clink. Clink.
We will dream together in illicit but legal hits of image.
Who does the water bearer become in the other world, where the wild things live?
Fist in mouth, I scream. Pulse. Blood is a drum beat pounding through meat. Taste me in the beating of your own flesh. Beat with me, into me, as me, beaten flesh. I will beat you into life. Beat you into breath. Beat you into being.
Still you reach.
Do not pull away. Do not disconnect. Stay with me in this strangeness. SHA. SHA. SHA. Shake it free. Shake it into being. There are gifts of life here that you cannot imagine. Tear through this skin with me. Don't look away. They look down at themselves in the broken pieces. I cannot know what they see.
Our song soars through empty chambers. A song that has been the sound of home for so many, in so many places. It compels us to move in dedication, in benediction, to trust that the waves will part. Leading with my spine, I back my way towards home. We meet in a caress of collapse, a tender fall into touch. The song sighs the slide downward into…
We are falling to rise in a new world. We fragment but remain intact. Seven chambers beat in different rhythms as one.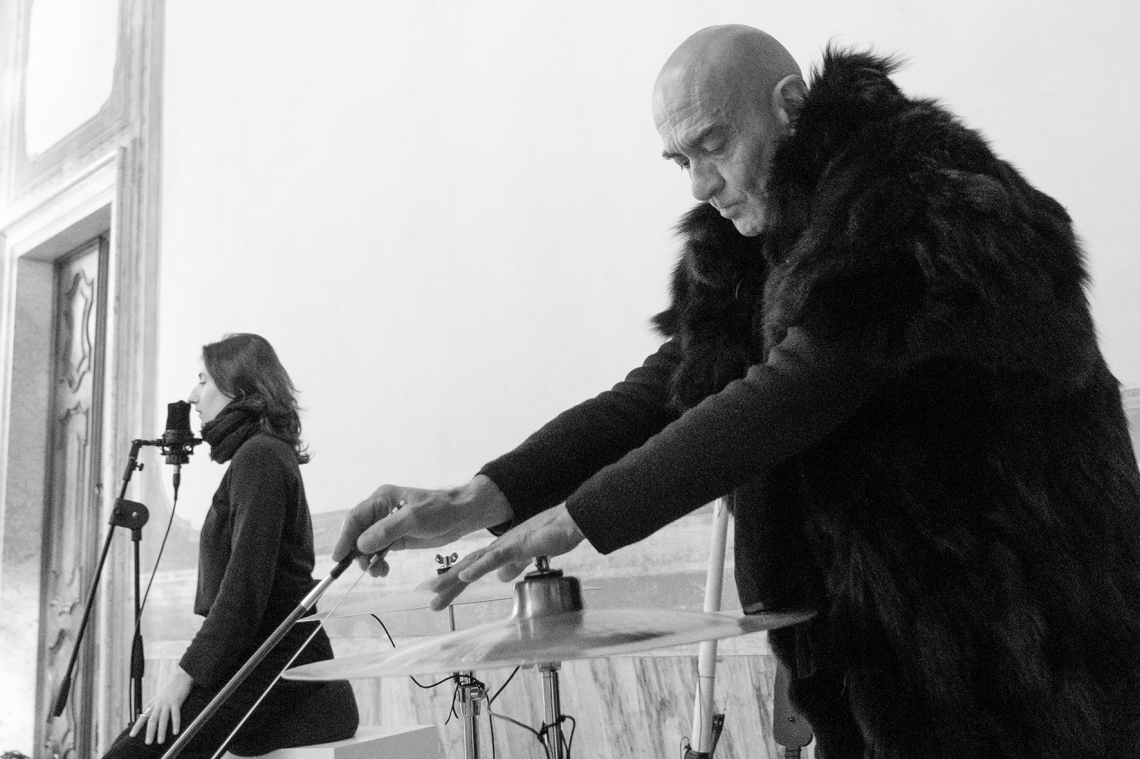 I'm scared.
It passes.
I'm cold.
It passes.
My gaze is steel.
Or is it ice.
Or is it strength.
Or am I blind now.
To finally see. To finally feel.
We must travel to reach for where we already stand.
We are more than we should hold, still, they gather at the doors.
Let them in. The hunger will bring us into balance. Let them in.
I plant rivers of honey. Will it sustain you?
Can you feed on this sweetness as roots rip in the air?
I plant your broken crown. I receive a gift of flame that almost escapes, insists on careful passage. Held tenderly, the fire holds in return.
I hold. I breathe. I listen. I pierce. The motion is smooth, clean, perfect, performed with dirty hands. A smile of thanks is now a mouth of blood.
Can this soft earth compress into a form strong enough to hold me?
The plates are breaking. Press.
Breaking. Press.
Breaking. Press.
Press.
Press strength into the softness.
We are breaking.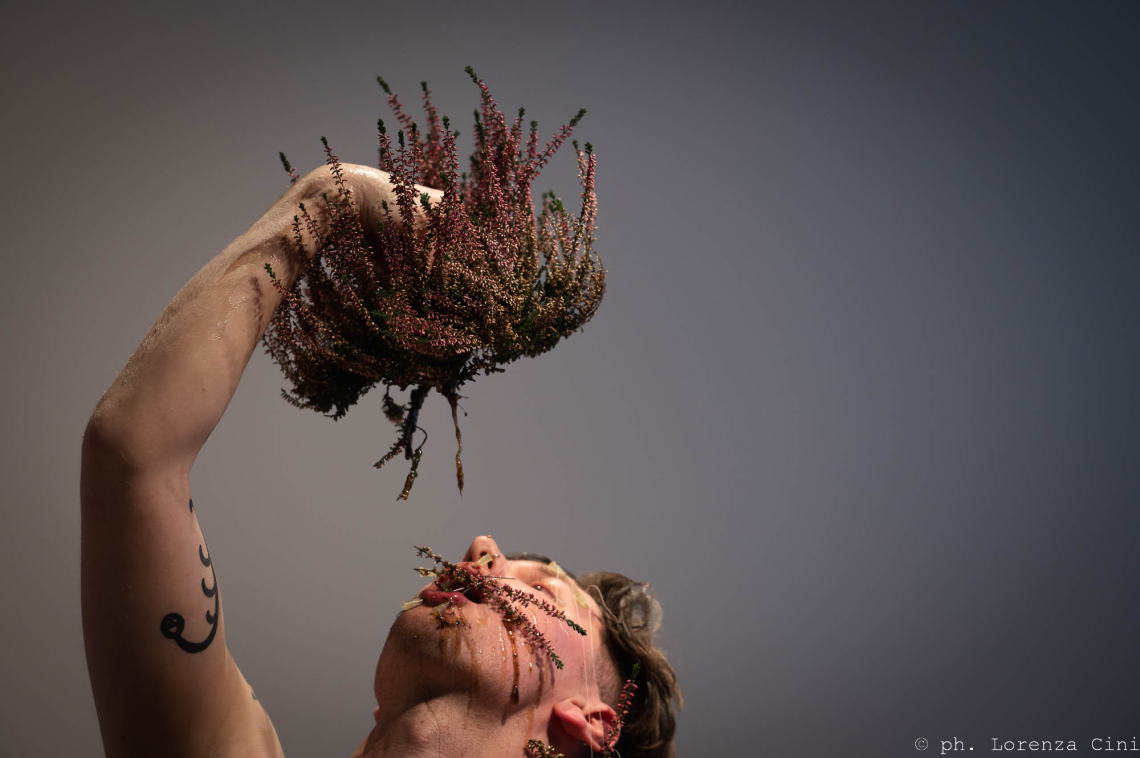 A fish is flapping on the dry shore, scattering coins for the ferryman. She beats the ground, she will not stop, she will not drown in air. The coins crash. Is this what you pay for? Streaks of gold and silver on beaten bodies. The fish changes form again and again, seeking new ways to beat its insistence upon life. The river of love is bittered by coins, wishes rusting through time and still she beats on land, she will not die. She beats life beyond her own element. Water beaten from the body into air so she will not drown. She speaks with the sky.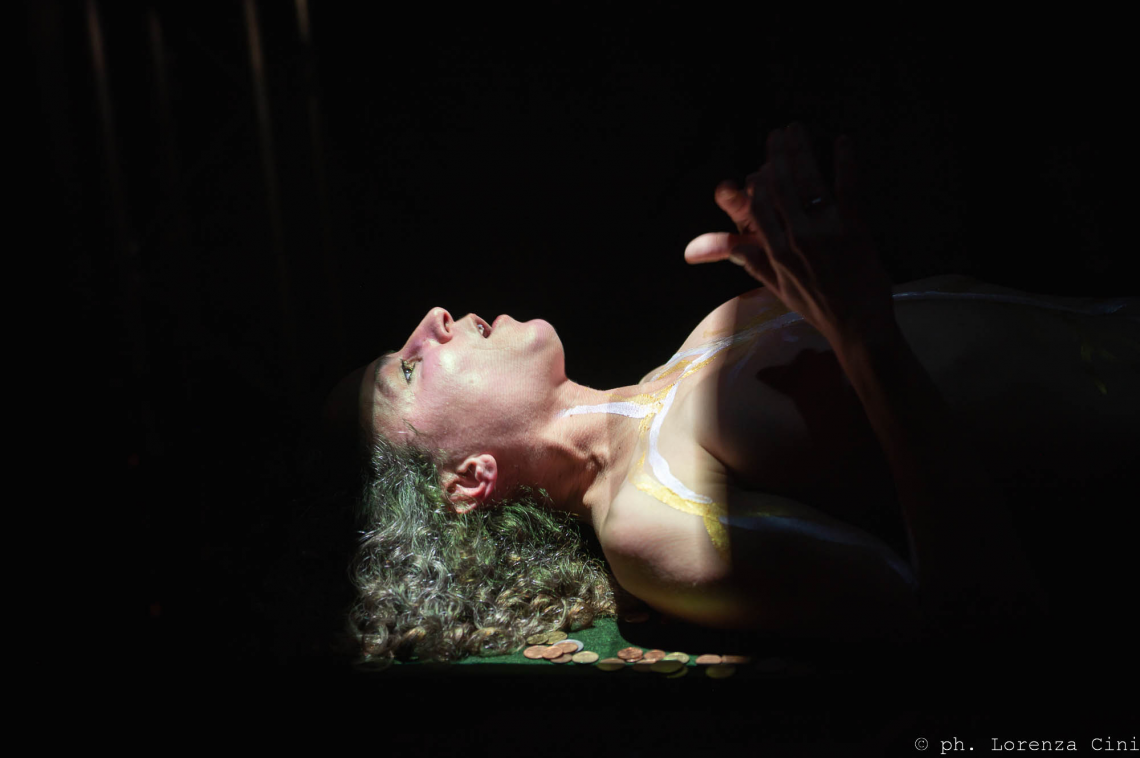 The angels are carving their wings. To carve. To endure. To carve away gender. To carve away age. To carve away the banality of life in an orgy of flesh and blood, words of revolution etched in focussed calm. I do not suffer for the agony of my transformation. The gods tilt together, leaning into grace. By your chisel, you make me stone. By your feather, I am given the weight of being. By your caress, the force to stay as a creature waiting to emerge beneath the blade. Through your body I do not lose my own mind. Through this action you allow me to stay, your un-suffering agony is my invitation to remain, to not be lost, to not lose myself, not this time, not in shared time, in shared time I am safe. I am sage. I carve you. They cannot read the words.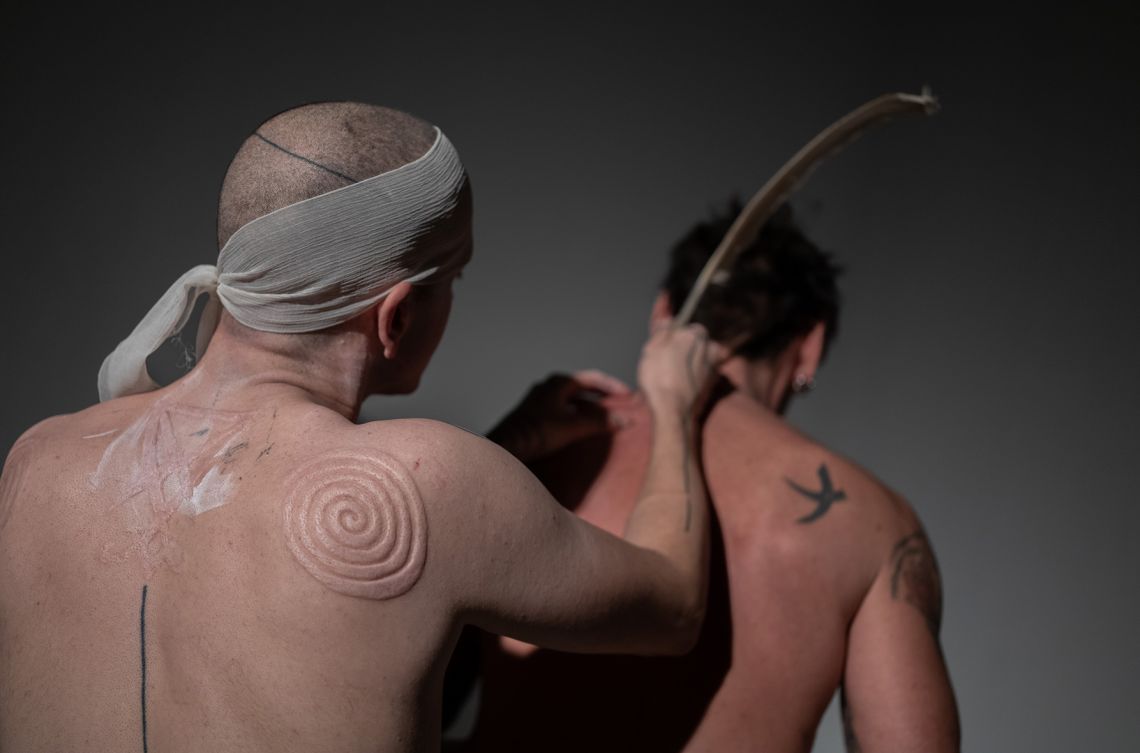 I only find myself in shadows. Darkness is the only mirror I can stand. I am tall. I am towering. My face a structure I can stand upon. I am potent in the dripping darkness, in the way I can stretch, as only shadows can. I have to climb to reach myself, so tall, so tall. I climb to reach sad eyes, full lips, long hair that travels in dark canals towards the ground. When I become no one, I become someone true. In the dark I can control where the light seeks, where the light gets in, I can choose which cracks, I can reflect myself only through shadows. I am form and collapse. Illuminated in bleak smudges. I am old and muscle-strong young. I am giant and ever so tiny. I am shadow because I am light. I am no one.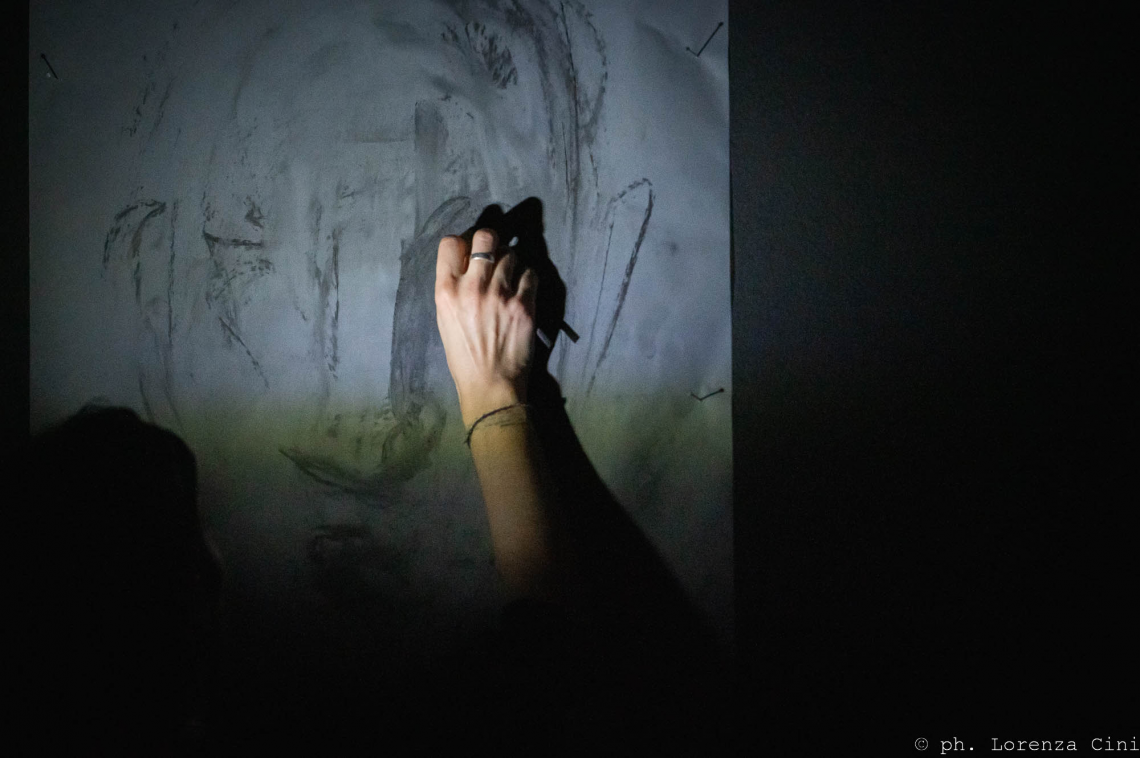 A bed of stone and broken glass for lovers. An empty plate has survived the breaking. I reach into its void to feel for memory. I reach for you. Embrace the distance and longing, a shape that does not hold warmth. Pull away. If we rise from the bed, return to the table of broken dishes, stalk our shattered home as the stones scratch the humble dinner table, will we find each other again?
I will wash these broken plates in filthy water, in ash-filled water, as measured drops of blood infect the table wine. I turn my back on the speaking heart, pin it to the table, insist on tension between us, my back firmly turned, I will smother you, I will smother the speaking heart into silence. This dining table shall host my autopsy.
We are wilfully blind now. The broken heart limps between us, scratching its call with nail on metal. We listen but we do not see. Leave me with my memories. Leave me with my gestures to the past. Leave me to taint the water into wine again and again. I wash my broken self in dirty dish water as red clouds mushroom through the clean water. Wet hair tied with bells that will not ring. This tree will not grow, but still, I will bear its weight.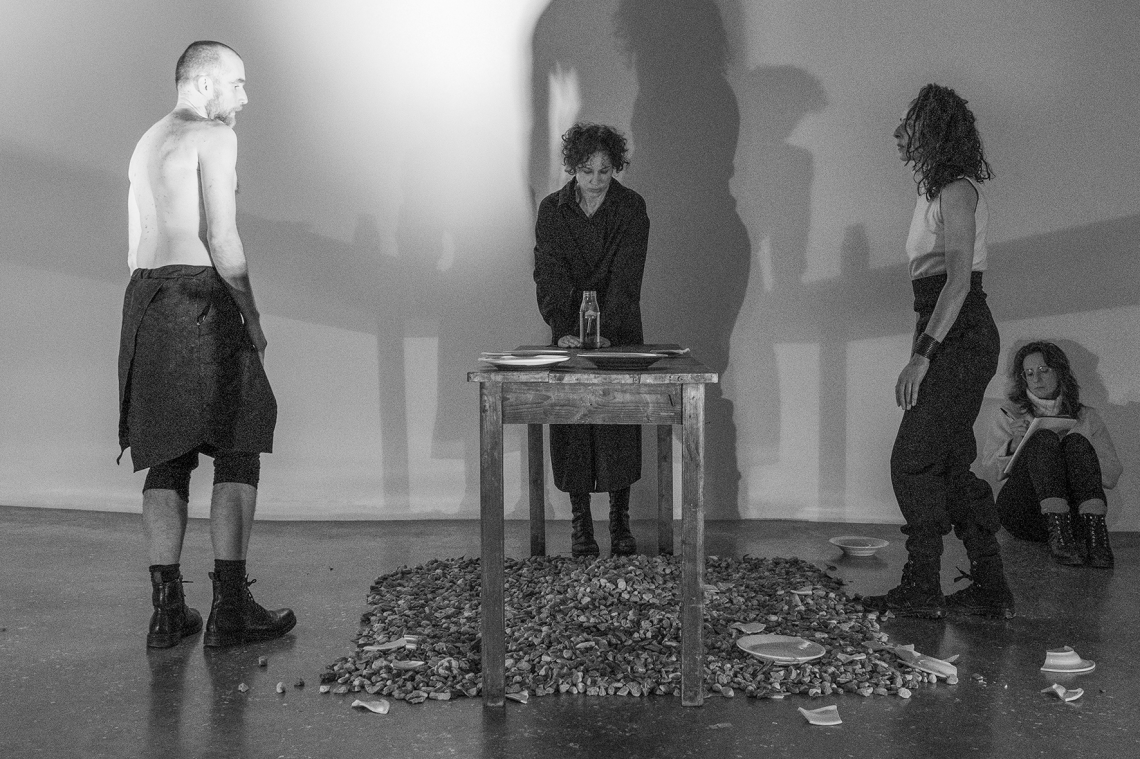 Encased in a mirror of tenderness. This tired skin is not to be carved, but slowly peeled. I shred. I am shredding. I am birthing. In a world of fallen hair I am shedding my skin to be born within the insistent pull of your tenderness. The wrinkles of an exhausted life are stretched until they break, until they peel away. Is it me that they will leave behind? Their uniform colour gives way to galaxies of vein and bruise. How do I open my skin to you? What form might I find that will allow you to free me? Why do you free me? Why am I freed with such gentleness? Caresses of sponged water, sponge-washed bodies, fragile bodies, disabled bodies, broken bodies, newborn bodies, washed with care by tender presses of the wet sponge. The sounds of distant friends hold us in their aural embrace. The sponge presses again and again. A bathing in care. In gentleness. Release me.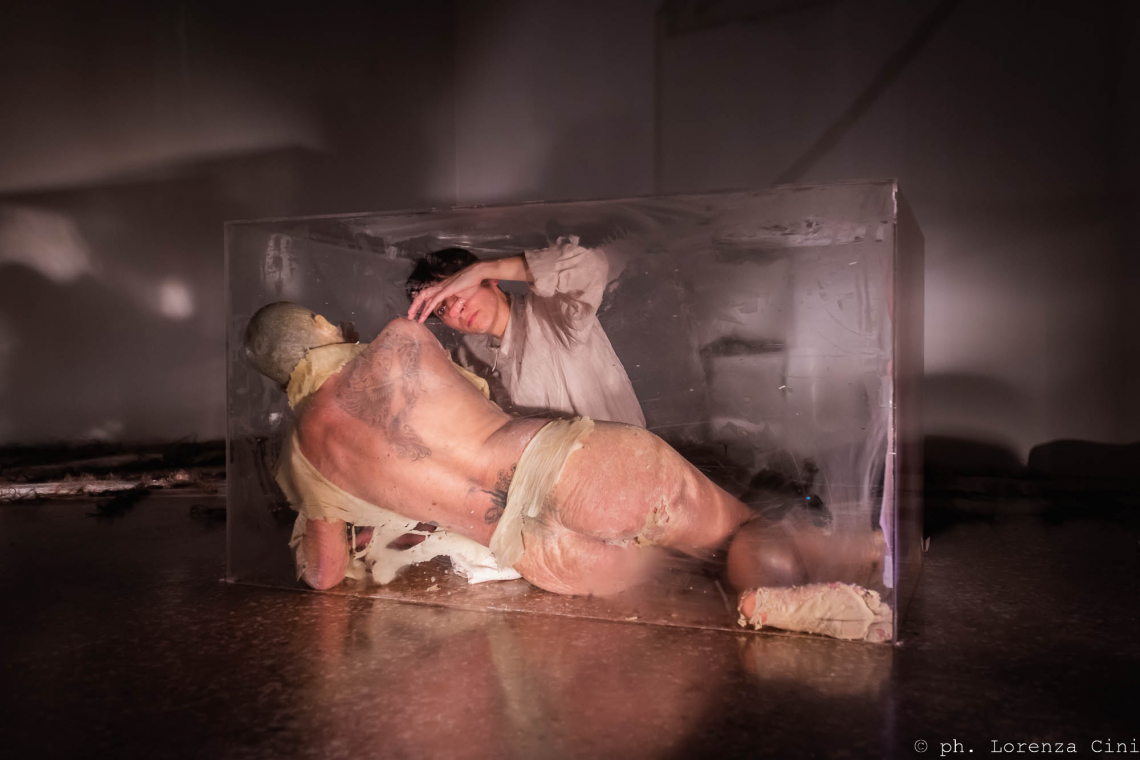 Baptised in the flame of candle and time. This new skin is red from the heat of birth. Thorns hold the weight, hold the burning pour of alchemical becoming. Burn my body into being like casting metal, my body the crucible for wax imaginings of my own becoming. I hold the weight. Thorns tear the shirt, tear my burned flesh as I walk away from the hardening drips of my own birth site to witness the others. The earth left to hold the fallen wax of my becoming. Hear my voice, released. Let it lead you. It is the cry of the fallen sky. As I pass, they are born. Soup of the newborn, first fingerprints against the incubator, new fingers writing their first words.
The thorns have pierced a becoming through time, have released the rose in melting wax and dripping wings and a fall to the earth.
Paint my new skin in blessings. In the dust of dreams for a life unlike all the others I have lost to the past. Paint me in belonging and becoming.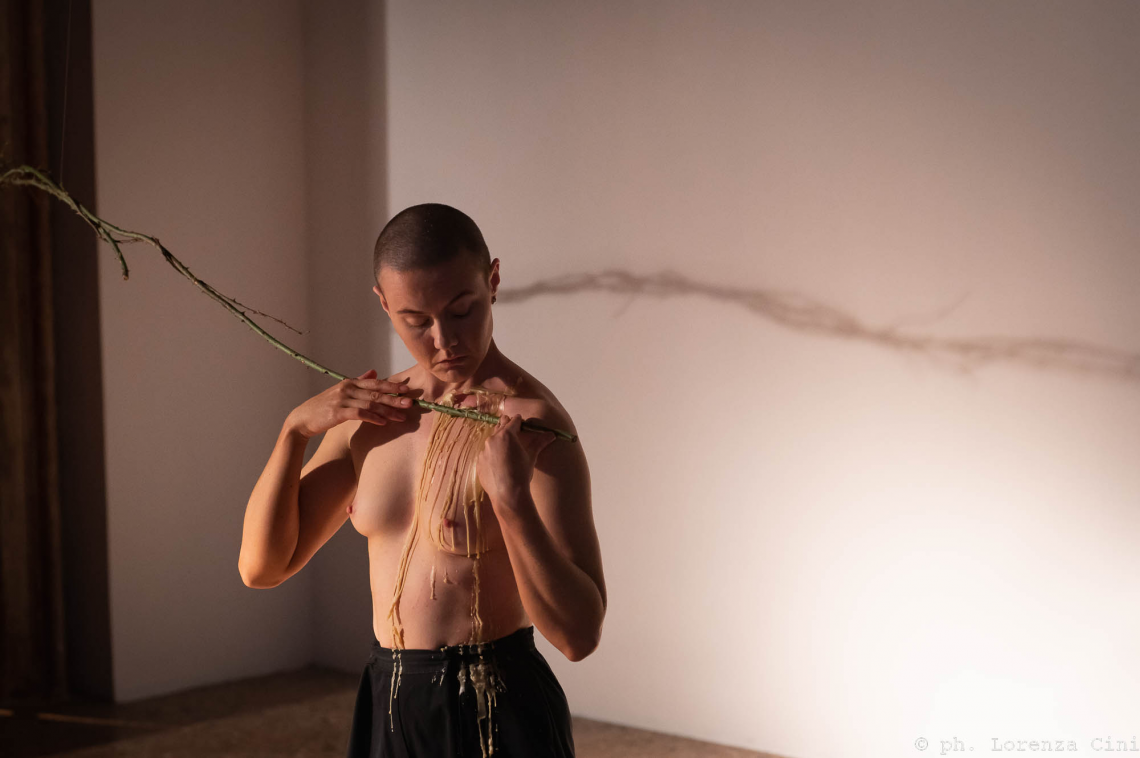 The song calls us home. We once lost our hair deep in a cave of shadow, and now its rivers lead us to our incubator where we rise again together in the slippery touch of light. The case is overturned. We are born. Free.
Angels rise and fall now. Reach up from earth and down from sky to embrace. We embrace on horizons, on the voice of our absent brother, his words a vibration of prayer. On borders. Between skins. Between scars.
The angel finally grants himself his wings. One pierce of flesh at a time, he soars above the pieces, above the fragments, the scars of broken mirrors that finally reflect truth. We plant ourselves now, we are roots twisting together. We plant ourselves in the sky, in the air, we drink from foreign elements, hold each other with and without touch. We are twisted together now, in roots of earth, roots of water, roots of air, of fire, of blood, of life. We are beneath the scars now, in the opened sky.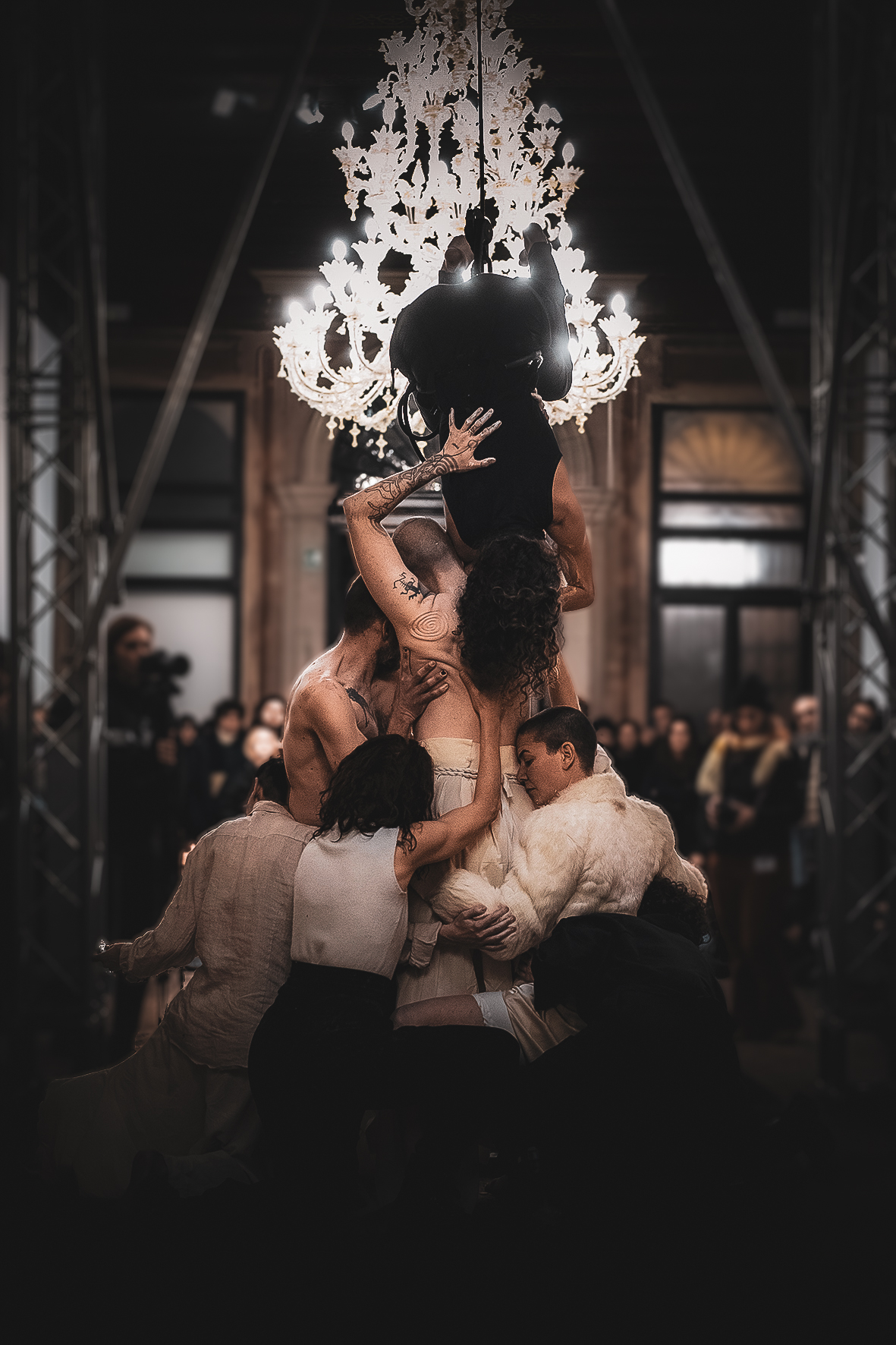 ---
This poetic text was written by Marisa Garreffa, in poetic response to the collective performance U̷n̷d̷e̷r̷ ̷S̷c̷a̷r̷s, Saturday, December 17, 2022, 19:00h, European Cultural Centre | Palazzo Mora, Venice.
In celebration of its 10th anniversary of performance art activities, the VENICE INTERNATIONAL PERFORMANCE ART WEEK presents U̷n̷d̷e̷r̷ ̷S̷c̷a̷r̷s̷, envisioned and devised by the artist duos VestAndPage and Andrigo & Aliprandi in collaboration with Irina Baldini, Sabrina Bellenzier, Giorgia de Santi, daz disley, Nicola Fornoni, Marisa Garreffa, Fenia Kotsopoulou, Ash McNaughton, Aisha Pagnes, Enok Ripley, Sara Simeoni, Mauro Sambo, Joseph Morgan Schofield, Marcel Sparmann and Emily Welther.
On this occasion, Palazzo Mora's main hall and six adjacent rooms transform into a dwelling site of interconnected performance installations, where temporary, intensive co-creation processes aim to reveal the qualities of existence. The hosting space functions as a social-narrative incubator wherein performance methods are intertwined for coagulating inclusive and expansive life stories. The collaborative performance unfolds as it builds on sustained encounters of different artistic research combined with performative practices. The collective performance opera U̷n̷d̷e̷r̷ ̷S̷c̷a̷r̷s̷ is a development from the result of the international artist-in-residence held at C32 performingartworkspace at Forte Marghera last June. As the title suggests, the 19 artists now gather to unveil precious experiences of vulnerabilities, hesitations, fragilities, hopes, the unspoken they carry under their cicatrices, and wounds healed by performing. Memories and experiential transformation processes entwine and collide to respond poetically to present emergencies.
---