VestAndPage
sin∞fin - Performances at the Holy Centre (2011). Performance-based film episode.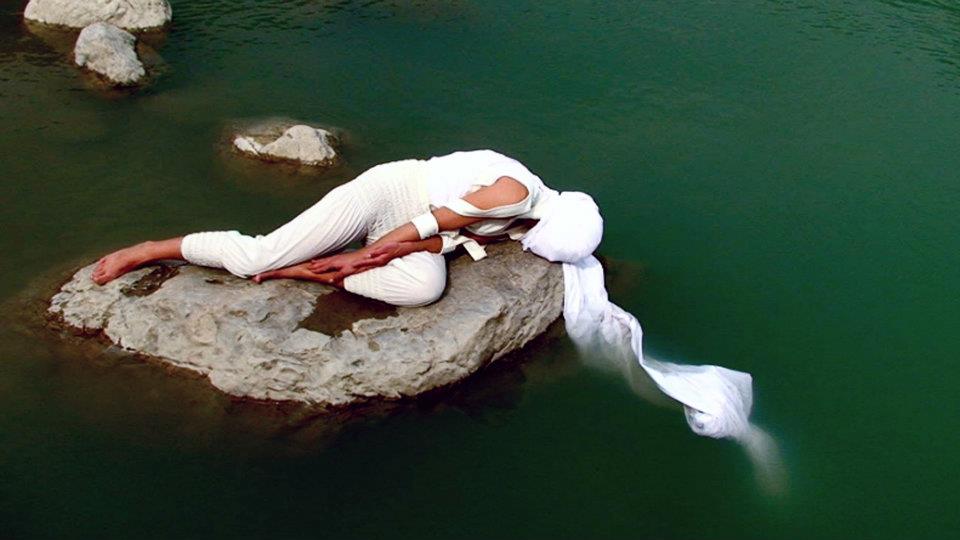 VestAndPage, Still from sin∞fin - Performances at the Holy Centre (2011) Courtesy of the artists.
German artist Verena Stenke and Venetian artist and writer Andrea Pagnes have been working together since 2006, generating art in the mediums of live performance, filmmaking and writing, and as independent curators. Their practice is contextual, process-led, situation-responsive and conceived psycho-geographically in response to social contexts, natural surroundings, historical sites or architecture. In a "Poetics of Relations" they examine notions of fragility, vulnerability and failure of the individual and the collective within different social or environmental spheres. Exploring what, as human beings, we still have to offer, VestAndPage question our existence within a humanity characterised by social exclusion and global atrocities. Demanding themselves to inspire others and animated by a nomadic, confrontational spirit, they apply the themes of acceptance, resistance, endurance and union with a poetic bodily approach to art practice. Between 2010-2012, VestAndPage produced the experimental art film trilogy sin∞fin, a complex visual research realised during three years in Antarctica, South America and Asia, examining the relationship between the ephemeral art form of performance with filmmaking.
The VENICE INTERNATIONAL PERFORMANCE ART WEEK 2014 screens the second episode sin∞fin - Performances at the Core of the Holy Centre (2011), produced in collaboration with the Sarai Centre for Studies of Developing Societies in New Delhi. sin∞fin is a trilogy of films of collaborative performances in epic locations around the world. Teetering between the real and the visionary, the films feature the two protagonists undertaking surreal and ephemeral acts. Amplified by the unfamiliar environments, the performances reflect on universal human experiences such as altruism, partnership and the transient nature of existence. Episode #1, Performances at the End of the World, set in Chilean Patagonia and Tierra del Fuego (2010) thematically focuses on the intimate, inner domain of the individual and the couple. Episode #2, Performances at the Hole Centre, located in Northern India and Kashmir (2011) highlights the topic of society and religion. The concluding episode, Performances at the Core of the Looking-Glass, filmed in Antarctica (2012) engages with narratives on nature and the universe. Without script or storyboard, the artists' actions evolve in direct response to the surroundings in which they find themselves. The camera records what possible spectators would view, yet the film is not a documentary. Instead the works are pieced together organically, forming an autonomous story generated through the process of making to be read by each viewer in a personal way.
Courtesy of the artists and Video Out Distribution, Vancouver.