Regina José Galindo
Poetry Reading Voz Humana (2014)
Lo voy a gritar al viento (I will shout it to the wind). Video of the performance (1999)
Selected performances on video (2000-2014)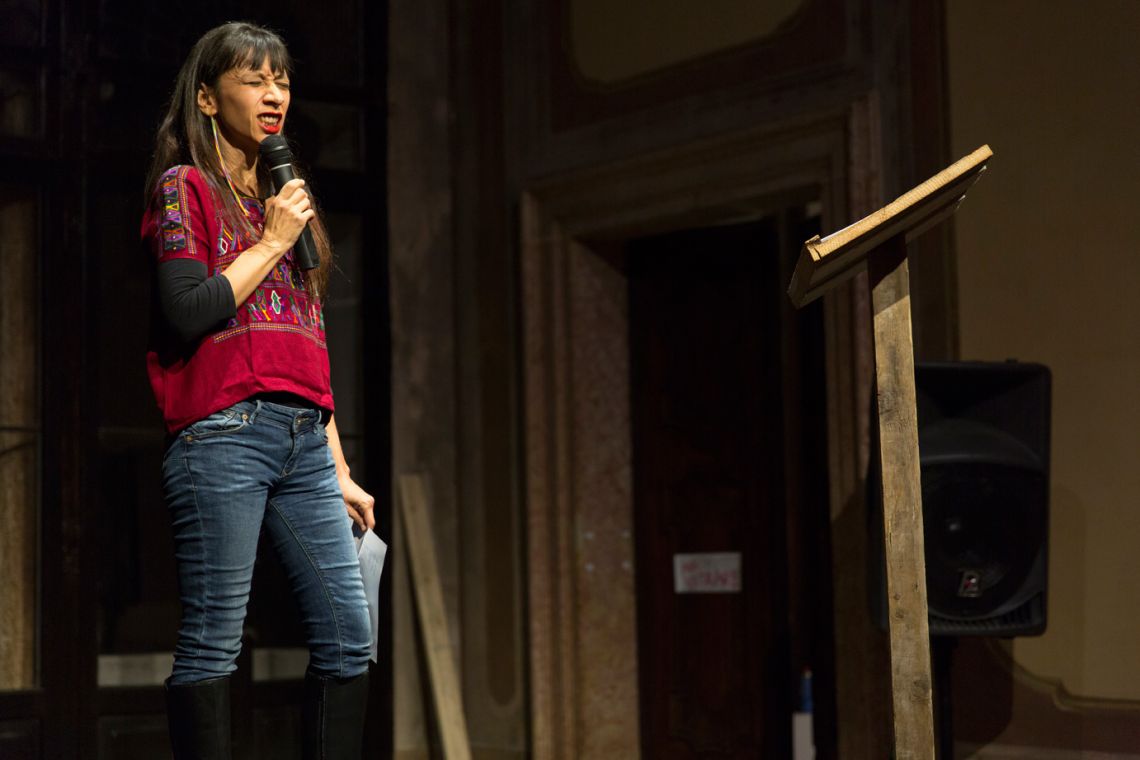 Regina José Galindo, Voz Humana. Poetry Reading. Venice International Performance Art Week (2014). Photograph by Monika Sobczak.
Born 1974 in Guatemala City. Lives and works in Guatemala. Regina José Galindo is a Guatemalan writer and visual artist specialized in performance and body art. Her substantial body of works often speaks of a critical protest against violence, injustice and political oppression. Creating powerful visual metaphors, Galindo explores the universal ethical implications of social injustices related to racial, gender and other abuses involved in the unequal power relations that operate in our current society. Some of her performance projects respond directly to the cultural and socio-political context in which they take place, while in other works Galindo's body functions as a tool to denounce social tragedies, without any self-reference.
At the VENICE INTERNATIONAL PERFORMANCE ART WEEK 2014, Galindo presents the live poetry reading Voz Humana (2014). She shows the video of the performance Lo voy a gritar al viento (I will shout it to the wind) (1999). In this public performance Galindo, dressed as a bride, was suspended from the arch of the post office in Guatemala City, reciting her poems and tearing the book's pages, throwing them to the wind. The artist further grants the event with a student encounter realized in collaboration with Universita' IUAV di Venezia.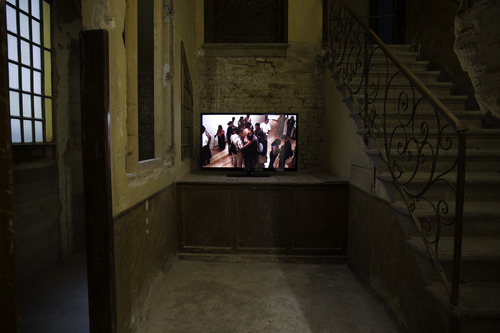 Regina José Galindo, Selected Videos. Exhibition view. Venice International Performance Art Week (2014). Photograph by Samanta Cinquini.
Further will be shown selected performances on video (2000-2014) including the performances:
No perdemos nada con nacer

(2000) Segundo Festival del Centro Histórico, Basurero Municipal, Guatemala City;

Lucha

(2002) Colectiva Blanco y Negro. Guatemala City

¿Quién puede borrar las huellas?

(2003)

Corte de Constitucionalidad/Palacio Nacional, Guatemala City;

Recorte por la línea

(2005)

Primer Festival de Arte Corporal, Caracas;

Un espejo para la pequeña muerte

(2006) Estrecho Dudoso, Teorética, Costa Rica;

Ablución

(2006) Guatemala City;

Mientras ellos siguen libres

(2007) Post office, Guatemala City;

Confesión

(2007) Caja Blanca, Palma de Mallorca;

Reconocimiento de un cuerpo

(2008) Centro Cultural de España, Córdoba, Argentina;

Autofobia

(2009) Santo Domingo, Dominican Republic;

Object

(2010)

MNAC, Bucharest, Rumania;

Caparazón

(2010) Corpus. Arte in Azionel MADRE Museo D'Arte Contemporanea Donna Regina, Naples;

Móvil

(2010) MUAC Museo Universitario de Arte Contemporáneo, Mexico City;

Punto Ciego

(2010) XVII Bienal de Arte Paiz, Guatemala City;

Alud

(2011) Thessaloniki Performance Festival, parallel programme of the 3rd Thessaloniki Biennale of Contemporary Art, Thessaloniki;

Piel de gallina

(2012) Artium, Vitoria-Gasteiz, Spain;

Paisaje

(2012) Bienal de Arte Paiz, Guatemala City;

Hilo de tiempo

(2012) San Cristóbal de las Casas, Chiapas, Mexico;

Tierra

(2013) Les Moulins, France;

Big Bang (2014) Museum of Fine Art, Boston, US.
Curated by Prem Sarjo | Ejercicios Mosqueto
Courtesy of the Artist.
+ LIVE POETRY READING