Benjamin Sebastian
Long durational performance 3 Cycles of Otherness (2014). In collaboration with Marco Gazzato (Tattoo) and Alessio Breda (Drums).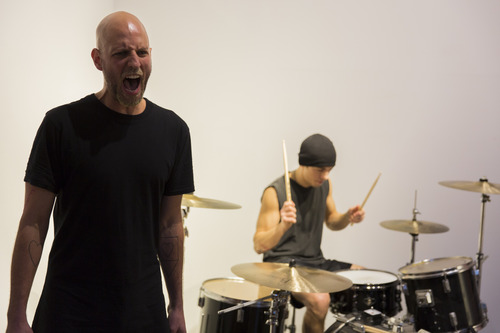 Benjamin Sebastian, 3 Cycles of Otherness. Venice International Performance Art Week (2014). Photograph by Monika Sobczak.
Benjamin Sebastian (born 1980 UK/AUS) is a visual artist and curator, living and working in London. Sebastian's practice is born out of an anxiety of living. Examining the environments, Sebastian uses his body (and those of others) as a departure point, searching for reason in the irrational and the profound in the mundane. His work is interdisciplinary and not bound by any one medium, historically locating itself within lineages of appropriation art, assemblage, installation and performance. Paper, thread, porn, fire and gold make up many of the materials he returns to again and again with imagery of intimacy and alienation utilised to evoke a sense of longing and familiarity. In the face of the inevitability of death, how should we live? With this question in mind, Sebastian attempts to make sense of living. Refusing prescriptive narratives and interrogating life, he attempts to dismantle binary relations to find self in otherness, through strategies of repetition, appropriation, duration and liveness. Sebastian has exhibited internationally in both solo and group exhibitions. 2012 saw him awarded the Artists' International Development Fund by the British Council and Arts Council England. Sebastian's works are held in numerous private collections and he is currently co-director of ]performance s p a c e [, the UK's only performance art specific studio and exhibition space.
At the VENICE INTERNATIONAL PERFORMANCE ART WEEK 2014, Sebastian presents the new long durational performance 3 Cycles of Otherness, a live installation that explores issues of alienation, identification and agency through the repetition of an evolving score. Across three days Sebastian will interweave text, performance and sound; assembling a visual narrative that interrupts binary relations and questions fixed modes of representation. In collaboration with Marco Gazzato (Tattoo) and Alessio Breda (Drums).
+ LIVE PERFORMANCE
Presented by ]performance s p a c e [