Bean
Long durational performance (m)other / the untitled (II) (2014).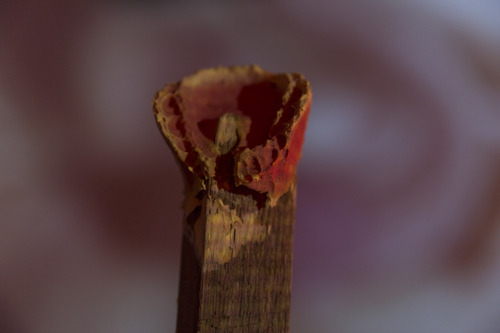 Bean, (m)other / the untitled (II). Venice International Performance Art Week (2014). Photograph by Monika Sobczak.
Bean is an artist of nomadic nature. Currently based in London she is founder of ]performance s p a c e [ a studio and event space in Hackney Wick. Bean's artistic practice stems from obsessive, paranoid, scientific and anthropological research. Her work has been described as deliberately "accidental, scattered, scuffed, blurry and incomplete". Oscillating the poles of violence/meditation, power/control, movement/home; it revels in the feral actions, inscriptions and fringe existence of the nomadic body. Recent works have seen her use of text shift from the marking of the body to the marking of space, utilizing the repetition of oral and written text to diffuse the boundaries between the body and environment, externalising the internal and allowing the external in. Her curatorial interests lay at the intersections of performance art with installation, video and textual practices and theoretical concerns of duration, endurance, queer theory and post-feminist realities.
At the VENICE INTERNATIONAL PERFORMANCE ART WEEK 2014, Bean presents the performance (m)other / the untitled (II) (2014), a durational piece marking and reclaiming space from the historical roots & contemporary manifestations of patriarchy and capitalism. The work seeks to articulate politics surrounding the viewing of the female body, engendered roles & labour, whilst also exploring theoretical concerns of duration, repetition & transformation. It transcends identities of female and human, referencing both historical concepts of hysteria and its contemporary feminist legacies. Occurring over a duration of 3 days the instal-action will be scored by the building of a triangular structure out of waste materials from the fabric of Palazzo Mora, durational chanting and the casting of the internal chamber of my mouth. In addition to this the work will be set against a backdrop of a video work enveloping the space by splitting a single images across all 4 walls. For the piece the artist has worked in collaboration with designer Sophie Tusba to fabricate custom made stag antlers nipple shields used in both the video work and throughout the instal-action. Elements of the piece have been developed over the past year, with their most recent incarnations such as tame and FLESH/ FLEISCH at PAErsche Germany and the untitled (I) at The Bristol Biennale.
+ LIVE PERFORMANCE
Presented by ]performance s p a c e [