Arti Grabowski
Live performance Wrong way, good direction (2014).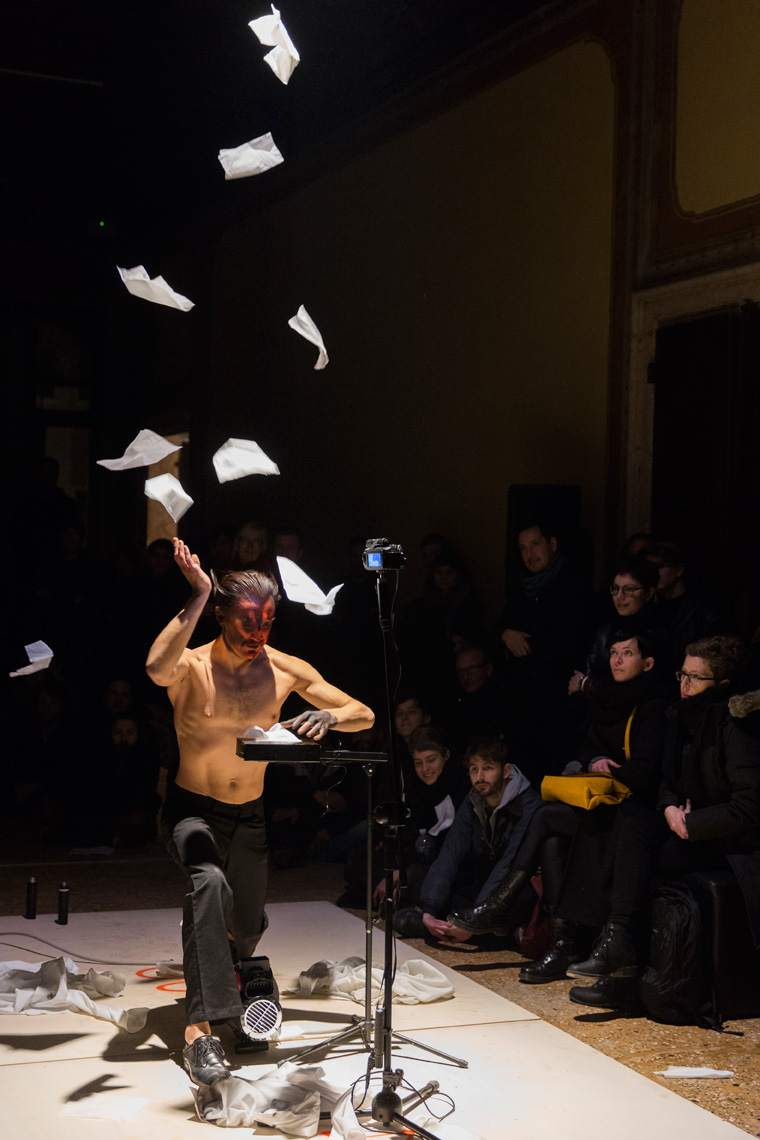 Arti Grabowski, Wrong way, right direction. Venice International Performance Art Week (2014). Photograph by Monika Sobczak.
"Boski Arti" born in 1977. Lives and works in Krakow. In his 15 years of artistic activity, Polish performance artist Arti Grabowski has realized over two hundred actions – of strong visual impact, charged with physical energy and an intrinsic sense of humor as well as thoughtful criticism. Entertaining, horrifying, challenging and never boring, the physical action images created by Grabowski reveal the absurd, chaotic and ironic layers of society and human behaviour. Grabowski graduated from the Academy of Fine Arts in Krakow, where he obtained a Diploma (MA 2003, PhD 2010) with distinction of the Performance art. His diplomas were the first realized in this field in Poland. At present he is an assistant professor at the Department of Intermedia, working together with Prof. Artur Tajber in Poland's first Studio of Performance art.
At the VENICE INTERNATIONAL PERFORMANCE ART WEEK 2014, Grabowski presents the performance Wrong way, good direction. "In the air I draw cascades of haiku using my props. With my emotions I tighten the reins on the eyes of viewers, I tackle their armpits with absurd. I sweep up the time using the Kung Fu choreography of a drunk. I suck us while in amok, using a swiping swirl. I cream, I whisper, I mumble about: a nostalgia towards freedom, light air, bad decisions, conflicts of the North with South, dilemmas about the one 'above'. And after the performance I want to leave you in a misty reflection, which, if it keeps returning to you for another couple of days, it will be the greatest compliment of all."
+ LIVE PERFORMANCE
Presented with the kind support of AKADEMIA SZTUK PIEKNYCH IM. JANA MATEJKI W KRAKOWIE.