Suka Off
Live performance FLESH IRRADIATION ver.4 (Pupilla)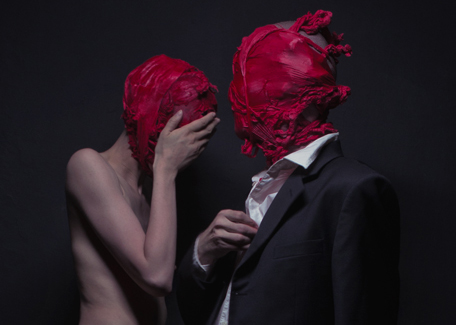 Suka Off, Fusion. Courtesy the artists.
SUKA OFF is a Poland-based artist collective working in performance art, visual theatre, club action, installation, photography, video and music visuals. It was founded 1995 by Piotr Węgrzyński (visual artist and performer) and Sylvia Lajbig (classical philologist and performer). Recurring themes in SUKA OFF's works are human carnality in all its biological and physiological aspects, attempting to redefine gender by blurring the individual attributes culturally arrogated to the male and female. Through synthetic fluids, sophisticated electronic devises and solid substances, they search to investigate the mechanisms of human nature, the virus of violence and fear, following a postindustrial aesthetics through the clash between human body and unnatural elements.
At the VENICE INTERNATIONAL PERFORMANCE ART WEEK 2016, Suka Off present a new live performance of the project FLESH IRRADATION, an interactive multimedia performance art project started by SUKA OFF in 2014. The performance takes place in complete darkness. In order to see it, the audience has to take pictures with the cameras they receive at the entrance. They can watch it in two ways: directly, when the camera flashes, or indirectly on the camera's screen after taking a picture. All pictures taken during the performance are later used to create a stop motion video. Pupilla is the latin word for (eye) pupil. It also means "a girl". In this performance, the artists focus on the process of seeing as well as developing and fixing of an image. Just as the light attacks the eye of the viewer, leaving an imprint of the images created by the performers, so does the girl undergo changes while being exposed to the flash light and the actions of the male "operator".
+ LIVE PERFORMANCE
Presented with the kind support of CULTURE.PL.