Marcel·lí Antúnez Roca
Mechatronic lecture Systematurgy - Actions, devices and drawings, and video installation ALSAXY (2015).
Courtesy the artist. Co-curated by Francesca Carol Rolla.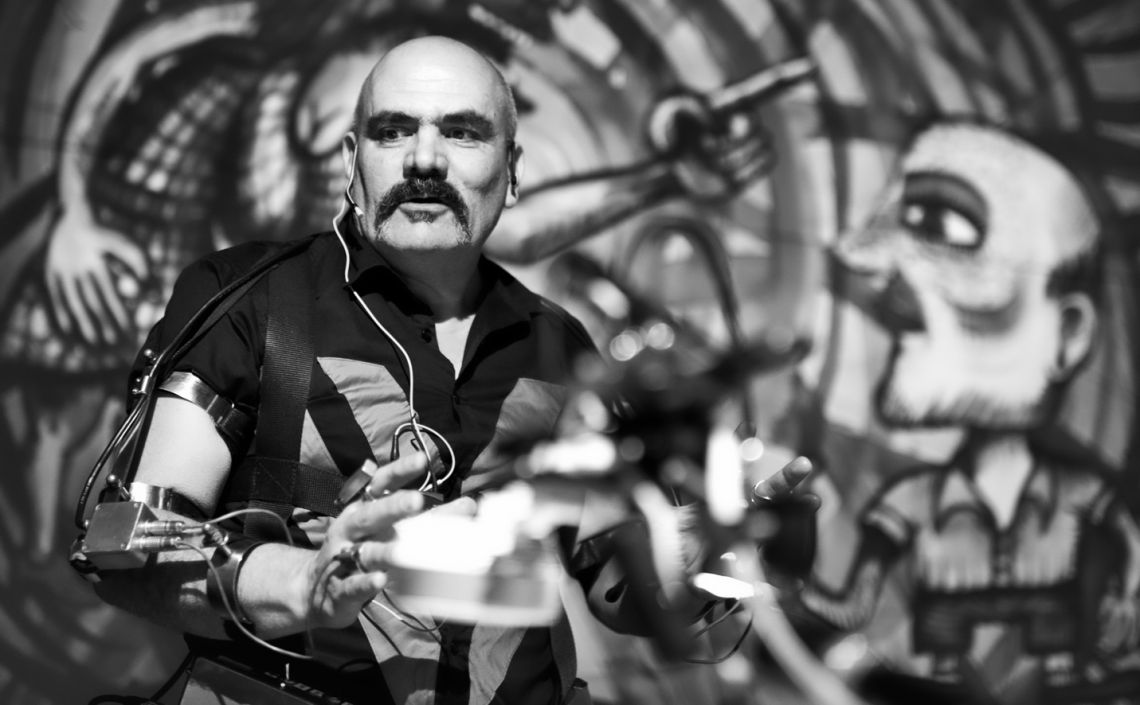 Marcel.li Antunez Roca, Mechatronic lecture Systematurgy at the III Venice International Performance Art Week 2016. Image © Alexander Harbaugh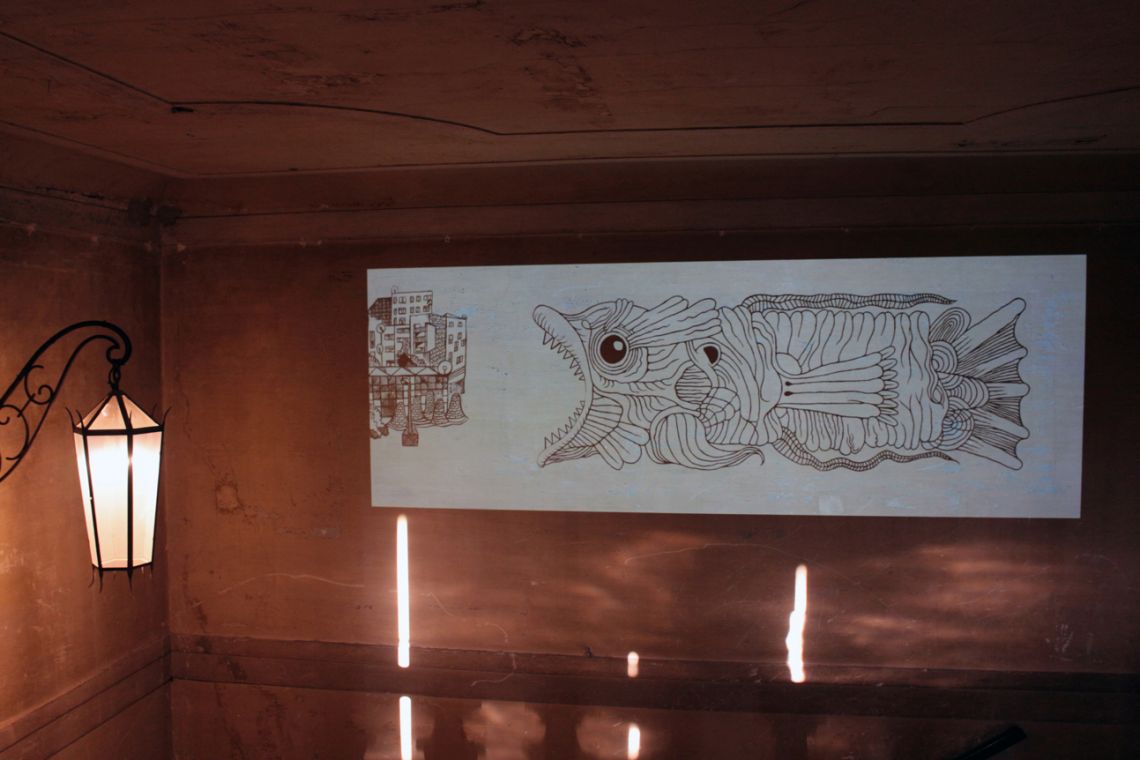 Marcel.li Antunez Roca, ALSAXY (2015). Exhibition view at the III Venice International Performance Art Week 2016. Image © VestAndPage
Marcel·lí Antúnez Roca (born 1959 in Moià, Spain) is well-known for his mechanotronic performances and robotic installations. Since the '90s, his avantguard mechatronic performances combined such elements as Bodybots (body-controlled robots), Systematugy (interactive narration with computers) and dresskeleton (the exoskeleton body interface). He was a founding member of the collective La Fura dels Baus from its beginnings in 1979 until 1989, participating as a performer, musician and artistic coordinator in the group's performances. Throughout his 30 year career, Marcel·lí has created a unique universe in which he has shown his interest in comics, Art Brut, '60s avant-garde, and popular traditions, to name just some examples. At the heart of this universe lies his palpable inclination towards certain key aspects of the human condition: food, sex and death. His work uses the body as its focal point, and this element is the pivot around which visual art, installations and performance revolve. For over two decades his creations have had a strong relationship with new technology, using the body as a reference point for interaction (robotic prosthetics, touch interfaces, etc.). The real theme of his work, "Systematurgy", is a neologism created by Marcel·lí and used to characterize his approach since the 1990s, in terms of the relationship between art and technology. User participation lies at the heart of this system. Systematurgy, literally the dramaturgy of computer systems, is divided into three components: interface, data management and medium. The user interacts with the medium through the interface, using the POL software to activate the artistic content - which might be fine art, robotic, or involve sound, light and visuals. The POL program, a fundamental part of Systematurgy, is a software prototype developed by Marcel·lí's studio that allows to multiple computer applications to be synchronised and connected to the interfaces. In this approach, the idea of participation extends through the creative process.
At the VENICE INTERNATIONAL PERFORMANCE ART WEEK 2016, Marcel·lí presents the mechatronic lecture Systematurgy - Actions, devices and drawings. The artist takes us through his career starting from the early 1990s to today, through an interactive system that includes dresskeleton (interactive body interface), sensors and interactive films. This presentation also serves to introduce the recent publication Sistematurgia (Barcelona: Polígrafa y Centre d'Arts Santa Mònica).
On exhibit is further Marcel·lí's recent video installation ALSAXY (2015). Created in collaboration with the citizens of Strasbourg through the POL program, it includes especially the population of the Hautepierre district. The installation consists of a large interactive projection that invites the viewer/user to play with five different stories, titled: Cortège, Megafish, Kiosk, Arkignol and Batamaille. ALSAXY uses the perspective of the Hautepierre district and a contemporary outlook to reinterpret mythical and ancestral figures, while linking them to stories that are at times critical, sometimes emotional, but almost always ironic. In this way, Marcel·lí takes a look at a district rich in tales and individual stories: "I have always held the same belief: art is, for me, a way to understand the world and transform it, and it is therefore a space for freedom". ALSAXY was originally an interactive installation created in the Hautepierre district in Strasbourg, and was transformed into a sequential video for exhibit at the VENICE INTERNATIONAL PERFORMANCE ART WEEK.
+ LIVE MECHATRONIC LECTURE