Leda Papaconstantinou
Selected photographic documentation (courtesy the artist) and films (courtesy the Collection of the State Museum of Contemporary Art, Thessaloniki).
As part of the co-curated section THE DREAM OF ANTIGONE :: Performance Art In Greece Between The Seventies And Today by Francesco Kiais | G.A.P. Gathering Around Performance, in a supportive collaboration with SMCA State Museum of Contemporary Art, Thessaloniki.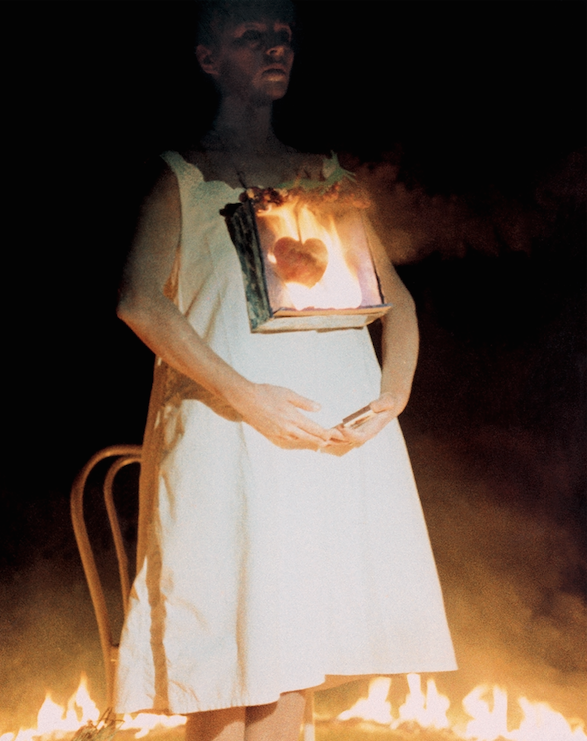 Leda Papaconstantinou, Burning (1985). Courtesy the artist.
Since the late 1960s, Leda Papaconstantinou (born in Ambelonas, Larissa, Greece), a pioneer in performance based works of art in Greece, has enjoyed a long and distinguished career at the national and international level. The wide scope of her performances includes the concept of corporeality in different eras; social conditions and challenges; the need for freedom, and the emancipation of women from obsolete and conservative social beliefs. She often investigates also the issue of gender identity. Papaconstantinou is a vocal critic of social rules and restrictions, stressing the capabilities of the body, while trying to trace its transformation in time and space or under different conditions. (Eirini Papakonstantinou, Art Historian and Curator of the State Museum of Contemporary Art.)
The VENICE INTERNATIONAL PERFORMANCE ART WEEK 2016 presents a photographic documentation of Leda Papaconstantinou's work and a selection of films based on performances, among others: Oh Godard (1969), and Votive (1969).