John Cage & Klaus vom Bruch
Video documentation by Klaus vom Bruch of John Cage's performance 4'33" at the Kölnischer Kunstverein, Cologne (1986). Courtesy of Klaus vom Bruch.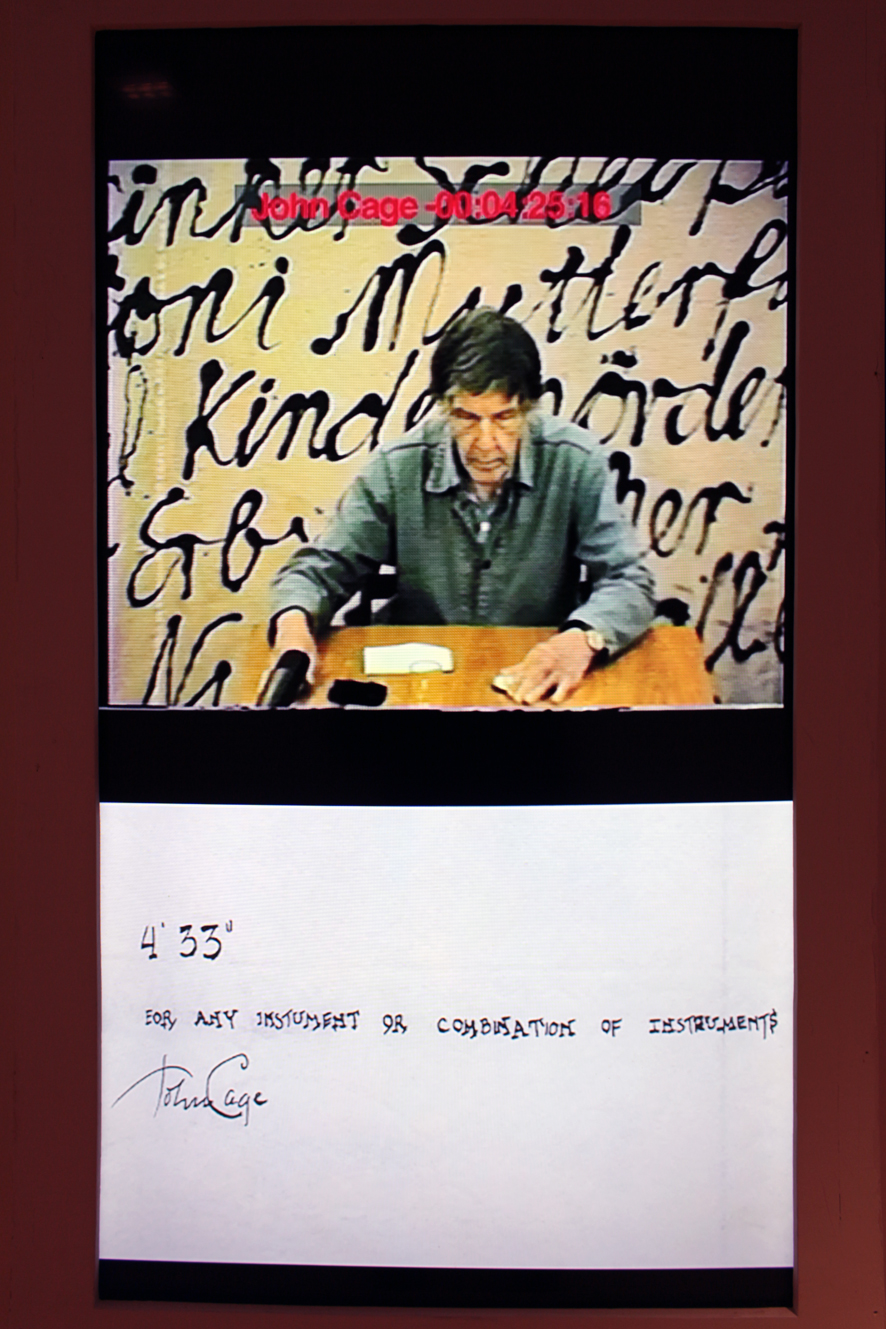 John Cage / Klaus vom Bruch. Exhibition view of the video 4'33" (1986) at the III Venice International Performance Art Week 2016. Image © VestAndPage
John Milton Cage Jr. (Los Angeles, 1912 – New York, 1992) was one of the most celebrated and iconoclastic American composer, music theorist, writer, philosopher, and artist. A pioneer of indeterminacy in music, electroacoustic music, and non-standard use of musical instruments, Cage was one of the leading figures of the post-war avant-garde and as been instrumental in reshaping postwar Western music. His radical innovations in compositions and theory — the application of chance and "found" sound as an integral compositional device, the creation of musical structures based on rhythm rather than tonality — were influential in altering traditional concepts of musical interpretation. Cage is perhaps best known for his 1952 composition 4′33″, which is performed in the absence of deliberate sound; musicians who present the work do nothing aside from being present for the duration specified by the title. The content of the composition is not "four minutes and 33 seconds of silence," as is often assumed, but rather the sounds of the environment heard by the audience during performance (Kostelanetz 2003, 69-70; reviews cited in Fetterman 1996, 69). The work's challenge to assumed definitions about musicianship and musical experience made it a popular and controversial topic both in musicology and the broader aesthetics of art and performance. Cage was also a pioneer of the prepared piano (a piano with its sound altered by objects placed between or on its strings or hammers), for which he wrote numerous dance-related works and a few concert pieces. The best known of these is Sonatas and Interludes (1946–48). (Nicholls 2002, 80)
Klaus vom Bruch (Cologne, 1952) is a German media artist. Vom Bruch studied conceptual art at the California Institute of the Arts with John Baldessar from 1975 to 1976, and philosophy at the University of Cologne from 1976 to 1980. With Ulrike Rosenbach and Marcel Odenbach he formed the art group ATV. He works since 1975 with video, first as a videotape and since the mid-1980s especially in installations. His commitment to critical discussions about contemporary events in politics and current social subjects are the sources for his topics. Commercials from TV are often the starting point combined with historical film material which has been alienated and restructured. For the video installations, he included his own sculptural elements, and adopted completely new and characteristic ways. Vom Bruch's early works are compelling inquiries into postwar German identity. The mythic past collides with the media present as the artist is seen in collusion with World War II bomber pilots, wartime destruction, and TV advertising. Collapsing the personal and the historical, conflating subjectivity and history, desire and the cinematic apparatus, or the body and communications technologies, vom Bruch's potent analytical systems expand on the theories of Paul Virilio.
The VENICE INTERNATIONAL PERFORMANCE ART WEEK 2016 presents the video documentation by Klaus vom Bruch of John Cage's 1986 performance 4'33", held at the Kölnische Kunstverein, Cologne (DE).