Irwin
East Art Map (EAM). Courtesy the artist. Curated by Aurora Fonda | Galleria A plus A.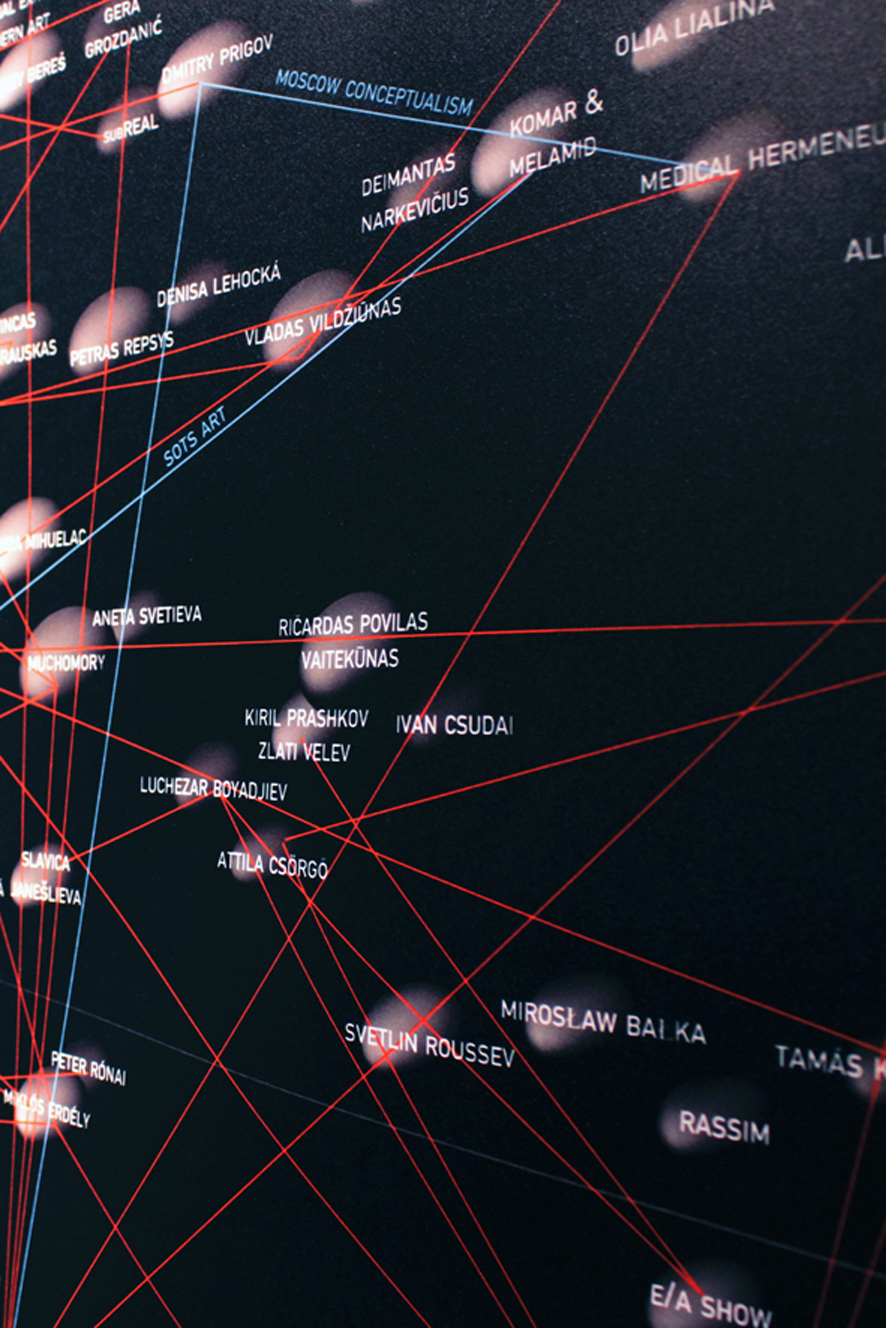 Irwin. Exhibition view of EAM East Art Map at the III Venice International Performance Art Week. Photograph by VestAndPage.
IRWIN is a collective of Slovenian artists, primarily painters, and an original founding member of Neue Slowenische Kunst (NSK). Its members are Dusan Mandic, Miran Mohar, Andrej Savski, Roman Uranjek and Borut Vogelnik. Irwin's work is defined largely by three main principles: building one's own artistic position out of one's particular circumstances; by being particular, art can become truly universal. The second is working in a group, a collective, or even an organization, shifting the emphasis away from the individual personality of the artist. The third is the fundamental NSK working procedure sometimes called the retro-principle. Irwin is interested in the idea of the complexity of the image. For them, an image is never neutral, nor does it ever appear in a neutral space. Thus their work can be tied to the larger international inquiry known as Institutional Critique. Directly drawing upon images that have strong political and/or artistic connotations, including fascist, Soviet, religious, and Suprematist images, Irwin's art is complex and has a traumatic and provocative effect. Reflecting their belief that there is no neutral space, Irwin's work becomes increasingly concerned with location, both in performance pieces, but also in exhibitions.
The VENICE INTERNATIONAL PERFORMANCE ART WEEK 2016 presents East Art Map (EAM), a multimedia, archival, and art historical project started by the Slovenian artist group IRWIN in 2001. The purpose of East Art Map is to create an art history for Eastern Europe after 1945 by identifying modern artists, works, and projects which had a major impact on visual arts in the region. So far the project's working art critics, historians, curators, and artists have identified over 250 artists to include in the project. Contributors in the artist selection process include representatives from Albania and Kosovo, Bosnia-Herzegovina, Bulgaria, Croatia, Czech Republic, East Germany, Estonia, Hungary, Latvia, Lithuania, Moldova, Poland, Republic of Macedonia, Romania, Russia, Serbia and Montenegro, Slovakia, and Slovenia. The EAM aims to be a democratized model that does not impose a singular narrative and invites data, and contributions from the public.