Cassils
Video installations Inextinguishable Fire (2007-2015) and Tiresias (2013). Courtesy the artist and Ronald Feldman Fine Arts.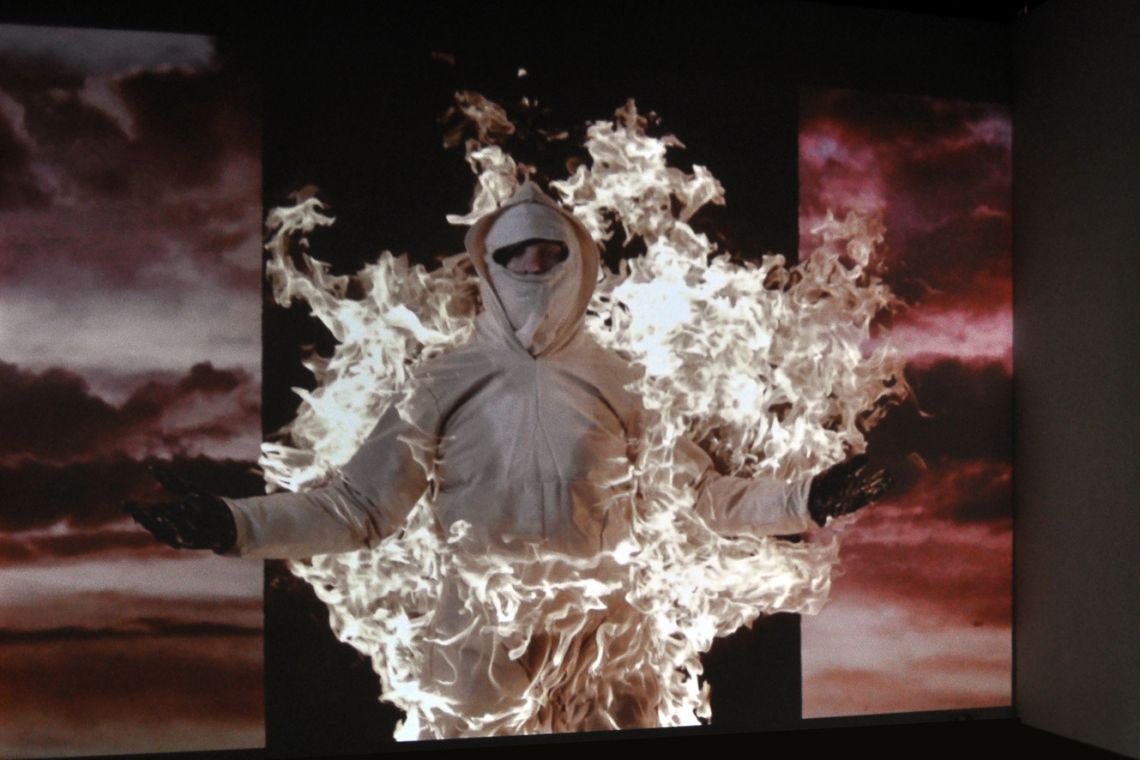 Cassils. Exhibition view of the video installation Inextinguishable Fire (2007-2015) at the III Venice International Performance Art Week 2016. Image © We Exhibit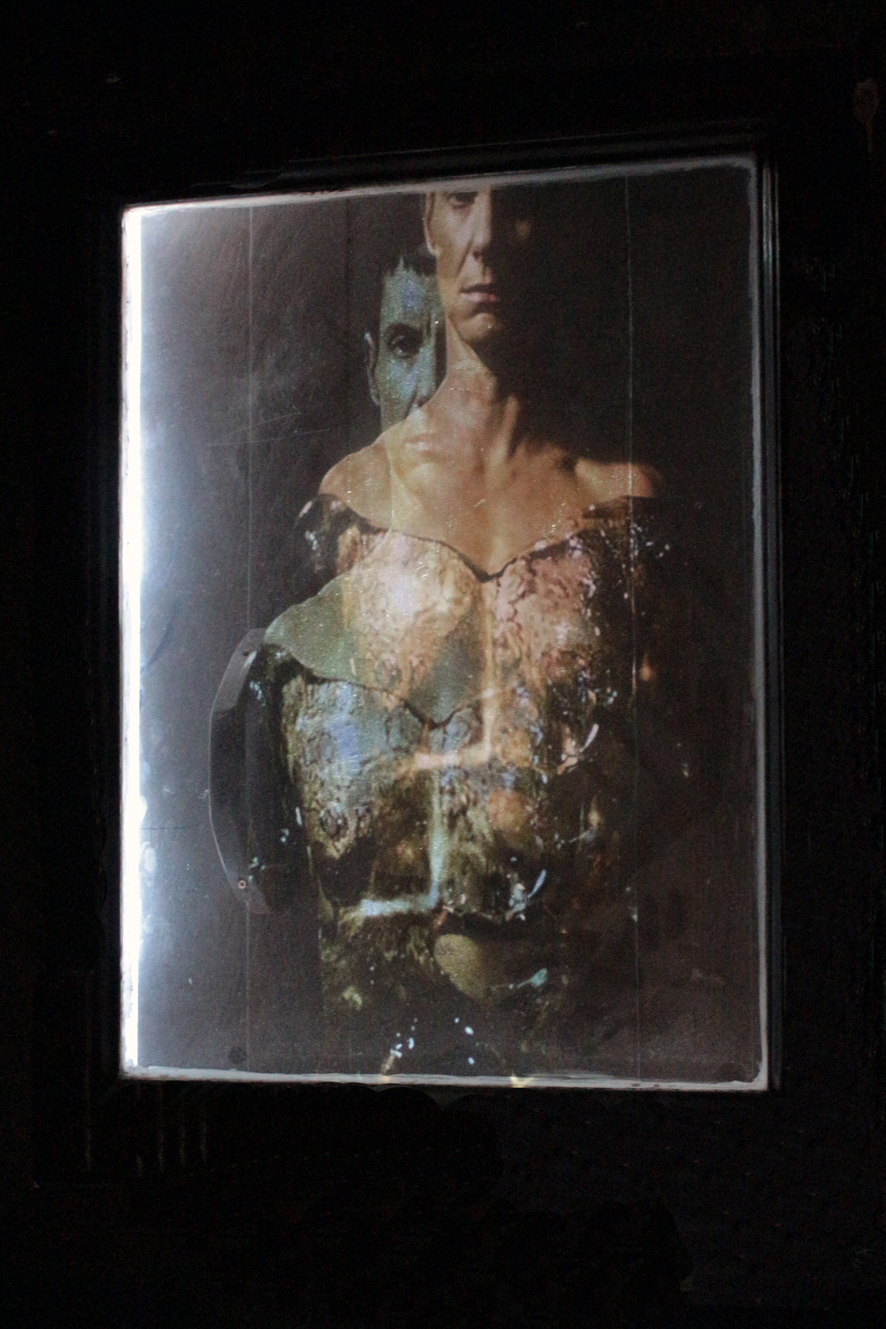 Cassils. Exhibition view of the video installation Tireisias (2013) at the III Venice International Performance Art Week 2016. Image © VestAndPage
Listed by the Huffington Post as "one of ten transgender artists who are changing the landscape of contemporary art," Canadian, Los Angeles-based artist Cassils has achieved international recognition for a rigorous engagement with the body as a form of social sculpture. Featuring a series of bodies transformed by strict physical training regimes, Cassils's artworks offer shared experiences for contemplating histories of violence, representation, struggle, and survival. Cassils's works juxtapose the immediacy, urgency and ephemerality of live performance against constructed acts for camera in order to challenge the "documentarian truth factor" of images. Bashing through gendered binaries, Cassils performs transgender not as a crossing from one sex to another but rather as a continual process of becoming, a form of embodiment that works in a space of indeterminacy, spasm and slipperiness. Drawing on conceptualism, feminism, body art, gay male aesthetics, Cassils forges a series of powerfully trained bodies for different performantive purposes. It is with sweat, blood and sinew that Cassils constructs a visual critique around ideologies and histories.
The VENICE INTERNATIONAL PERFORMANCE ART WEEK presents the following video installations by Cassils:
Inextinguishable Fire

(2007-2015),

was

initially created as a performance for camera in Los Angeles using stunt techniques borrowed from Hollywood films. Shot on digital video at 1000 frames per second, Cassils' fourteen-second live burn was extended to fourteen minutes of slow motion flame. Slowing the burn down required the viewer to spend time in a world reduced to the fleeting headlines of Twitter and Facebook feeds. When screened on a continuous loop, the video references continuous cycles of political uprising and apathy, life and death, ignition and extinguishment. The title of the work references Harun Farocki's eponymous 1969 film, which reflects on the impossibility of effectively representing the horror of napalm on film. "

When we show you pictures of napalm victims, you'll shut your eyes. You'll close your eyes to the pictures. Then you'll close them to the memory. And then you'll close your eyes to the facts. – Harun Farocki, 1969.

Cassils began to interrogate issues of violence and representation after they attend the United Stuntman's Association's International Student School in 2005. During this period, they produced Simulation in Training, an experimental documentary that investigates the theatre of war present in mass media in the United States. Although Inextinguishable Fire is simulation of violence, it still presents real danger. In capturing this volatile situation, Cassils creates an artwork where immanent physical danger, empathy for those experiencing violence, and the privilege of distance from such circumstances operate simultaneously in one transparent performance.

Tiresias

(2013)

is a four to five hour durational performance. Tiresias is a mythological figure, the blind prophet of Thebes who is famous for being transformed from a man into a woman for seven years. During the live performance, Cassils's body is pressed up against the back of a neoclassical Greek male torso carved out of ice for precise contact with the artist's physique. Cassils melts the ice sculpture with pure body heat, demonstrating the instability of the body and our desire for a certain unsustainable physique. Recasting the myth of Tiresias as a story of endurance and transformation, Cassils performs the resolve required to persist at the point of contact between masculine and feminine. Tiresias also exists as a single channel video installation that collapses the performance into a 15 minute loop. Two shots are employed in this document: one which frames Cassils's body from the waist up, and another which offers closeup shots of the subtle changes taking place during the performance, such as droplets slowly forming, the ice rising and falling with the rib cage, and the reddening of the skin. Accompanying this video is an ambient sound track which blends birdsong – Tiresias was clairvoyant and interpreted birdsong to predict the future –, the sound of melting ice, and a vocal performance of Winterreise (Winter Journey), a song cycle for voice and piano by Franz Schubert. The vocals are performed by the artist's brother, Matthew Cassils, a classically-trained opera singer. The sound design was made in conjunction with Kadet Kuhne.