Study Movie Room
2020: CO-CREATION LIVE FACTORY – DISSENTING BODIES MARKING TIME
STUDY MOVIE ROOM
Curated by VestAndPage and Joseph Morgan Schofield
With the cultural contribution of the Live Art Development Agency (LADA, London)
Live art is a way of thinking about what art can be, where it can be, how it's made, who it's made for, how it's experienced, how its remembered, written about and how it will contribute to broader understandings of who we are in this world. – Lois Keidan
In Live art, political and social concerns are either openly or intimately entwined to the philosophical, the personal, the psychological, the scientific and the spiritual. The artist's body serves as a tool for civil disobedience to look at our life and the future from new perspectives. Through our bodies, we express our poetic resistance and all that which is most profoundly human to mark our times, ultimately love, even though at times to the extreme. – VestAndPage
---
MARILYN ARSEM (US)
100 Ways to Consider Time, 2015, 8'18''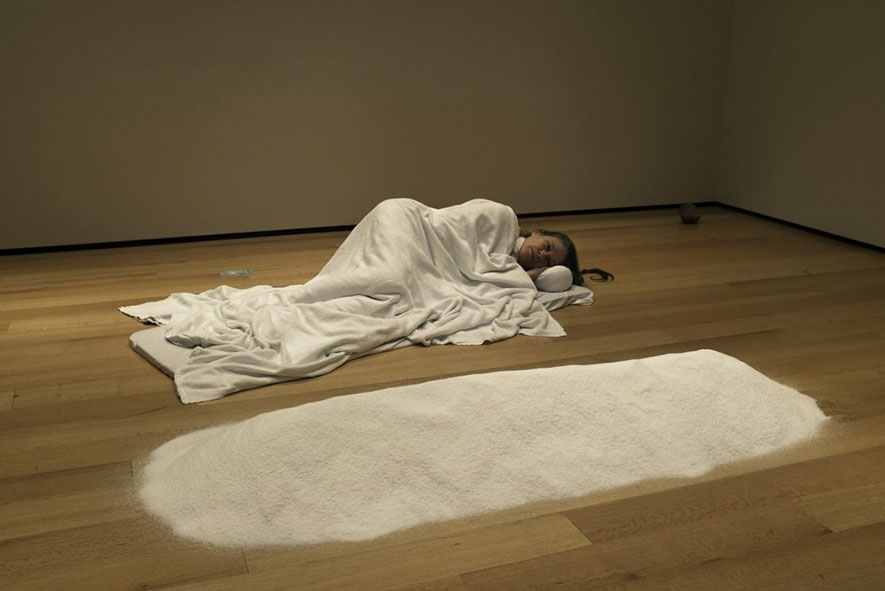 Marilyn Arsem, 100 Ways to Consider Time (Day 99), 2015. Photo: Mark Solinsky
100 Ways to Consider Time has been presented by Marilyn Arsem at the Museum of Fine Arts, Boston for six hours a day, every day, for 100 days – an invitation to pause and experience the present moment, providing a temporary respite to the frenetic pace of our modern lives.

Marilyn Arsem has been creating live events since 1975, from solo gallery performances to large-scale, site-specific works. Thematically, her work has ranged from feminist deconstruction of images of traditional women's work, to performances concerning the Cold War, to the impact of US imperialism in countries throughout the world, to works about environmental issues. The topic to which she has continually returned over the years has been our understanding of time, its passing, and mortality.

Over the years, Arsem has experimented with different ways of designing performances so that audiences share responsibility in doing the work. In some cases, the audience is given control over the actions of the performer. In other works of hers, the audience has taken a specific role in creating the event. This reflects an interest in redefining power structures and illuminating how meaning is generated and shared between people. www.marilynarsem.net
RON ATHEY (US)
St./Sebastien/50, 2011, 9'07'' (Featuring Jon John and Russell Mac Ewan)
Forest - Jon John Estate Cut, 2018, 10'25''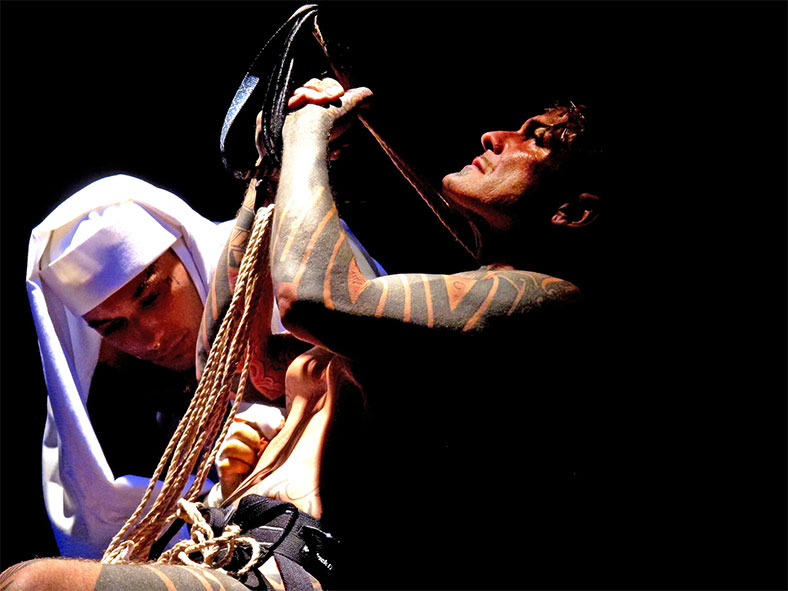 Ron Athey and Jon John, St./Sebastien/50, 2011. Photo: Kurt Ehrmann
Inspired by the religious paintings of St. Irene tending to the body of the wounded saint, St./Sebastien/50 takes the image and action of martyrdom to archetypal recovery. This video excerpt is of the performance that Ron Athey held at the Borderline Biennale (Lyon, FR) on September 2, 2011, featuring artists Jon John and Russell Mac Ewan. It consists also of an interview where Athey and Jon John explain the concept of the performance, which unfolds the political identity of AIDS and AIDS pandemic, as much as of Athey's work respond, also emotionally, as well as reflecting on the issue of being in a dying culture.

Filmed in the studio and then later performed live in Los Angeles, Forest - Jon John Estate Cut is the more extended version of a video that Ron Athey directed for his new work Acephalous Monster. Athey turns to the "Acéphale", the figure of the headless man, which inspired George Bataille's secret society of the same name to combat nihilism and fascism before the Second World War in France. The headless or beheaded man is a powerful symbol of radical transformation, the driving force of all of Athey's performances pushing towards the merging of humans and gods. The video is a gift to the estate of performance artist Jon John (prematurely passed away at the age of 33 in 2017), as some of the pieces in the video were objects that Jon John saw as his relics.

Best known for his boundary-pushing body mutilations, Ron Athey has been pursuing the transcendent and sublime for more than three decades. After the "Death of God" (famously proclaimed by the philosopher Nietzsche who anticipated the end of religion in Western society), Athey considers that one of the artist's roles is to invent new forms of ritual and celebration, to conjure the sacred as an antidote to the empty individualism of contemporary life. www.ronathey.com
WAFAA BILAL (IQ/US)
3rdi, 2010-2011, 8'39''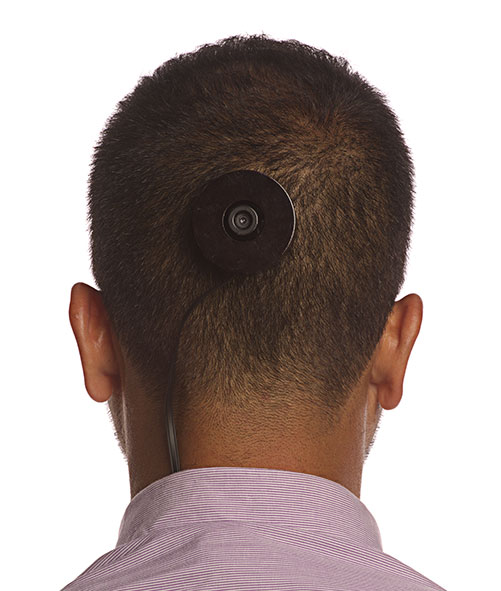 Wafaa Bilal, 3rdi, 2011. Self-portrait
In his own words, Wafaa Bilal says: "I am nothing if not a storyteller. My work to date has been concerned with the communication of public and private information to an audience so that it may be re-told, distributed. The stories I tell are political dramas, which unfold through my past experiences and into the present where they interact with the currency of media as the dialectic of aesthetic pleasure and pain. Through various layers of distribution and interpretation, pictures are drawn using interactive models established through the stories' (technological) framework where they are revealed and shared. With an audience locked in participation, my story may be retold. The 3rdi is just such a platform for the telling and retelling of another story. A camera temporarily implanted on the back of my head, it spontaneously and objectively captures the images – one per minute – that make up my daily life, and transmits them to a website for public consumption. During my journey from Iraq to Saudi Arabia, on to Kuwait and then the U.S., I left many people and places behind. The images I have of this journey are inevitably ephemeral, held as they are in my memory. Many times, while I was in transit and chaos, the images failed to register fully, I did not have the time to absorb them. Now, in hindsight, I wish I could have recorded these images so that I could look back on them, to have them serve as a reminder and record of all the places I was forced to leave behind and may never see again." http://wafaabilal.com/thirdi
daz disley (UK)
Traversal, 2019, 5'00''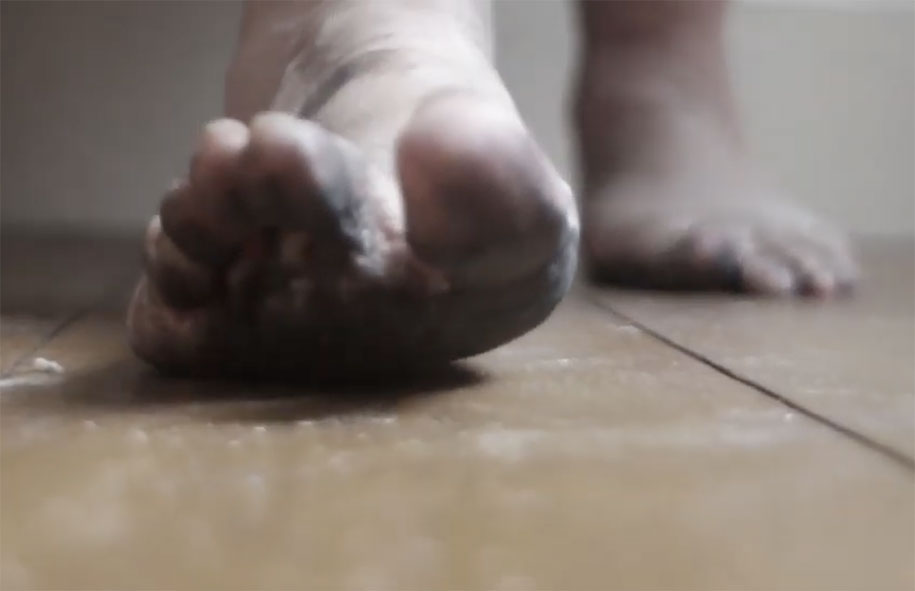 daz disely, Traversal, 2019. Still from the video
Having in his past been a rock-climber, disley defines a "traverse" as part of a pitch on a climb where predominantly the movement is sideways, not upwards. Superficially this might be seen as somehow suspending momentum, denying progress, and growth. Broaden this concept out, economically, key indicators are about growth and moving the markets forwards, but what if a more sustainable route is to go sideways towards a diversification? The same seems utterly feasible in most other forms of practice: the act of taking stock, of accepting current positions, and embracing outside influence without the necessity to endlessly grow and boost the discipline for the sake of any school of thought, or its codifications.

Disley believes that creative practice can be somehow similar: by embracing the nowness of our present practice and branching-out sideways instead of always striving upwards, we can grow and in ways unexpected to both the observer and the inner-narrative self-observer.

Traversal is a work in progress consisting of a series of 60-ish-second video-dance and performance-for-camera pieces, where practitioners simply show a movement-phrase which might be easy, difficult, ground-based, or areal, or anywhere in-between, but where they're at home with, and somehow simultaneously learning from, crossing visible spaces and imaginary places in unconventional ways. www.dazdisley.co.uk
FRANKO B (IT/UK)
Milk & Blood, 2015, 43'08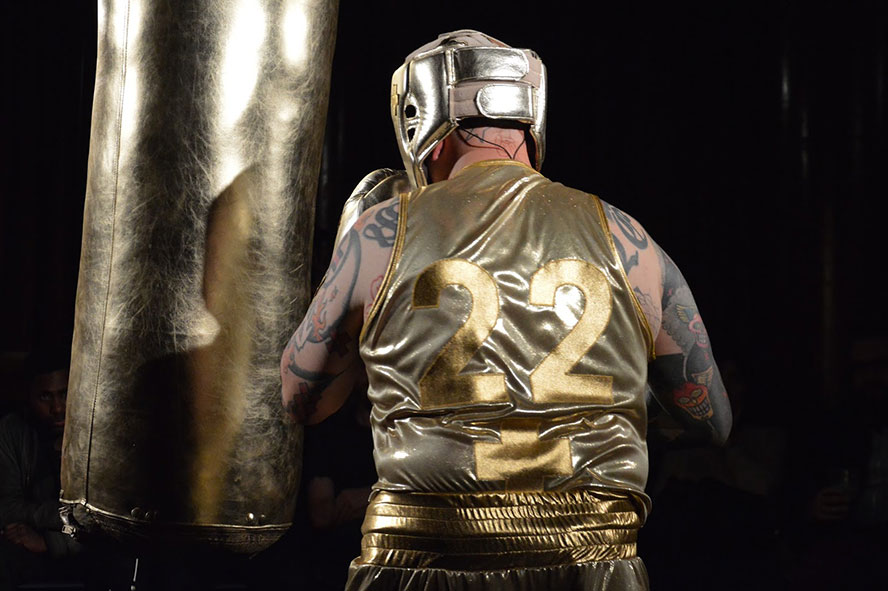 Franko B, Milk & Blood, 2015. Photo: Riccardo Attanasio
Milk & Blood is a performance held by Franko B on July 27, 2015, at Toynbee Studios (London). It appropriates the aesthetics of boxing for 32 minutes, rounds of mental and physical endurance during which Franko explores themes of pain, eroticism, revulsion, ecstasy and masculinity. The performance becomes a metaphor for social struggle and the ability to overcome. Internationally recognised as a pioneering performance artist, Franko B uses both his body and a punching bag as democratic tools, embodying notions of the personal, political and poetic. In this unprecedented performance, Franko B returns to the seminal aesthetics of the wound. Milk will bleed. He says: "Looking introspectively, I can truly say that I have successfully wrecked my career as a 'bleeding' artist and continued my lust for life thanks to language."

Franko B's Milk & Blood performance has been supported by Arts Council England and presented in collaboration with a/political and thank to Lee Steggles, Dawn Manners, Becky Haghpanah-Shirwan, Steve Wald, Yuki Kobayashi, Thomas Qualmann, Gill Lloyd, The Bureau of Silly Ideas, Gamba Shoes, Hillary Wili and Katie McPhee. www.franko-b.com
CASSILS (CA/US)
The Powers That Be, 2015, 8'16"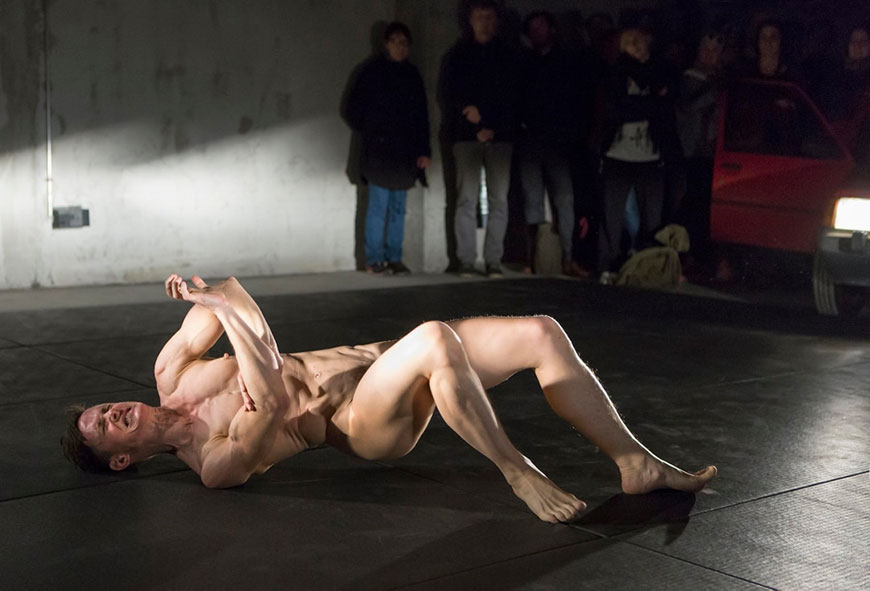 Cassils, The Powers That Be (210 Kilometers), 2015. Photo: Pekka Mäkinen
Cassils collaborates with fight choreographer Mark Steger to stage a brutal two-person fight. Illuminated by car headlights in the depths of a parking garage, Cassils is the sole figure, sparring with an invisible force. The stereos of the surrounding cars broadcast a multi-channel score of static noise and radio samples designed by Kadet Kuhne. By amplifying the socio-political conflicts at each performance location with sound, The Powers That Be explores the radical unrepresentability of certain forms of trauma and violence. Here the radio signal is a transmission of site-specific issues, both proximate and distant. ‍

As the recipient of the first ANTI International Prize for Live Art, Cassils was commissioned to create a site-specific performance for Kuopio, Finland, the host city for the ANTI Contemporary Art Festival. Kuopio is located 210 kilometres from the Russian border. Cassils' performance addressed the proximity of the festival to a country where queer and trans lives are acutely vulnerable and under siege, lacking any protection under civil law. The sound design in this context marked the particularity of site through samples of local news clips, music, and talk radio from both sides of the Finnish/Russian border, highlighting the dire situation for LGBTQI people in Russia.

The Powers That Be addresses the mediation of violence by calling into question the roles of witness and aggressor on the part of the spectator.

Cassils is an artist who uses the physical body as a sculptural mass with which to rupture societal norms. Forging a series of powerfully trained bodies for different performative and formal purposes. It is with sweat, blood and sinew that they construct a visual critique and discourse around physical and gender ideologies and histories. http://cassils.net
BOB FLANAGAN (US)
Why?, 1985, 3'33''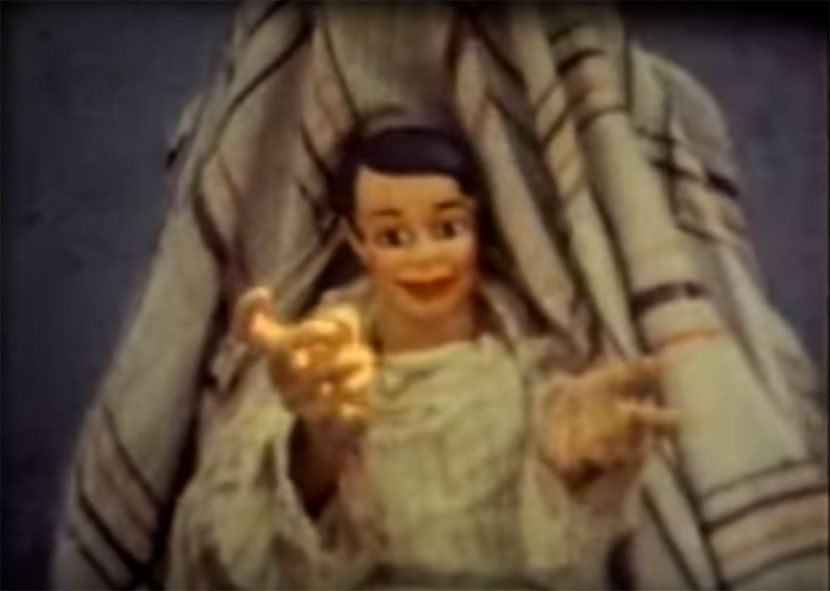 Bob Flanagan, Why?, 1985. Still from the film
In Why? Bob Flanagan described with merciless honesty, courageous wit and candidness stripped of any pretence and artifice, his tormented childhood and unbearable environment of immense pain and agony that later on birthed his masochistic desires. Featured in his movie Sick: The Life & Death of Bob Flanagan, Supermasochist (1997), Why? is a spoken poem-manifesto he wrote in in 1985, complicated by layers of emotion, pain, passion and living situations that conjure all in once to express Flanagan's intrinsic humanness, rebel poetry and lust for life.

Los Angeles writer and artist Bob Flanagan created performances with Sheree Rose that shocked and inspired audiences. He combined text, video, and live performance to create a highly personal but universal exploration of childhood, sex, illness, and mortality. The Pain Journal, Flanagan's last finished work, is an extraordinary chronicle of the final year of his life before his death from cystic fibrosis in 1996 at the age of forty-three. https://one.usc.edu/news/bob-flanagan-and-sheree-rose-collection
GUILLERMO GOMEZ-PEÑA (MX/US)
Living Museum of Fetishized Identities, 1999-2002, 1'30''
Welcome to the Third World, 2004, 1'35''
Instant Identity Ritual, 2005, 1'48''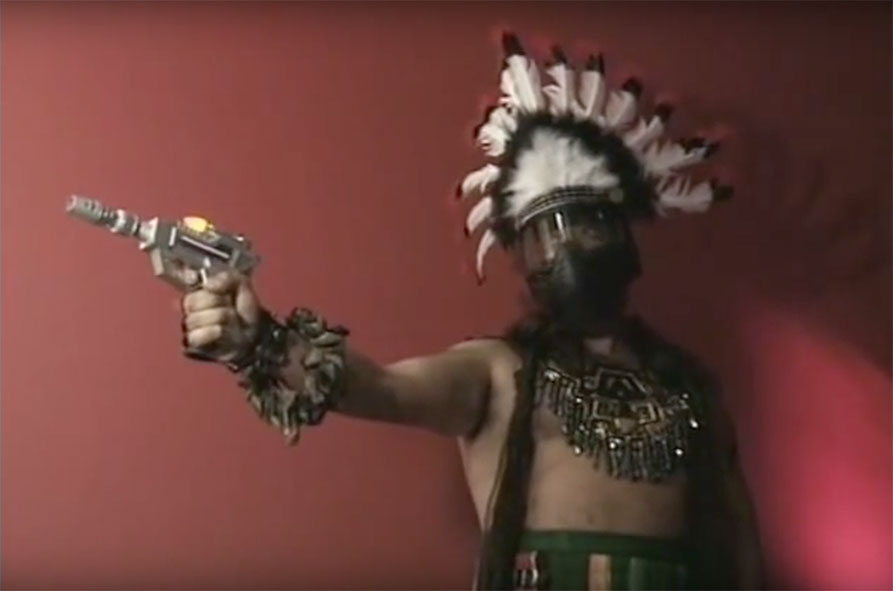 Guillermo Gomez-Peña, Welcome to the Third World, 2004. Still from the video
As part of a more extensive series of works by the legendary performance troupe known as La Pocha Nostra co-founded by Guillermo Gomez Peña, Living Museum of Fetishized Identities depicts Gómez-Peña in a blend of costumes while running a pair of scissors over his facial features. In a possible attempt to remove his fetishized identity, Gómez-Peña leaves those watching in a state of unease.

In Welcome to the Third World, Gómez-Peña uses his cultural stereotypes to mock fetishized views of his identity, highlighting the common perceptions of the Chicano lifestyle while dressed in a wide array of cross-cultural costume. In this satirical depiction, Gómez-Peña states: "To be an American is a complicated matter. You are in relation to the multiplicity of looks you are able to display. I am brown; therefore, I am underdeveloped. I wear a moustache; therefore, I am Mexican. I gesticulate; therefore, I am Latino. I am horny; therefore, I am a sexist. I experiment; therefore, I am not authentic. I speak about politics; therefore, I am un-American. My art is indescribable; therefore, I am a performance artist. I talk, therefore I am. Period."

In Instant Identity Ritual (video by Gustavo Vasquez), Gómez-Peña downs a bottle of his favourite hot salsa, taking multiple Mexican stereotypes while an alternative, experimental rock song plays.

Born in Mexico, Guillermo Gómez-Peña moved to the United States in 1978 to attend the California Institute of the Arts. A self-identified Chicano (Mexican-American), Gómez-Peña describes his art as border art due to the hybrid of the two cultures that help shape him. He says: "I make art about the misunderstandings that take place at the border zone. However, for me, the border is no longer located at any fixed geopolitical site. I carry the border with me, and I find new borders wherever I go." www.pochanostra.com/
JON JOHN (BAC/FR)
Love on Me, 2017, 7'26''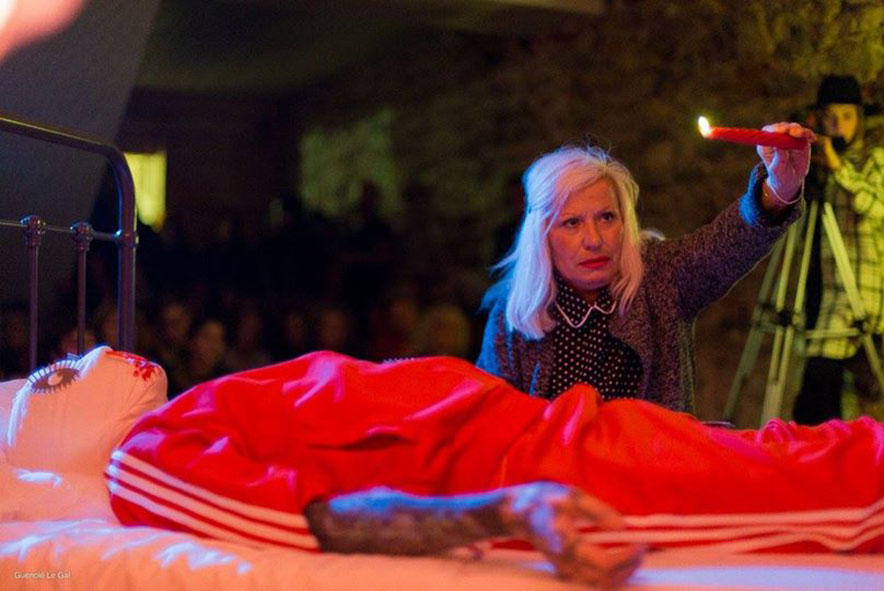 Jon John, Love on Me, 2017. Still from the video (Jon John with his mother) Image © Guénolé Le Gal
Love on Me draws strength from late Jon John's conversations with Ron Athey and readings from Illness as Metaphor by Susan Sontag, where she denied the fatalness of her terminal cancer and treatment until her last breath. Jon John said: "From Ron Athey, I have learned how to live with this dying body. I have cancer. I was given a slim chance of surviving. My first reaction was fear and self-blame; somehow, I caused this sickness. My experience with this life-threatening disease is the inspiration for this work… Every person gets sick. Every person will wonder why he or she is the one to get sick, no matter if that illness is a bad cold or terminal cancer. Metaphors help us understand the world. Metaphors for illness can comfort the anxiety of not knowing. Many are tempted to make sense of illness metaphorically, as a punishment, a sign, an opportunity, or a war raging in one's body. If cancer is a disease of passion, will love aid my struggle with this disease? Following some the modern myths that my disease is rooted in: sexual repression, inability to express emotions, failure, punishment, or an inhibited personality type— as an oblation, I offer this performance and installation."

In his Artist's Manifesto, Jon John wrote that he believes that the action of love remains one of the few accessible ecstatic rituals in our disposable society: "My invocations of love are not static. The rituals and aesthetics of my childhood experiences continue to transform through research and personal connection. My ritual is communal alchemy. I don't perform for audiences but rather engaged witnesses that become co-creators. My lovers. From my veins flow Basque, Argentinean and Gypo. "Gypo" is a derogatory term I own for Gitano, which is the Spanish-Roma ethnicity. The complexity of my ethnicities gave dimensionality to my religious upbringing. We are a catholic family that practices magic. My people gave me the gifts of healing bodies and conjuring spirits.

My queerness is not in a typical narrative of exclusion, but rather a celebration of my otherness. It is not a longing of something missing, but a quest with an open heart.

Through an altered state of consciousness, I transcend my spoken vocabulary, to share my hidden secrets of love, life, and loss… Flesh, skin, and blood are my palette to take you on a journey from tenderness to brutality via beauty and decay." Love on Me, Jon John's final performance, was performed only once, about one month before his death, changing dramatically to a farewell, living memorial. https://archiveshub.jisc.ac.uk/search/archives/9a86052c-84e3-32ea-962f-f660ae98827f
FRANCESCO KIÀIS (IT/GR)
One for Babel, 2003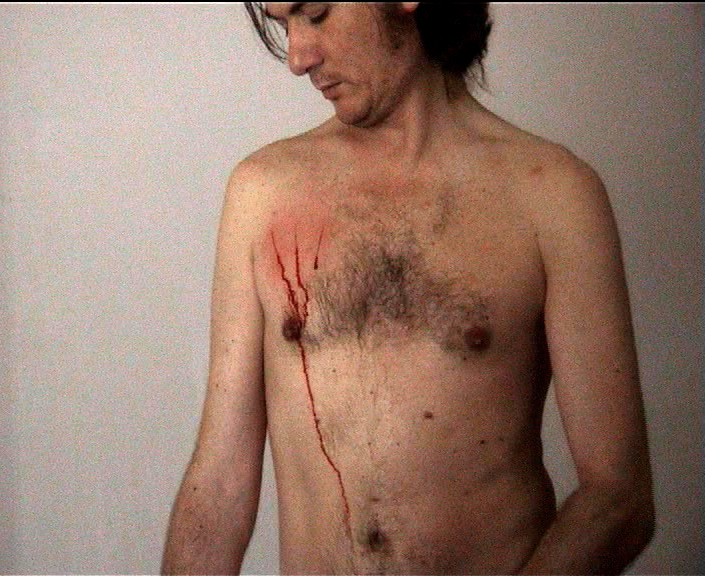 Francesco Kiàis, Still from the video One for Babel, Performance for the camera, Berlin 2003.
The performance for camera ONE FOR BABEL, realized in 2003, was conceived in reaction to the beginning of the Second Gulf War and to the climate of growing ideological and faith-based violence that followed the attack on the Twin Towers of September 11, 2001. During the video the artist inflicts several times onto himself three wounds on the chest, as many as the three Abrahamic religions, citing a verse to each wound. At each cycle of three cuts, the artist washes the wounds making them disappear, and then starts again with three new cuts and three new verses, which from a certain point onwards mention the same thing in English, Hebrew and Arabic. On several occasions Francesco Kiàis has made hatred the object of his artistic practice by investigating it in his murderous expression among peoples, genders, religions, and political ideologies. In its research, art becomes the ideal territory to reveal the boundaries between different realities, and to transform them into thresholds for possible dialogues.

Italian artist, independent art writer, and curator Francesco Kiàis is currently based in Athens. He is the founder and director of the initiative [mind the] G.A.P. - Gathering Around Performance, as well as an associate curator of the Venice International Performance Art Week. In the last years, Kiais collaborated with different educational programs both as a theoretician and as an artist, holding workshops and lectures, also for several universities.

He is currently a member of the InArts Lab of the Department of Audiovisual Arts of the Ionian University in Corfu, Greece.
OLEG KULIK (RU)
Reservoir Dog, 1995, 7'15"
Missionary, 1995, 5'24"
Dog House, 1996, 4'10"
Missionary, 2012, 5'28"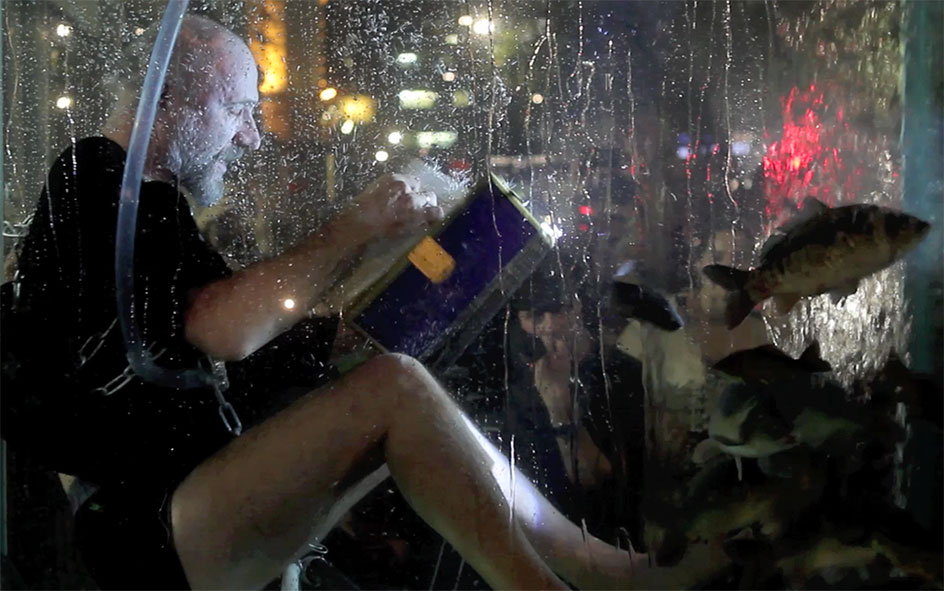 Oleg Kulik, Missionary, 2012. Still from the video
Reservoir Dog is an action that took place on the opening day of "Signs and Wonder", a large international exhibition including famous international artists (e.g. Jeff Koons, Cindy Sherman, Damian Hirst, Ilya Kabakov), at the Kunsthaus, Zurich, on March 30, 1995. It also featured expressive animalistic paintings by Nico Pirosmani, a naive artist and tragic figure, hardly known in the West. Kulik was howling at the entrance of the exhibition scaring away spectators. This unexpected appearance of another "naive artist", the dog-artist at the door of the "Swiss Bank of Art", was his protest against the transformation of an artist's life into material value, against art as commodity. Kulik was arrested and spent a night in prison.

Missionary was performed by Kulik at Peschanaya Street, Moscow on October 27, 1995, in the framework of the project "Art Belongs to People-II". The action was dedicated to St. Francis of Assisi, a man who once prayed to the birds, and thus started communication with another biological species at the highest confessional level. Kulik was absolving live carps in ice-cold water for half an hour. After the action, the carps were returned to a food store to be sold. Kulik resembled a fish after this action. He panted and could not say a word. Whether or not the carps became purer after the absolution procedure is unclear, and likewise Kulik's religious persuasion. He restaged this epic performance on the streets of London dressed as a priest and surrounded by local art crowds and bemused passers-by. The one-off evening performance took place outside of the Regina Gallery on October 9, 2012, for the opening of Kulik's retrospective UK exhibition "Deep into Russia". A 2-ton steel and glass tank filled with water and carps was built for the event, which saw the legendary Russian artist performing for the first time in public in almost a decade. Dog House is a short extract from documentation of Kulik's participation in Manifest 1's Interpol group exhibition in Fargfabriken, Stockholm in 1996. It was suggested that Kulik produce his Doghouse project within "Interpol", an exhibition devoted to the problem of communication. The artist was invited as a sort of ready-made to stay in a specially built house. The audience was warned that any interaction with the artist who denounced the language of culture is dangerous and that no one should cross the borders of his territory. Following the logic of this action, Kulik bit a Mr Lindquist who had neglected the warning. The Swedish police arrested Kulik. This performance and the exhibition as a whole aroused scandalous response from the media. "Interpol" was called an event that divided the art world into East and West. www.rabouanmoussion.com/en/oleg-kulik
BORIS NIESLONY (DE)
MA, 2003, 14'34", directed by Gerald Harringer (Die Fabrikanten)
Boris Nieslony on Live art, 2017, 5'03" at Die Fabrikanten
Boris Nieslony in Pyramiden, 2018, 32'03"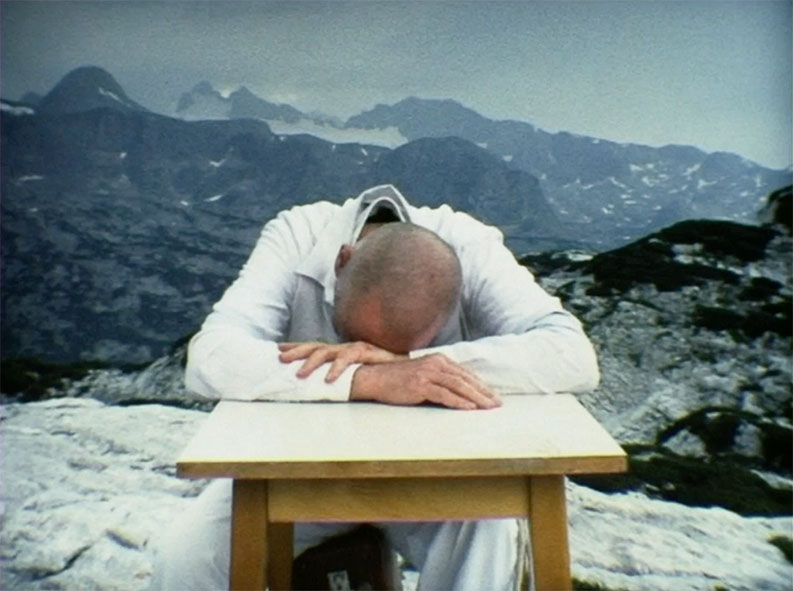 Boris Nieslony, MA, 2003. Still from the video
MA centres on a man, who sets off on a very lonely journey. His path takes him from a deserted village on the former death strip between the Czech Republic and Austria into the mountains. Dreams show the way to the Jedermann protagonist (Nieslony) and lead him to impressively symbolic acts and rituals. This border area between dreaming and reality is also denoted by the film title MA, which is the Japanese word for "gap".

"A long, long time ago, I dreamed of a field, a large field, outside a city. I see the dream again very clearly before me: grey cement-coloured balls are coming from the sky. They float down towards the earth, and the closer they come, the bigger they get. On the outside, they have no incisions, openings, doors or anything, like spaceships, and it occurs to me that they are like Leibniz' monads, completely closed hermetically in themselves, like some kind of primal things… I just watch curiously, and all at once there is this uncanny feeling, as though the crowd is suddenly afraid. And so, it is. Suddenly they are afraid, and that turns into aggressiveness, and then the first people start picking up stones, and I scream: No, no, don't do anything, that's completely normal, no… But then people start throwing stones, and I say: Well, if that's how it is, then you need to get out of here. And then I ran away." (Excerpted text from MA)

MA is followed by a short interview on the meaning of Live art that Boris Nieslony at Die Fabrikanten in 2017, and the recording of his performance in an abandoned house in Pyramiden, Svalbard, as part of "Artic Action 2018", tackling the issues of presence and absence, for those who were and are no more. www.asa.de/projects/asastart.htm; www.fabrikanten.at/
KIRA O'REILLY (IR)
Wet Cup, 2000, 2'29''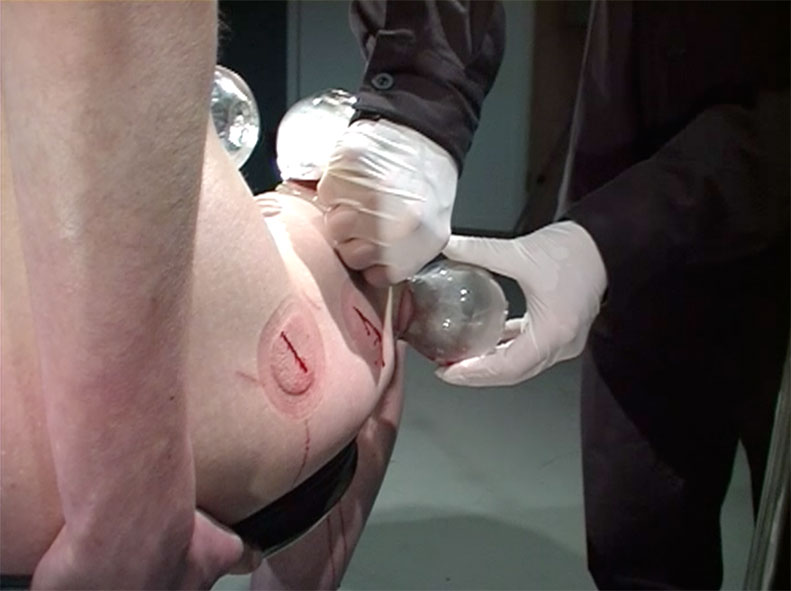 Kira O'Reilly, Wet Cup, 2000. Still from the video
A performance which draws on the ancient medical technique of wet cupping for the treatment of hysterical women. Heated glass 'cups' are placed over small cuts on O'Reilly's body, and as they cool they create a vacuum which slowly extracts the artist's blood. She says: "From my perspective, my artworks have never been about pain, but I remember during a talk years ago Susan Hiller commented that the artist's intention and ideas are only one of the many possibilities of understanding any artwork, a view which I find inspiring in its generous and generative potentials. Later, when looking at artworks by, and reading about Gina Pane, I realised that the meaning of any artwork occurs somewhere between the artwork and the viewer, it is the encounter between both. The works I made that involved explicit interventions into my body via openings and bleedings were a series of enquires, the doing of each one opening up a new question that could only be responded to by the act of another performance, i.e. a live and actual doing with an audience/viewer/witness. These were questions specific to the era during which these works were made and were concerned with themes like, but not exclusively: how do we view and watch bodies – in particular, female ones? What are the dynamics of power that are active when we watch and what happens when one's body-as-image's interior is revealed? Then, where does a subject end and begin? Does one's subjectivity end at the skin? What is it when one's bodily substance, i.e. the blood is spilt, is it still oneself? How might we understand the materiality of The Body and one's own intimate and acutely specific and personal body? How might one consider it sculpturally with its intrinsic qualities of mutability and its biological and physiological functions? To attribute meanings of pain to these artworks seemed to me to be too problematic; risking the removal of their joy, expansion and jouissance; their curiosity and generative potentials, their erotic possibilities and dynamic ambivalence; and instead possibly collapsing them into narrow parameters of an easy diagnosis. And of course, the works were not painful, at least not for me."
JULIE TOLENTINO (US)
Cry of Love - Honey Installation (Excerpt), 2010, 8'17"
evidence, 2014, 4'17" in collaboration with Abigail Severance (US), featuring Stosh Fila aka Pigpen (US)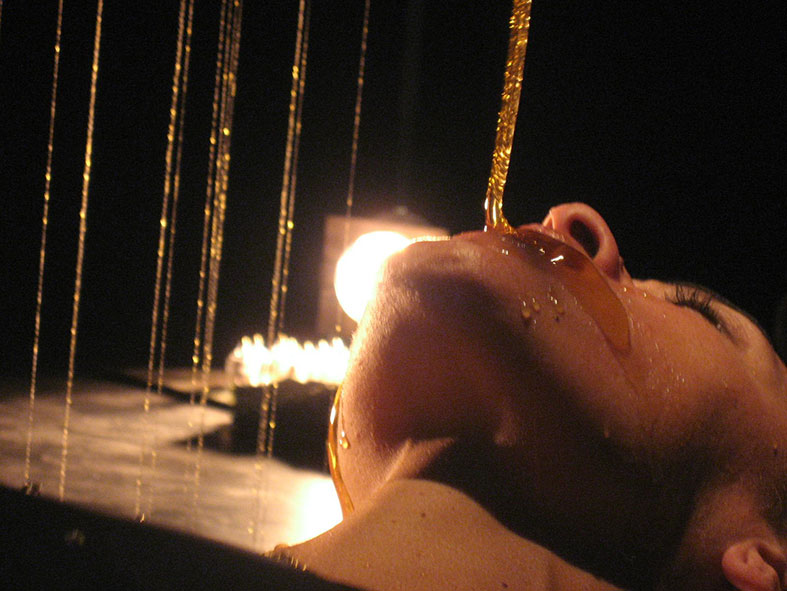 Julie Tolentino, Cry of Love - Honey Installation, 2010. Still from the video
Cry of Love - Honey Installation is a video excerpt of a sculptural endurance event performed by Julie Tolentino at "Gutted: Lace's Annual Winter Benefit" in Los Angeles (2010). In her own words, this piece "is a requiem for several friends who passed away, alongside a life built of loss and early departures. My work often regards and centres this experience that shifts in its intensity as we age. These were very influential and close artist friends/kin – and I have been quite lost without them. I wonder so much in our ageing how we will nourish and stand with each other in our present and future forms… My projects, though I do not tend to use the term "ritual", certainly holds and creates space/time for the material and punk spirit in the ever-present critical relationships that shape, make us who we are, with and through the other. These are the terms of a practice built and shaped by artist-to-artist relations - in all of their shapes, conditions, terms, distances, and reach."

In evidence, Julie Tolentino's naked, moving body articulates backwards on her hands and knees, balancing a cluster of Asian medicine cups. Her self-made sound piece initiates the video with a queer list of loved ones living and lost, recognizable or not, as both invocation and provocation of individuals who profoundly shifted her perspective. As the listed names blur and are archived in Tolentino's body, evidence opens up to the list's potency through a female, brown, artist/activist body in the unseen yet held spaces of relationship, memory, sex and loss. This work was created specifically for video and for the 25th Anniversary of "Day Without Art for Visual AIDS".

Julie Tolentino's practice offers settings for intimate, movement-based, interdisciplinary exploration. These affective assemblages offer nuanced attention to the ordinary and the queer through slow temporalities and corporeal practices such as activism, somatics, touch, and caregiving. Traversing internal and external landscapes, devised objects and performances tender the multi-sensory, arrhythmic, and non-narrative in vignette-based serial works or durational projects. Physical actions range from hyper-ordinary to kink to the nearly-imperceptible, such as in the Honey's "choreography of the throat" or immersive one-to-one exchanges.

In her artist statement, she writes: "Through a mestizaje lens, my accumulated practice's (il)legibility and its vibration from the margins hopes to contribute to future worlds through a lifetime refusal of gender- and race-based labour and limited representations. The anxious, sensate body, and its palpable non-monogamous, fail-baiting markers, remains my academy. Offering time as a method of production along with sticky materials, improvisation, and live-action as threads, I hope to open into shared space as host, comrade, participant, and provocateur." https://julietolentino.com/
PREACH R SUN (US)
The Street-Speaker [Chapter-I], 2011, 32'08"
i am…ONEMAN!!!, 2011, 2'14"
Voice in Performance and Action as Language, 2017, 4'18" (audio)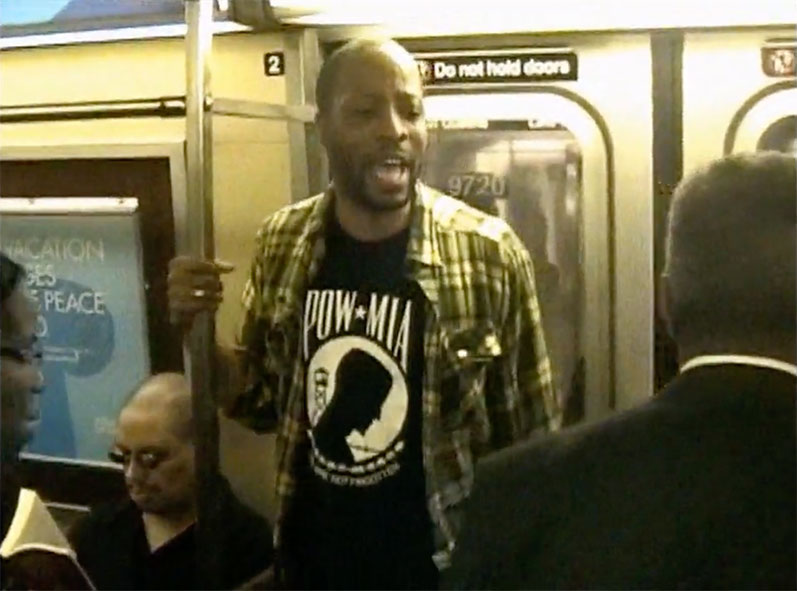 Preach R Sun, The Street-Speaker [Chapter-I], 2011. Still from the video
The Street-Speaker [Chapter-I] is a short film that focuses on issues regarding capitalism, class and institutional racism. It's also a visual critique of slavery as past, present economic structure, post-racial theory and the historical significance of America's first black president Barack Obama. The performance and exhibition were presented at The Dixon Place (New York, NY). The actions filmed in public (subway) occurred just days before Troy Davis execution and Occupy Wall Street.

i am…ONEMAN!!! is deployed as an artistic expression of radical protest activism, critiques and poses challenging and provocative questions regarding freedom, justice and equality in America— specifically, how racial, social, cultural and economic factors affect and dictate our perceptions and relationship to issues relating to freedom, justice and equality. As well as the role that America's racist (slavery and Jim Crow) past still plays in our present, collective, conversation on freedom and democracy; particularly as it relates to questions regarding the psychological, social, political and economic impact of that past on African American's today. The work also provokes thought in regards to national identity, individuality, conformity, social conditioning and or socialization, and our collective adherence to social and or economic, labels, modes, structures, systems and institutions.

In Voice in Performance and Action as Language, the third part of "Find Your Place in The Pain", a series of interview transcription with corresponding audio files based on a phone call with Preach R Sun and recorded by Human Trash Dump, October 13th, 2017 (Brooklyn, New York), Preach analyses the difference between the use of "speaking" in and actions as language.

Inspired by Albert Camus's idea of liberation achieved through the act of one becoming so absolutely free that their very existence is an act of rebellion, Preach R Sun's actions and praxis radically challenges societal boundaries. His oeuvre is a radical expression of freedom manifested in the personification of the rebellious individual who, as a conflicted member of society and product of socialization, faces many paradoxes in the pursuit of absolute liberation. https://iamfugitive.com/
---
DISSENTING BODIES MARKING TIME | Live Art Development Agency Video Review
Curated by Joseph Morgan Schofield (UK)
These four video-works mark time through a turn to social, cultural and personal memory. Made by artists active in the UK Live art scene, the works variously consider desire, fear, and colonial, sexual and gendered histories, mapping a specific relationship to the past in order to throw the present into sharp relief.
selina bonelli (UK)
(re)collecting (f)ears, 2019, 21'29"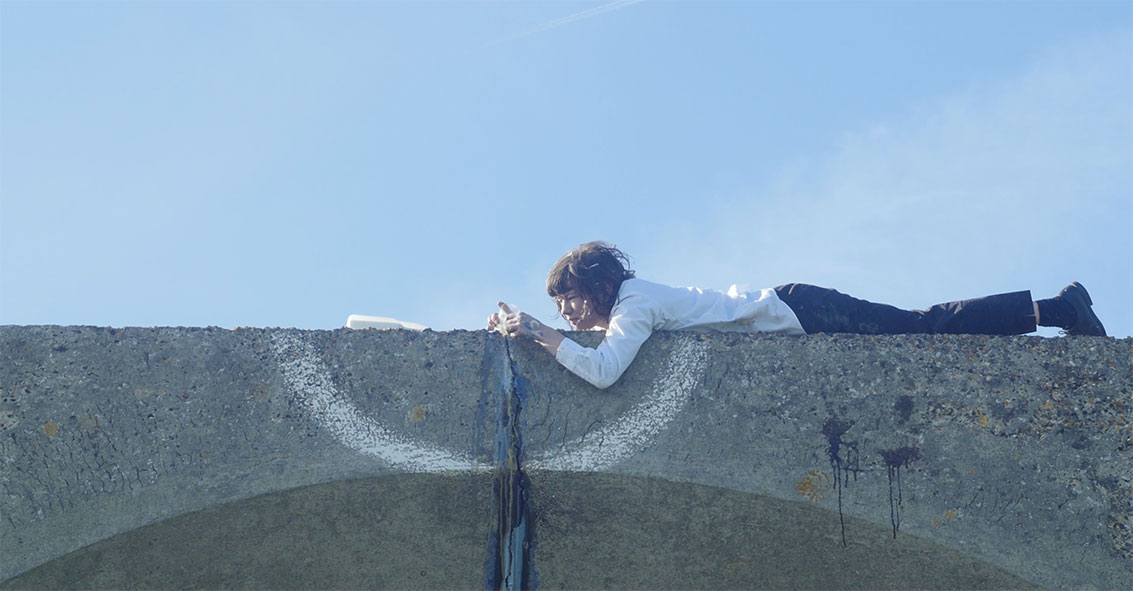 selina bonelli, (re)collecting (f)ears, 2019. Still from the video
In summer 2019, selina bonelli undertook a series of site-specific performances at fallen sound mirrors across the Kent coast. These sonic remains are physical manifestations of pre-war tensions and fears – initially built to provide defence, they are now succumbing to elemental erosive forces along the coasts of England. As relics of an early warning system that never came to fruition, their failure to serve their intended function could be seen to occupy the space of a fossilised mourning for a future that never came.

This was also the time where we saw the rise of Fascism and far right ideologies that eventually became the dominant voice in Europe; a time not dissimilar to the one we are facing now.

What would it look like to be accountable for our failures and carry them into the present, to discuss the eroded memories and fears that are scattered, forgotten and fallen across the south and north-eastern landscape of the UK?

Could these visible fallen silenced concretions of fears and longing (for protection) help us open up the conversations around the cyclical and tidal nature of our histories and help us think about new ways of being and belonging that are built on difference and diversity?

This film records the fourth and final performance by bonelli. The film was shot and edited by Matt Mahoney-Page.

selina bonelli is interested in the processing of anxieties where one reformulates them into motions and actions as a possibility of teasing out the inadequacies of language. By making images in the moment, they employ performance to explore the relationship between the uncommunicable and the unspeakable.

www.selinabonelli.wordpress.com
GEORGE CHAKRAVARTHI (UK/IN)
Selected Works, 2018, 18'20"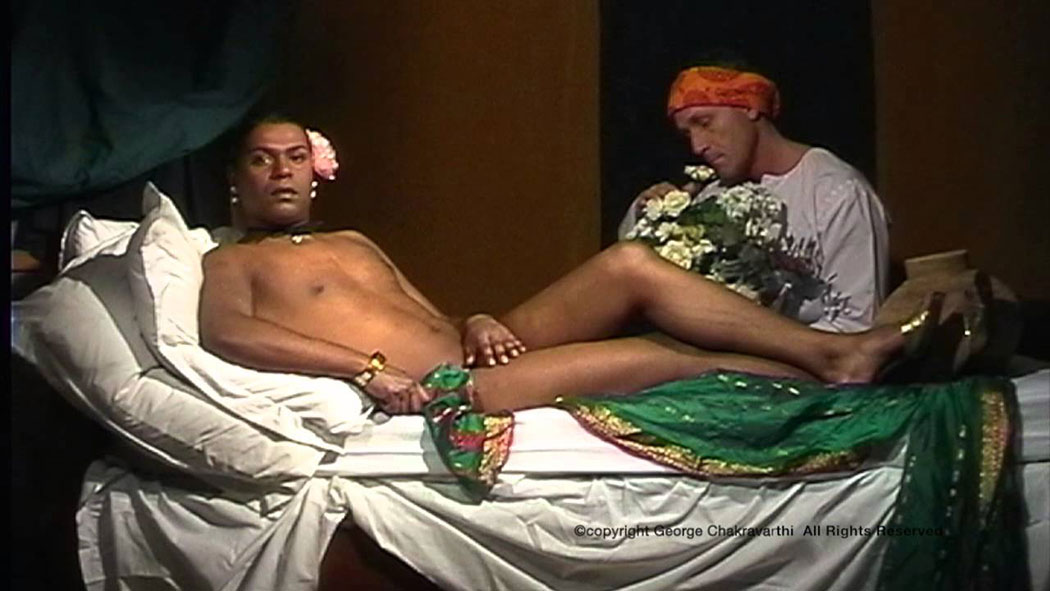 George Chakravarthi, Selected Works, 2018. Still from the video (Olympia)
LADA commissioned this short film of excerpts of works by Chakravarthi as part of its Documentation Bank. The works are: Aradhana - The Wish, The Longing, Remotecontrol, Shakti, Olympia, and Genesis.

George Chakravarthi was born in New Delhi, India. He was brought up as a Catholic, schooled by one of its rigorous teaching Brotherhoods - yet because of other family influences, he also absorbed both Hindu and Buddhist philosophies. This childhood, filled with a complex, multi-cultural trinity of deities, icons and belief systems, didn't particularly affect or disconcert him until his move to England at the age of ten. Settling in the UK wasn't so much a re-location as a dislocation, triggering an ongoing process of exploration which now informs his work. This examination of his own selfhood has created work that deconstructs socially accepted definitions of gender, sexual and racial identity, the intense scrutiny of his personal experience challenging those received wisdoms.

Chakravarthi is a visual and live artist working with video, photography, drawings and live presence. Much of his video works also examine our perceptions of 'live-ness', time and speed. He had also devised a 'Maxx Shurley's Speed Dating!'; a process-based event. As 'Maxx' Chakravarthi aims to experiment with and generate new ideas, thoughts and debates concerning identity, multiculturalism and art practices. www.georgechakravarthi.co.uk
ADAM PATTERSON (BB)
Looking for Looking for Langston, 2018, 16'15"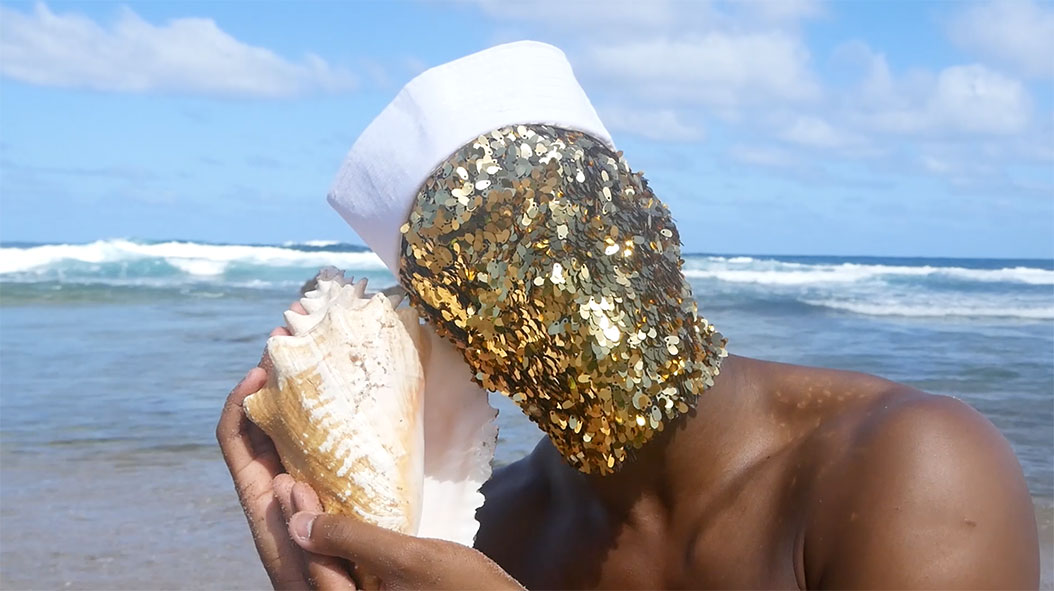 Adam Patterson, Looking for 'Looking for Langston', 2018. Still from the video
Commissioned as part of "Edge of an Era", an archival project by LADA curated by Helena Goldwater, Rob La Frenais, Alex Eisenberg and Live Art Development Agency and produced in partnership with ArtsAdmin and Central Saint Martins, University of London, Adam Patterson's performative video work is a response to Isaac Julien's performance Looking for Langston (1989).

A captain dreams of setting sail, in search of a mysterious, intangible, comforting vision, that rests at the edge of the horizon. An exploration of desire and distance, pleasure and disappointment, secrets and surprise, "Looking for 'Looking for Langston'" is a cruise of poetic correspondence, queering sailors and transgressing horizons.

Adam Patterson is a Barbadian visual artist and writer based in London and Rotterdam. Using masquerade, performance and characterisation, his work is interested in the transformative capacity of the gaze and how particular ways of seeing, fear and desire may affect the emergence of self-image and self-determinacy. His work has been exhibited at Tate Exchange at Tate Modern, the Live Art Development Agency and Jerwood Space, London. In 2017, he participated in "Sonic Soundings / Venice Trajectories", a sound art project coordinated with the Diaspora Pavilion at the 57th Venice Biennale. "Edge of an Era" was supported using public funding by Arts Council National Lottery Project Grants and made possible through the Jonathan Ruffer Curatorial Grant from Art Fund. www.adampatterson.co.uk
MORGAN QUAINTANCE (UK)
Anne, Richard and Paul, 2018, 15'10"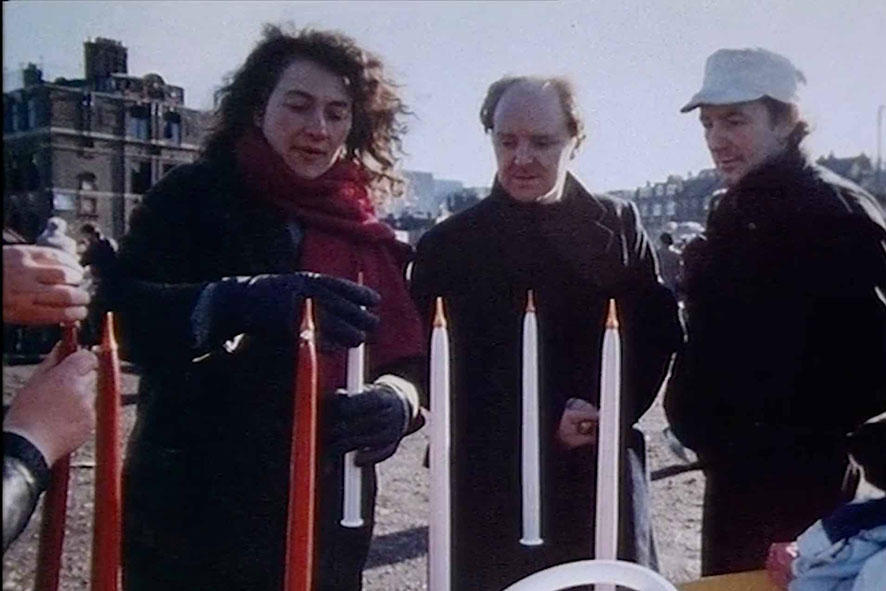 Morgan Quaintance, Anne, Richard And Paul, 2018
Commissioned as part of "Edge of an Era", an archival project by LADA, Morgan Quaintance's moving image work is a response to Bow Gamelan Ensemble's performance White Lightning (1987). Bow Gamelan Ensemble, the now-defunct group that featured performance artist Anne Bean, sculptor Richard Wilson and musician Paul Burwell was known for their large-scale performances featuring instruments made from scrap metal, glass and other non-traditional musical materials. The group utilised pyrotechnics and fireworks to create highly choreographed spectacles of noise and light.

Quaintance's film moves between documentary and abstraction, the past and the present to create an impressionistic record of the trio.

Morgan Quaintance is a London-based artist, writer and curator. His moving-image work has been shown recently at LIMA, Amsterdam, Cubitt Gallery, London; Jerwood Space, London; the 14th Berwick Film & Media Arts Festival, London Film Festival 2018, and November Film Festival. www.morganquaintance.com
_____________________________________________________________________________________________________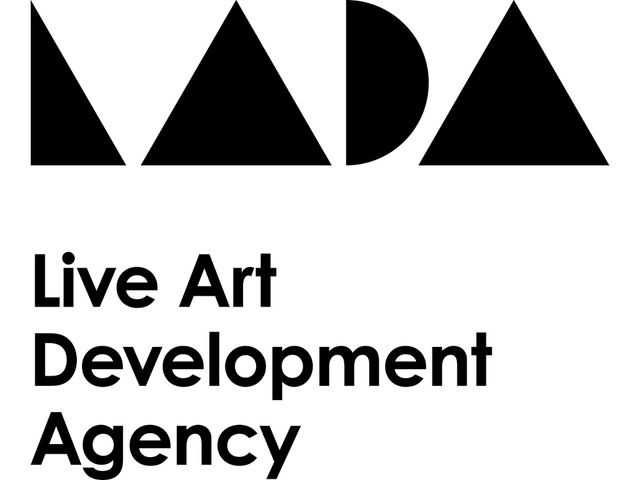 Live Art Development Agency (LADA, London) works to support those who make, watch, research, study, teach, produce, present and write about Live Art in the UK and internationally, and to create the conditions in which diversity, innovation and risk can thrive. www.thisisliveart.co.uk