Guest Artists
2020: CO-CREATION LIVE FACTORY – DISSENTING BODIES MARKING TIME
GUEST ARTISTS
GUILLERMO GÓMEZ-PEÑA – LA POCHA NOSTRA (Mexico/USA)
Radical Pedagogy + Premiere of his new solo performance WE ARE ALL ALIENS – And other tales of Radical Imagination (2020) with BALITRONICA GÓMEZ.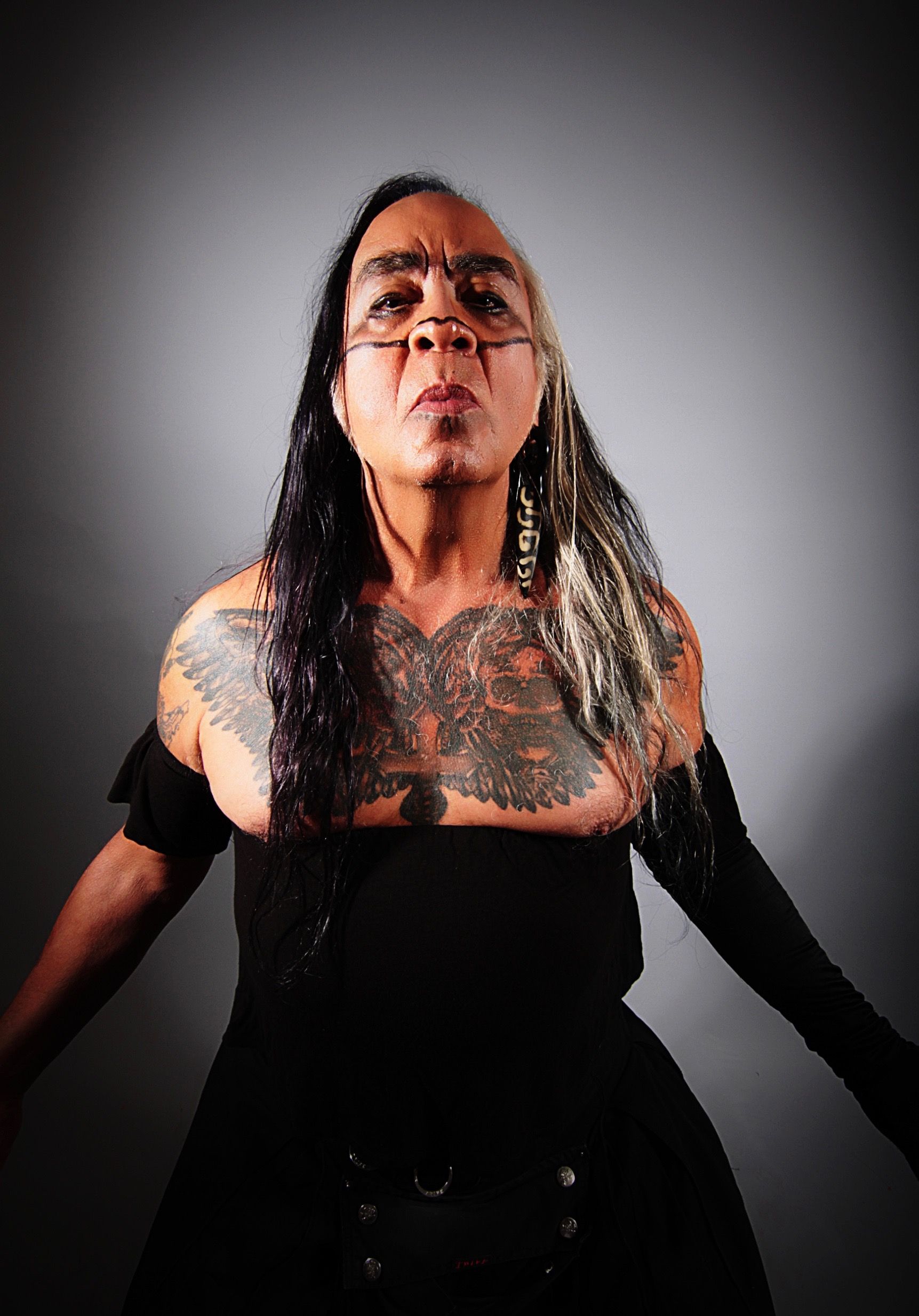 Guillermo Gomez-Peña, La Loca © Juan Carlos Ruiz.
Guillermo Gómez-Peña is a Chicano performance artist, writer, activist and educator. His seminal performance art pieces are concerned with the radical exploration of borders –physical, cultural or otherwise–, hybrid identities, and the politics of language. For over three decades, Gómez-Peña has been exploring intercultural issues with the use of mixed genres and experimental languages. Continually developing multi-centric narratives and large-scale performance projects from a border perspective, he creates what critics have termes "Chicano cyber-punk performances" and "ethno-techno art". Through his organisation La Pocha Nostra, Gómez-Peña has focused very intensely in the notion of collaboration across natioinal borders, race, gender and generation as an act of citizen diplomacy and as a means to create "ephemeral communities". (please remove website we would prefer to link to longer description we will send tomorrow)

In occasion of Dissenting Bodies Marking Time, Gómez-Peña presents the premiere of his new solo performance. WE ARE ALL ALIENS - And other tales of Radical Imagination

is a spoken-word immersion into his "living archive" encompassing 40 years of material from his engagement in Border culture and US Mexico relations completely reimagined in light of the current political climate. This piece is considered a "live anthology" dealing with immigration, US/Mexico relations, the implications of "the border wall", racism at the border, extreme Mexiphobia, fear of immigrants and the insidious ways that new ultra-nationalisms are affecting our notions of nationality, identity, language and art making.

WE ARE ALL ALIENS is a philosophical and artistic response to the ongoing crisis in the lives of cultural and religious "others", refugees and immigrants (legal as well as "illegal") and a call for reinvigorated action. Throughout the work are the foundational beliefs that the human body is a site for reflection and reenactment of social phenomena and performance art a form of radical democracy and citizenship.
BORIS NIESLONY (Germany)
Meet-the-artist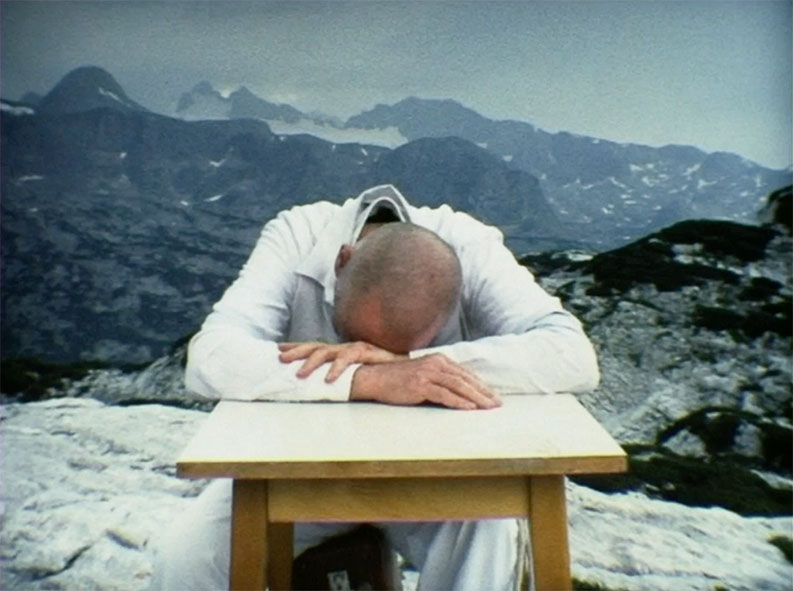 Boris Nieslony, MA, 2003. Still from the video.
Boris Nieslony is a German performance and installation artist and curator for performance art. Since 1981, he has developed a comprehensive archive on performance art, artists-run-spaces and the theoretical-philosophical foundations of the field. His own work is both formally and thematically oriented around the essential theme of the "Art of Encounter" – collaborations are core of Nieslony's work. Numerous initiatives, groups and projects, such as since 1985 the international performance collective B.M.I. Black Market International, have emerged from the artist's foundation. Since 1995, this includes international performance conferences that combine theory and practice, with network nodes in Asia, Austria, Switzerland, Germany and Belgium. Nieslony's performances can take the form of unpredictable and unrepeatable improvisations, which happen in collaboration with art institutions or as interventions in urban centres, at interesting and unusual places. In addition to live performances, Nieslony develops expansive sculptures (Das Paradies), photographs, artist's books, and designs ethnographically-oriented projects. http://www.asa.de
KIRA O'REILLY (UK)
Live performance lecture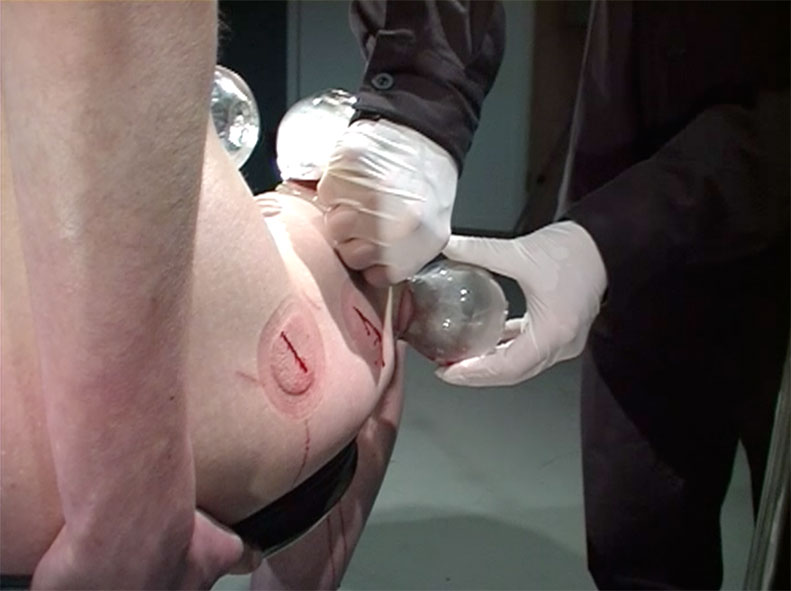 Kira O'Reilly, Wet Cup, 2000. Still from the video.
Kira O'Reilly's practice employs performance, biotechnical practices and writing with which to consider speculative reconfigurations around The Body. Most recent works have seen her practice develop across several contexts from art, science and technology to performance, live art and movement work. She has made movement works that she doesn't like to call dances, and has been increasingly informed by combat sports and martial arts as modes of investigating movement and embodied thinking. She writes, teaches, mentors and collaborates with humans of various types as well as technologies and non-humans of numerous divergences. www.kiraoreilley.com
HELEN COLE & ALEX BRADLEY (UK)
Live performance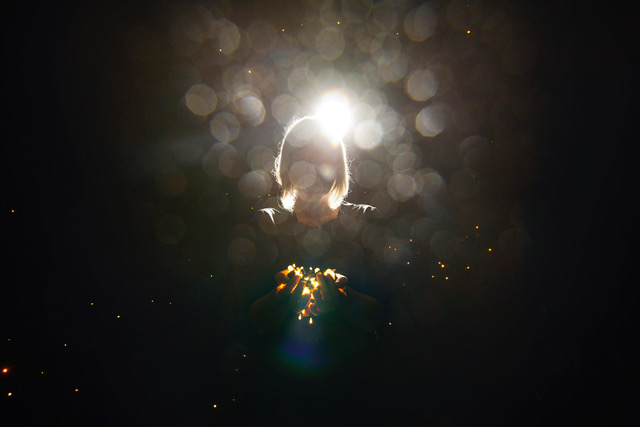 Helen Cole & Alex Bradley, We Are Warriors (2019) Photograph © Manuel Vason
Created by Helen Cole with 130 women and girls, We Are Warriors is for all those who have ever been silenced. It is also for all those who refuse to be quiet.
BALITRONICA GÓMEZ – LA POCHA NOSTRA (USA/Mexico)
Radical Pedagogy + Premiere of GUILLERMO GÓMEZ-PEÑA's new solo performance WE ARE ALL ALIENS – And other tales of Radical Imagination (2020)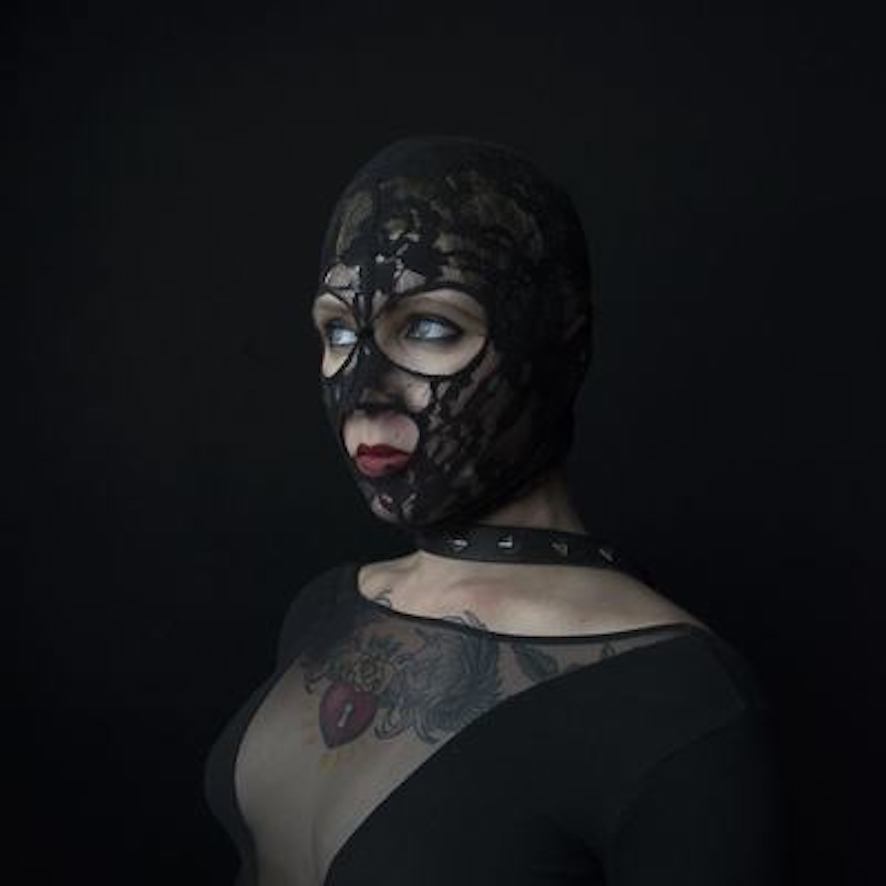 Balitronica Gómez photographed by Piero Viti, Venice International Performance Art Week 2014.
Balitronica Gómez is a cyber-feminist poet, performance artist, and radical pedagogue currently living between San Francisco, Mexico City, and The Road. Born and raised in the desert on the US/Mexico border of San Diego/Tijuana, she holds a BA in Literature from San Diego State University and an MFA in Performance Poetry from Mills COllege. Her performance work has been largely influenced by her time spent living in a 17th Century Catholic Covent in Paris with a Dominican Order of Nuns. She has been touring internationally with Guillermo Gómez-Peña since 2013 and is a Core Member of his legendary performance troupe: La Pocha Nostra.

At Dissenting Bodies Marking Time, Balitronica shares La Pocha Nostra's radical pedagogy in co-tutoring sessions, and is part of the premiere of GUILLERMO GÓMEZ-PEÑA's new solo performance WE ARE ALL ALIENS – And other tales of Radical Imagination (2020). www.pochanostra.com
FENIA KOTSOPOULOU (Greece/UK)
Co-tutor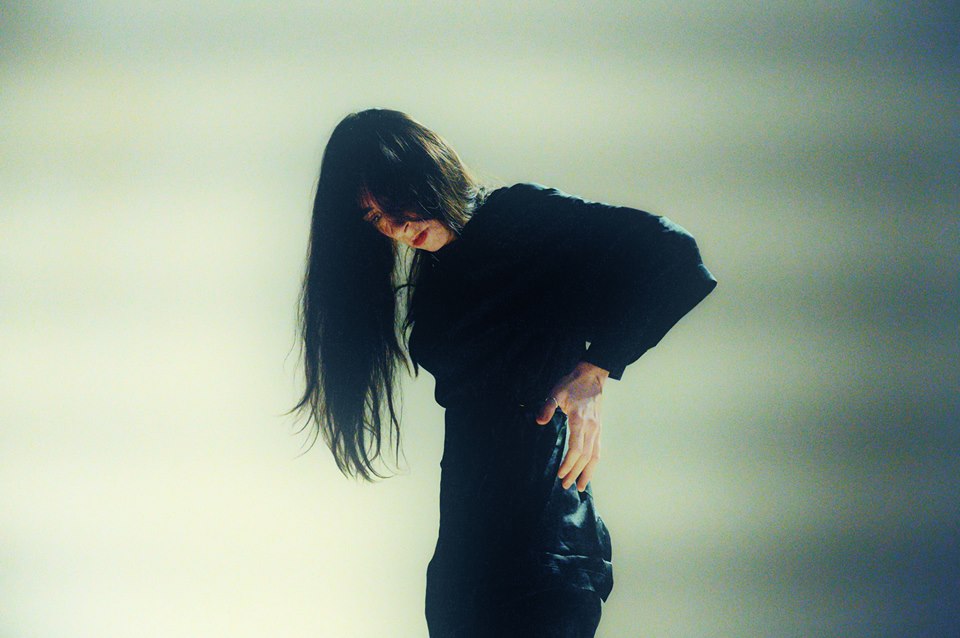 Fenia Kotsopoulou, Anam Cara, 2018. Photograph by Alexander Harbaugh.
A cross-disciplinary artist who straddles site-specific performance, dance and videography, Kotsopoulou is inspired by daily life and every detail related to human interaction with technology and nature, gender goles and diversity, social and political issues. In search of a holistic way to express her vision, and based on a rhizomatic approach of making art, she collaborated with artists from different fields and cultural backgrounds. She is interesed to discover how tradition can influece a contemporary dance and performance setting, or to become a rich source for socially engaged art projects. feniakotsopoulou.wixsite.com
FRANCESCO KIÀIS (Italy/Greece)
Lecture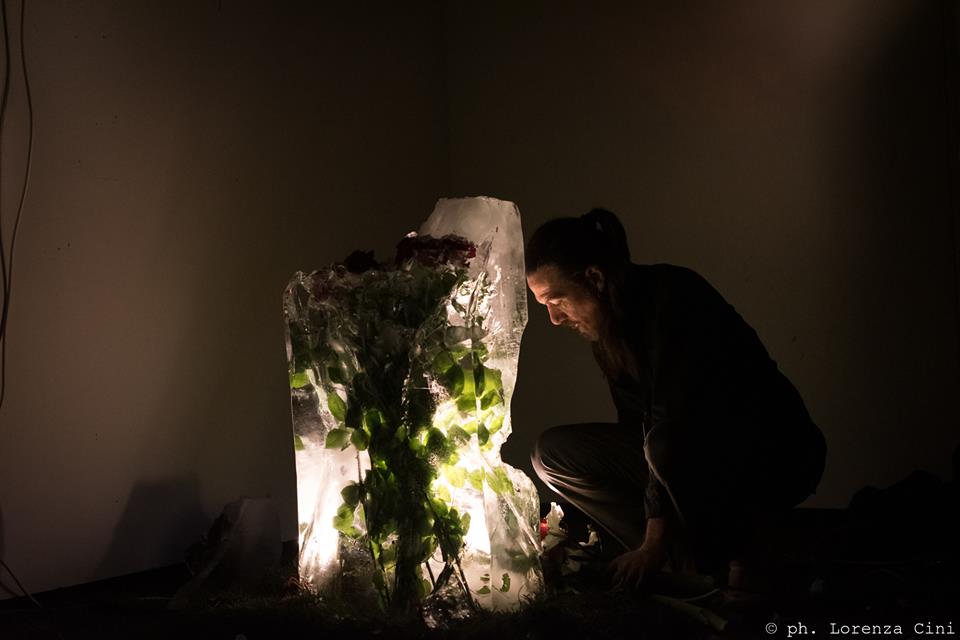 Francesco Kiàis, Anam Cara, 2018. Photograph by Lorenza Cini.
Francesco Kiàis is an artist and independent art writer and curator currently based in Athens. His practice focuses on the dialogue between contrasts and differences, bringing site-specifity, and people's memories to be poetically activated in an individual and collective ritual, played on the ground of mutual presence. In this process, all media and materials can be used. In the last years, Kiàis collaborated with various educational programs both as a theoretician and as an artist. www.francescokiais.com
JOSEPH MORGAN SCHOFIELD (UK)
Co-curation - Lecture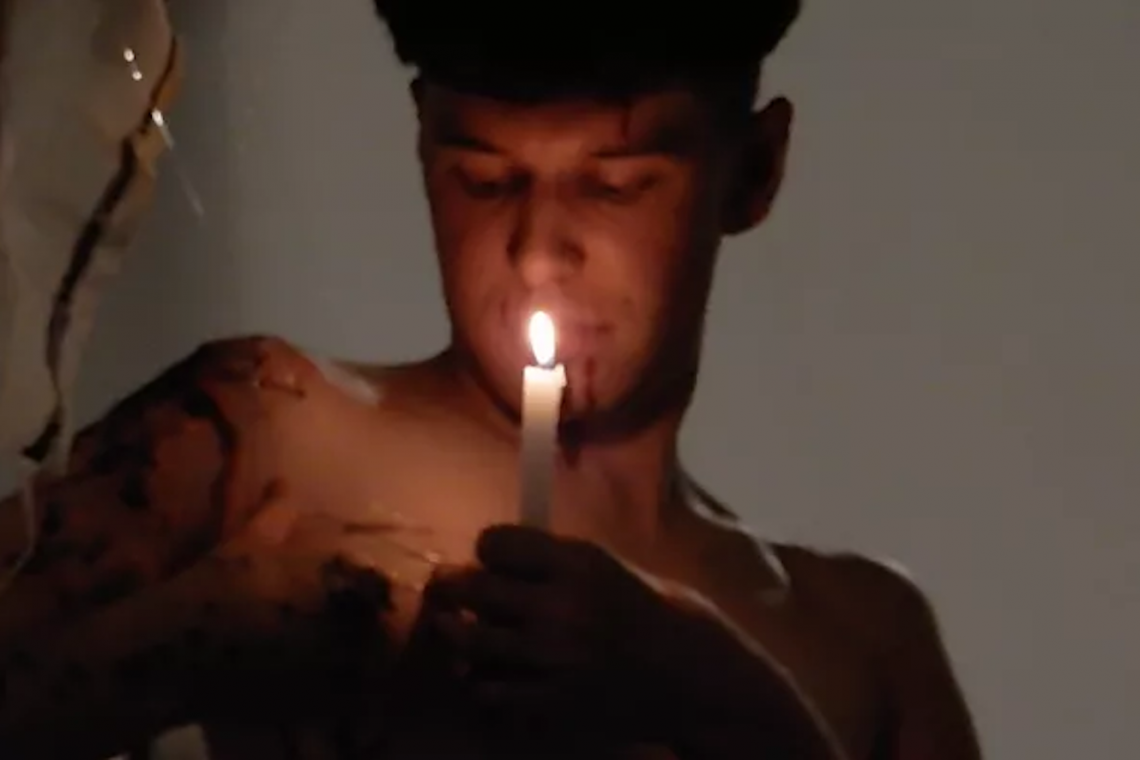 Joseph Morgan Schofield, the purpose is never to fly, 2019. Still from footage by Tomas Diafas.
Joseph Morgan Schofield understands performance as space ripe with potential for transformation. Through their work they seek to interrogate visible and invisible tensions, using ritual and mythic forms to articulate a language of desire and endurance. Across the body and text, Joseph utilises mythopoetic fictioning to create performances where memory, history, and imagination blur. From out of these acts queer archives, obscured traumas, forgotten terrains emerge. Things unfold with intensity and determined force; across a duration spectacle, and masc notions of heroic suffering are subverted or undercut. The body itself becomes a (queer) structure for ritual, for processing, for communing. www.josephmorganschofield.com
MARCEL SPARMANN (Germany)
Co-tutor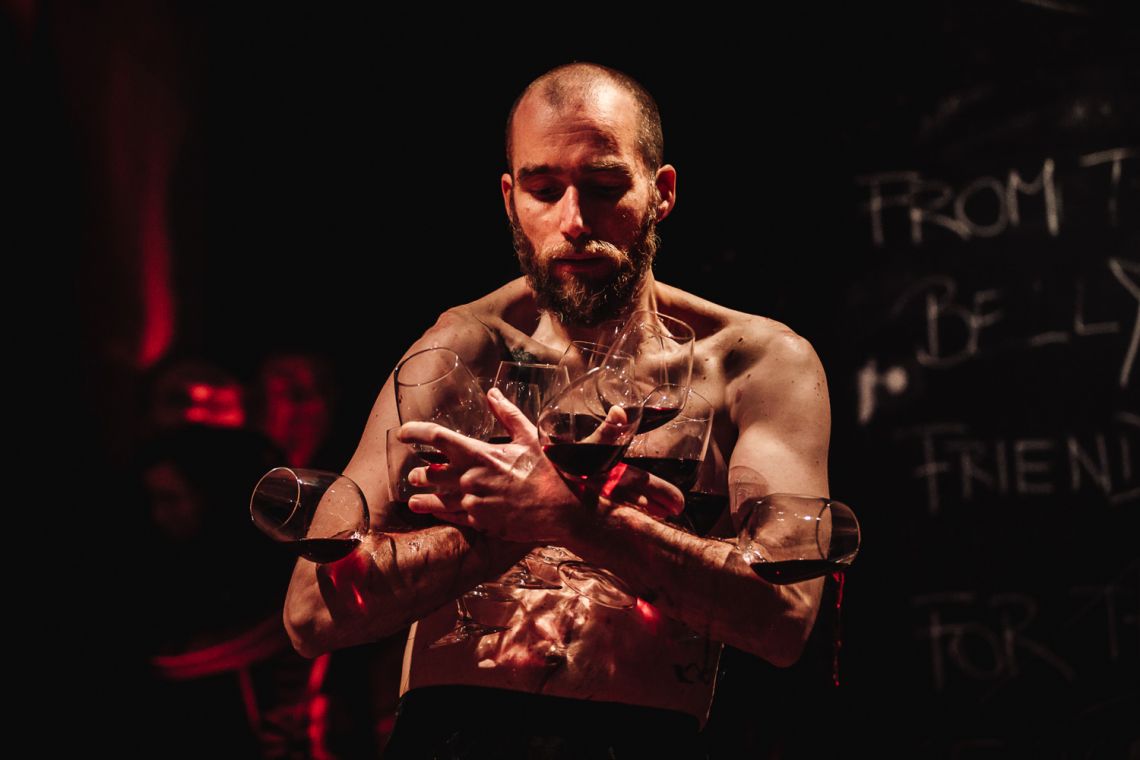 Marcel Sparmann, Anam Cara, 2018. Photograph © Guido Mencari.
Marcel Sparmann's specific interest reaches across the media spectrums and includes influences from dance, spatial based art, video and installation. He works as a performer and teacher in solo and collaborative international projects, with a focus on the creation of intense situations, compressed and intimate spaces, which can be used as a display. He looks for a visual and action-based language including audience, the aspect of time and non-time, and the shared space as an emotional environment containing collective memory. Sparmann's live works search for simplicity carried by a poetic aesthetics and a special temperature, comparable to natural phenomenon. www.marcelsparmann.com