Andrigo & Aliprandi
CO-CREATION LIVE FACTORY
TUTORS
Perception of Self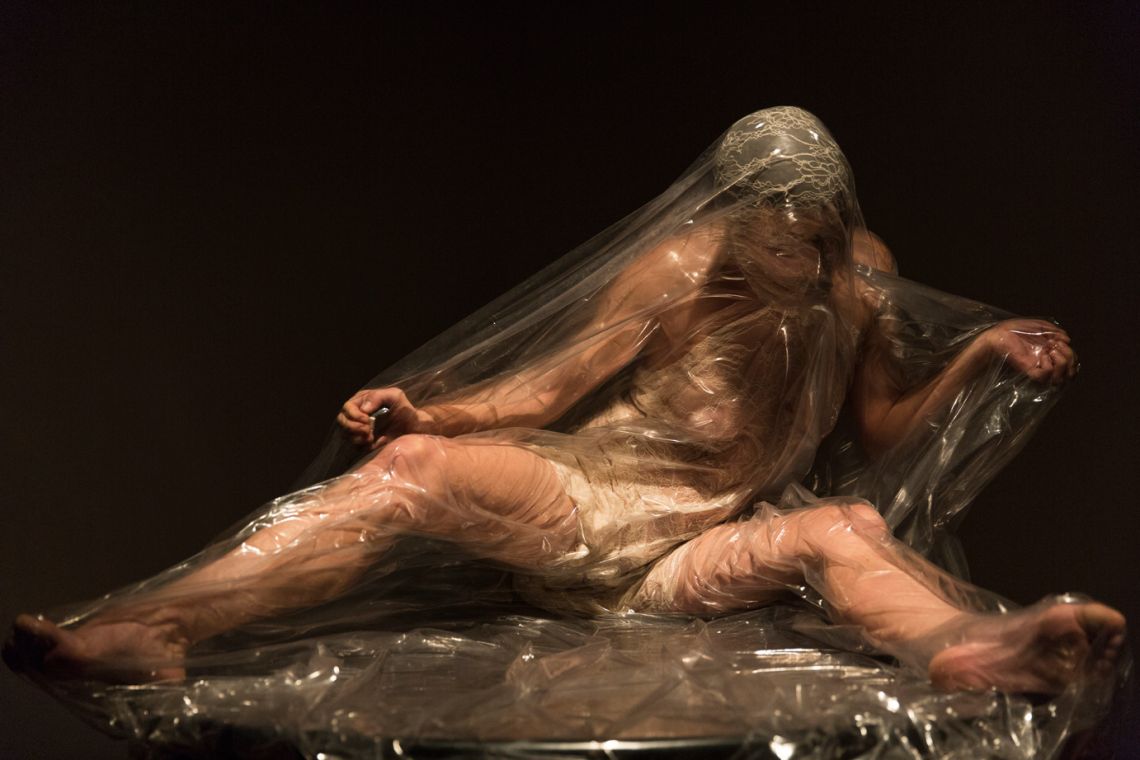 Andrigo & Aliprandi, vacuum. Venice International Performance Art Week (2014). Photograph by Monika Sobczak.
Andrigo & Aliprandi's multidisciplinary collaborative practice focuses on the perception of the Self to favour shifting from comfort zones to places unknown yet — those invisible places where the performer needs to stand on the alert to trigger the creative act.
There where perceptual stimuli and physical activity lead to space transformation, to tune the body and its movement to sounds, so that it may generate actions, which in turn give rise to meaningful evocative images.
The body is a sparkling matter always ready to get through and react, sourcing from its biomechanical energy. The mind is the observer that interprets. The emotion is a vehicle of intuition.
In the dialectic between strength and lightness, consumption and recovery, surface and depth, synthesis and abundance, limit and possibility, the open invitation of Andrigo & Aliprandi is to dive into visions and dreams, letting the body re-emerge as their signifier.
We will share knowledges and experiences through physical and concrete practices to recognize together the infinite ways to read origins and destinations that turn a gesture into poetic acts.
We will be dedicated to repetition, durability and real-time composition.
We will accept the lightness and extravagance of the act so as not to fall into self-referentiality.
We will allow intuition as a result of a receptive capacity facing outward.
Dancer and performer Marianna Andrigo and multimedia artist and sound performer Aldo Aliprandi have been collaborating since 2009. Their oeuvre and artistic research intertwine various performative languages, deepening the relationship between body movement and sound-motion. Andrigo & Aliprandi's live performances are mainly conceived site-specific, often in places characterized by the full verticality and the consequent shiver of vertigo that it produces. In their reference landscape, they move between philosophy, theatre, sound and movement experimentation by investigating an aesthetic that falls in love with detail and silence, as well with an entropic dynamic energy moved by emotions as enlightenment in the creative process. They are the directors of C32 performingartworkspace at Forte Marghera, Venice, venue and co-organizator of the ART WEEK | WORKSHOP SERIES since 2013.
www.mariannanandrigo.it | www.aldoaliprandi.it
ARTISTS 2017 Marie Beausacq (CH) • Anna Biesuz (IT) • Weronika Cegielska (PL) • Shola Cole (US/UK) • Elisa Curzi (IT) • Silvia Del Grosso (IT) • Noemi Diamantini (IT) • Maria Luigia Gioffre (IT) • Cosetta Graffione (IT) • Andrea Greenwood (UK) • Mengqi He (CN) • Meri Hietala (FI) • Jolanda Jansen (NL) • Carla Kienz (DE) • Gülbeden Kulbay (SE) • Ivana Ranisavljević (RS) • Maria Seltsova (RS) • Yagmur Tacar (TR) • Andrea van Gelder (NL) • Katie Louise Vowles (GB)
ARTISTS 2020 Norhaizad Adam (SG) • Ingrid Adriaans (NL) • Ronald Bal (NL) • E. M. Alysse Bowd (CA) • Fay Burnett (UK) • Mitchell Chalifoux (CA) • Renzo de Pablo (AN) • Tyler Hallett (US) • Sylwia Hanff (PL) • Arturo Herrera (US) • Allison I. Hournak (US) • Frauke Huhn (DE) • Andreja Kargačin (RS) • Carmen Lafran (IT) • Magdalena Leite & Aníbal Conde (UY) • Tess Martens (CA) • Ashley-Louise McNaughton (UK) • Philemon Mukarno (ID/NL) • Rebecca O'Brien (UK) • Rachel Parry (UK) • Anna Valeska Pohl (DE) • Kahn Jinoh Ryu (KR) • Amber Helene Müller St. Thomas (CA) • Pierce Starre (UK) • Jessica van Deursen (NL) • Emma Varker (AU) • Juan Carlos Villalba del Castillo (ES)
CO-CREATION LIVE FACTORY

For those who belong, the creative act is acceptance.

For those who doubt that they are always responsible, but still look for their own tools to not be subdued by themselves. For those who feel their identity always moving and becoming confused with matter and habits, human, urban and natural landscapes.

For those who feel to be sensitive, swinging from the touch to an imperfect perception of the surrounding.

For the musicality of the real, whereas the sound is a sign of vitality that becomes a space of action.

For those who dedicate themselves to silence and slowly wait until the body adheres to the present. For those who indulge in the space where movement is a source that charges, preserves, and sets yourself free.

For those who accept the emotion as a place of integrity and not of slippage.

Speed, word, writing are organization tactics without premeditation to offer, to abstain, investigating the visible and the invisible.

Andrigo & Aliprandi