VI - VestAndPage + Andrigo&Aliprandi 2019
In the framework of the Educational Learning Program of the VENICE INTERNATIONAL PERFORMANCE ART WEEK, Studio Contemporaneo in collaboration with Live Arts Cultures are glad to present the sixth of a series of practical workshops on performance art in Venice: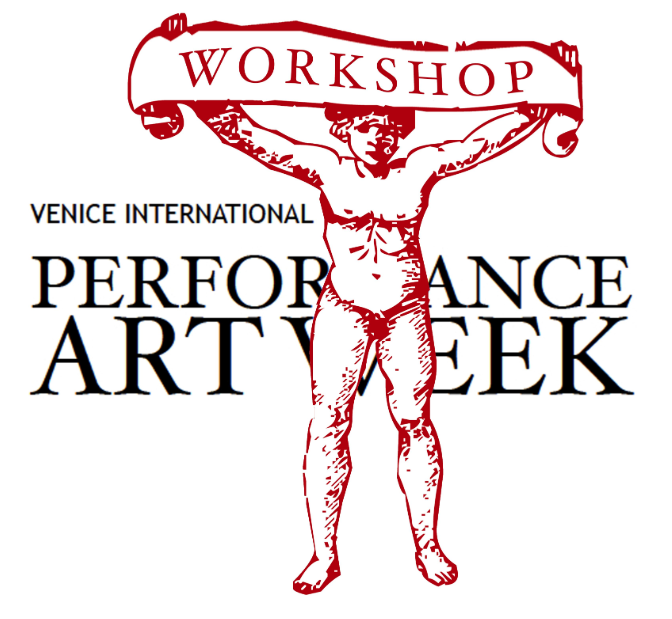 DIS-SENSUS
JOINT PERFORMANCE SUMMER CLASS
BY VESTANDPAGE & ANDRIGO&ALIPRANDI
5 to 14 June 2019
C32 performing art work space, Forte Marghera, Venice, Italy
With a final public presentation on Friday, June 14, 2019
With the participation of Preema Nazia Andaleeb (BG), Kelvin Atmadibrata (ID), Sabrina Bellenzier (IT), Leman Sevda Daricioglu (TR), Krisztina Fazekas-Kielbassa (HR), Danielle Freakley (AU), Sharon G Flynn (AU), Rym Hayouni (TU), Pete Kennedy (UK), Lauren Kelly (IR), Carla Kienz (DE), Alicia Kremser (DE), Helena Kushnir Tochka Maim (IS), Danielo Lemmer (SR), Cecilia Lentini (IT), La Cherry Lill (CN), Carol Montealegre (CO), Dimitra Nikolopoulou (GR), Randa Reda (CA), Paul Regan (IR), Joseph Morgan Shofield (UK), Sandra Stanionyte (LV), Sina Stolp (DE), Christiana Anna Trutiak (CA), Yadanar Win (MY) and Samantha Zanardo (IT).
Photographs © Lorenza Cini, Fenia Kotsopoulou, Cristiana Zeta Rolla 2019
---
The artist duos VestAndPage and Andrigo & Aliprandi merge their unique pedagogical practices in a joint immersive performance class "DIS-SENSUS" as part of the ART WEEK | Workshop Series. The intensive summer class takes place on the campus at C32 performing art work space in Venice, situated in the heart of Forte Marghera, a historical park facing the western bank of the Venice lagoon. A final public sharing of the workshop will be presented on Thursday, June 14 and documentation of the workshop will become part of the archive of the VENICE INTERNATIONAL PERFORMANCE ART WEEK. The joint laboratory process will revolve around a range of techniques reflecting the two duos art practices and methodologies:
VestAndPage's backgrounds run along the interface of visual arts, performing arts, experimental and Social Theatre and creative writings. They aim to empower emotional intelligence, readiness, responsiveness, empathy, awareness, notions of critical, creative and divergent thinking, including mindful risk-assessment. The body as a poetic and imaginary landscape, with the three bodies (physical, mental and spiritual) as primary artistic tools.
Andrigo & Aliprandi apply their backgrounds in movement, sound, and philosophy, and are dedicated to repetition, durability and real-time composition. They share knowledge and experiences through physical and concrete practices to recognize together the infinite ways to read origins and destinations that turn a gesture into a poetic act. Lightness and extravagance of the act are accepted so as not to fall into self-referentiality, and intuition is used as a result of a receptive capacity facing outward.
With the assistance of Francesca Carol Rolla, Fenia Kotsopoulou, Sara Simeoni and Marcel Sparmann.
DIS-SENSUS
Societal systems of reference in which artists act and operate and to which they respond through their art making are ever-changing. In the contemporary global context, opportunistic ways of thinking are continuing to claim strategies and stages of development, to fuel impulsive, self-protective, ego-centric structures and behavior. Notwithstanding, the ingraining of conscientiousness, individualism, autonomy, and integration is actively moving forward, ubiquitously and intimately woven into the fabric of our collective existence. A growing freeing from oppressive demands goes along with a quality of synthesis, confrontation, and recognition within the plurality of individuals, and the evolutionary formation of societies.
In this intensive Summer Class, the artist duos VestAndPage and Andrigo&Aliprandi merge their performance methodologies to enquire into and strengthen a poetics of toleration, understanding, and acknowledgment of divergent thinking and its conceptual complexity. The aim is to highlight differences, ambiguities, and diversities as antidotes to the staling normative, both within the process of art-making and from a psycho-social perspective. We will work to embrace polarity and multiple facets through a training aiming to unfold the complication of an increasingly intricated world. Thinking multi-perspectively, we inquire into ourselves and our positions and take the viewpoints, stances, and needs of multiple social groups into consideration. Here, learning and togetherness are understood as unavoidable, and the unattainable as a possibility. Broad empathy towards oneself and the others favor the cherishing of individuality, and honor self-actualization to work out identities that reconcile to their destiny. We look at a merging with the world through art processes, where we no more hold onto a status quo, but engage in the flow of existence always at stake, by inquisitively inhabiting inner conflicts through performance making. In an alternation between complexity and simplicity, or construct and essence, the intermingling of different states of consciousness is possible. Thinking and acting in time cycles and historical dimensions we live our contemporaneity openly and progressively, all accepting aspects of one another.
How to sense –
How to come in touch with our difference?
Where is the source of performing a difference and what it is directed towards?
How to dissent –
Is difference something intimate, learned, imposed, or acquired?
How to transform a possible difference in art?
Now imagine life. What does it look like?
---
VESTANDPAGE Artist Verena Stenke and artist and writer Andrea Pagnes have been working together since 2006 as VestAndPage, creating live performances, performance-based films, performance visuals, and poetic writings since over a decade, exploring performance art as phenomena through their collaborative creative practice, as well as through theoretical artistic research and temporary artistic community projects. Their art practice is contextual and situation-responsive, conceived psycho-geographically in response to social contexts, natural surroundings, historical sites, and architectures. In a "Poetics of Relations" they examine notions of temporalities, memory strata, communication and fragility of the individual and the collective within social and environmental spheres, applying the themes of trust in change, union, endurance, pain sublimation and risk-taking with a poetic bodily approach to art practice and a focus on universal human experiences. While encompassing a range of subtly different concepts, they primarily express VestAndPage's view on reality while adding or revealing poetic elements as a rebellion against the exercise of power and discrimination among human beings. www.vest-and-page.de
ANDRIGO & ALIPRANDI Dancer and performer Marianna Andrigo and multimedia artist and sound performer Aldo Aliprandi have been collaborating since 2009. Their oeuvre and artistic research intertwine various performative languages, deepening the relationship between body movement and sound-motion. Andrigo & Aliprandi's live performances are mainly conceived site-specific, often in places characterized by the full verticality and the consequent shiver of vertigo that it produces. In their reference landscape, they move between philosophy, theatre, sound and movement experimentation by investigating an aesthetic that falls in love with detail and silence, as well with entropic dynamic energy moved by emotions as enlightenment in the creative process. Their work favors shifting from comfort zones to places unknown yet — those invisible places where the performer needs to stand on the alert to trigger the creative act. www.mariannanandrigo.it | www.aldoaliprandi.it
VENICE INTERNATIONAL PERFORMANCE ART WEEK Ideated and curated by artist duo VestAndPage, the Venice International Performance Art Week is the international live art exhibition project taking place since 2012 at historical Venetian premises. Up to date, the project has extensively presented historic pioneer works on exhibit in conjunction with live programs of durational performances, lectures and artist talks, showing over 250 international artists, as well as the ongoing educational program, immersive Summer Classes and the residential Co-Creation Live Factory. Since 2013, the ART WEEK | Summer Classes are realized yearly in collaboration with Live Arts Cultures.