V - VestAndPage + Andrigo&Aliprandi 2018
In the framework of the Educational Learning Program of the VENICE INTERNATIONAL PERFORMANCE ART WEEK, Studio Contemporaneo in collaboration with Live Arts Cultures presented the fifth of a series of practical workshops on performance art in Venice: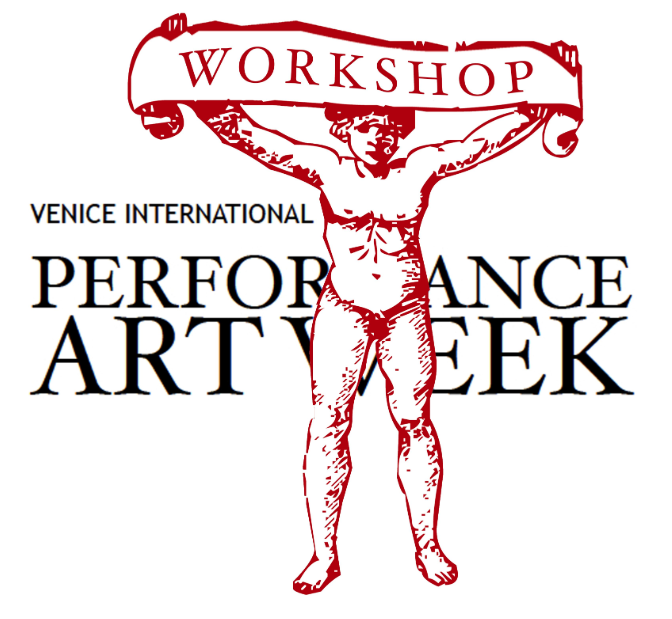 PERCEPTION OF THE SELF
JOINT PERFORMANCE SUMMER CLASS
BY VESTANDPAGE AND ANDRIGO&ALIPRANDI
29 May to 7 June 2018
C32 performing art work space, Forte Marghera, Venice, Italy
With a final public presentation on Thursday, June 7, 2018
With the participation of Marcel Sparmann (DE) | Sabrina Bellenzier (IT) | Isabella Broccolini (AU) | Shola Cole (UK/US) | Renzo de Pablo (CW) | Giorgia de Santi (IT) | Amber Rose Ellis (UK) | Marisa Garreffa (AU) | Laura Greenway (GB) | Agnieszka Gut (PL) | Gülbeden Kulbay (SW) | Marie Künne (DE) | Matthew Moir (CA) | Ariadne Pediotaki (GR) | Paul Regan (IR) | Cristiana Zeta Rolla (IT) | Sara Simeoni (IT) | Alex Spyke (RS) | Holly Timpener (CA) | Rosie Eliza Thomas (AU) | Thomas Vacanti (US) | Juan Carlos Villalba (ES) | Natacha Voliakovsky (AR) | Zoncy (MM).
Photographs © Lorenza Cini 2018
The artist duos VestAndPage and Andrigo & Aliprandi merge their unique pedagogical practices in a joint immersive performance class as part of the ART WEEK | Workshop Series. The intensive summer class takes place on the campus at C32 performing art work space in Venice, situated in the heart of Forte Marghera, an historical park facing the western bank of the Venice lagoon. A final public sharing of the workshop will be presented on Thursday, June 7 and documentation of the workshop will become part of the archive of the VENICE INTERNATIONAL PERFORMANCE ART WEEK. The joint laboratorial process will revolve around a range of techniques reflecting the two duos art practices and methodologies:
VestAndPage's backgrounds run along the interface of visual arts, performing arts, experimental and Social Theatre and creative writings. They aim to empower emotional intelligence, readiness, responsiveness, empathy, awareness, notions of critical, creative and divergent thinking, including mindful risk-assessment. The body as a poetic and imaginary landscape, with the three bodies (physical, mental and spiritual) as primary artistic tools.
Andrigo & Aliprandi apply their backgrounds in movement, sound and philosophy, and are dedicated to repetition, durability and real-time composition. They share knowledges and experiences through physical and concrete practices to recognise together the infinite ways to read origins and destinations that turn a gesture into a poetic act. Lightness and extravagance of the act are accepted so as not to fall into self-referentiality, and intuition is used as a result of a receptive capacity facing outward.
PERCEPTION OF THE SELF
Would you stand with me and hold my hand?
The problem of our time is not only due to the crisis of the reason, but also to a spurious knowledge that is overtaking wisdom, while culture is surrending to technology. Therefore what we do and record seems to be of lesser value because the increasing mediatic power of the machine is reducing our perception of the reality and of our Self. But having an accurate self-perception and understanding about our values and what influences us, is a prerequisite to creatively respond to what we recognise as detrimental, hurtful or prejudicial.
To improve self-perception is vital to perceive the other accurately. It widens reciprocal dialogue. It enforces imagination, because to perform is also to imagine all of us as a people, a people of hope who yearn for visions, a people who believe in themselves as well as believe in everyone else, all accepting aspects of one another, progressive, open spirits who effortlessly search for evidence and compassion, even though many are still driving for that materialistic bullshit, yearning to better and out do, trying to succeed even when the concept of success is surpassed, people whose lives are built on rage or science of a systematic stain — delayed evolution, in need of a revival.
Eventually, imagine death. Can you see it? It's like staring at the sun. You can only see it at eyes closed.
Now imagine life. What does it look like?
---
VESTANDPAGE Artist Verena Stenke and artist and writer Andrea Pagnes have been working together since 2006 as VestAndPage, creating live performances, performance-based films, performance visuals, and poetic writings since over a decade, exploring performance art as phenomena through their collaborative creative practice, as well as through theoretical artistic research and temporary artistic community projects. Their art practice is contextual and situation-responsive, conceived psycho-geographically in response to social contexts, natural surroundings, historical sites and architectures. In a "Poetics of Relations" they examine notions of temporalities, memory strata, communication and fragility of the individual and the collective within social and environmental spheres, applying the themes of trust in change, union, endurance, pain sublimation and risk-taking with a poetic bodily approach to art practice and a focus on universal human experiences. While encompassing a range of subtly different concepts, they primarily express VestAndPage's view on reality while adding or revealing poetic elements as a rebellion against the exercise of power and discrimination among human beings. www.vest-and-page.de
ANDRIGO & ALIPRANDI Dancer and performer Marianna Andrigo and multimedia artist and sound performer Aldo Aliprandi have been collaborating since 2009. Their oeuvre and artistic research intertwine various performative languages, deepening the relationship between body movement and sound-motion. Andrigo & Aliprandi's live performances are mainly conceived site-specific, often in places characterised by the full verticality and the consequent shiver of vertigo that it produces. In their reference landscape, they move between philosophy, theatre, sound and movement experimentation by investigating an aesthetic that falls in love with detail and silence, as well with an entropic dynamic energy moved by emotions as enlightenment in the creative process. Their work favours shifting from comfort zones to places unknown yet — those invisible places where the performer needs to stand on the alert to trigger the creative act. www.mariannanandrigo.it | www.aldoaliprandi.it
VENICE INTERNATIONAL PERFORMANCE ART WEEK Ideated and curated by artist duo VestAndPage, the Venice International Performance Art Week is the international live art exhibition project taking place since 2012 at historical Venetian premises. Up to date, the project has extensively presented historic pioneer works on exhibit in conjunction with live programs of durational performances, lectures and artist talks, showing over 150 international artists, as well as the ongoing educational program, immersive Summer Classes, and the residential Co-Creation Live Factory. Since 2013, the ART WEEK | Summer Classes have been realised every year in collaboration with Live Arts Cultures. www.veniceperformanceart.org
Under the patronage of REGIONE DEL VENETO. In partnership with FUND4OTHERS.