Open Space Arts Society
Unsettle. Video work on Indigenous/Non-indigenous Performance Art, co-curated by Doug Jarvis.
Founded in September 1972, Open Space is a non-profit artist-run centre located in Victoria, British Columbia, Canada. For over forty years, Open Space has supported professional artists who utilize hybrid and experimental approaches to media, art, music, and performance. As an exhibition and performance centre, Open Space reflects the wide diversity of contemporary art practices in Victoria, across Canada, and beyond. Our commitment to contemporary artists is an inclusive situation, embracing work by artists of different disciplines, media, generations, cultures, and communities. Open Space supports experimental artistic practices in all contemporary arts disciplines, acting as a laboratory for engaging art, artists, and audiences. ~ Open Space Arts Society Vision Statement (2010)
At the VENICE INTERNATIONAL PERFORMANCE ART WEEK 2014, Open Space Arts Society presents Unsettle, a video work on Indigenous/Non-indigenous Performance Art curated by Doug Jarvis, including the works White Shame Re-cut, an edit (by Brian Gotro) of the original 1992 performance by Ahasiw Maskegon-Iskwew and White Shame Re-worked (2012), performance by Adrian Stimson.
Artists in Canada have actively been using performance actions to address the contested relationship between Indigenous and non-indigenous communities. Unsettle is a video program curated by Doug Jarvis, Guest Curator at Open Space Arts Society. Jarvis presents a charged and dynamic portrait of the complex terrain that is the context of contemporary performance in Canada. A selection of artists works reveal the tension of the political bodies forced to endure and persist, desiring a future changed by knowledge and mutual respect.
Doug Jarvis would like to thank the grunt Gallery, Vancouver, BC, for their permission to present the video works of Âhasiw Maskêgon-Iskwêw and Adrian Stimson, from their archives. These video works were commissioned by the grunt Gallery in partnership with On Main for the exhibition Ghostkeeper, organized to celebrate the life and work of Âhasiw who passed away in 2006. A comprehensive selection of video, images and texts can be found on the online Ghostkeeper archive.
White Shame Re-cut, an edit (by Brian Gotro) of the original 1992 performance by Âhasiw Maskêgon-Iskwêw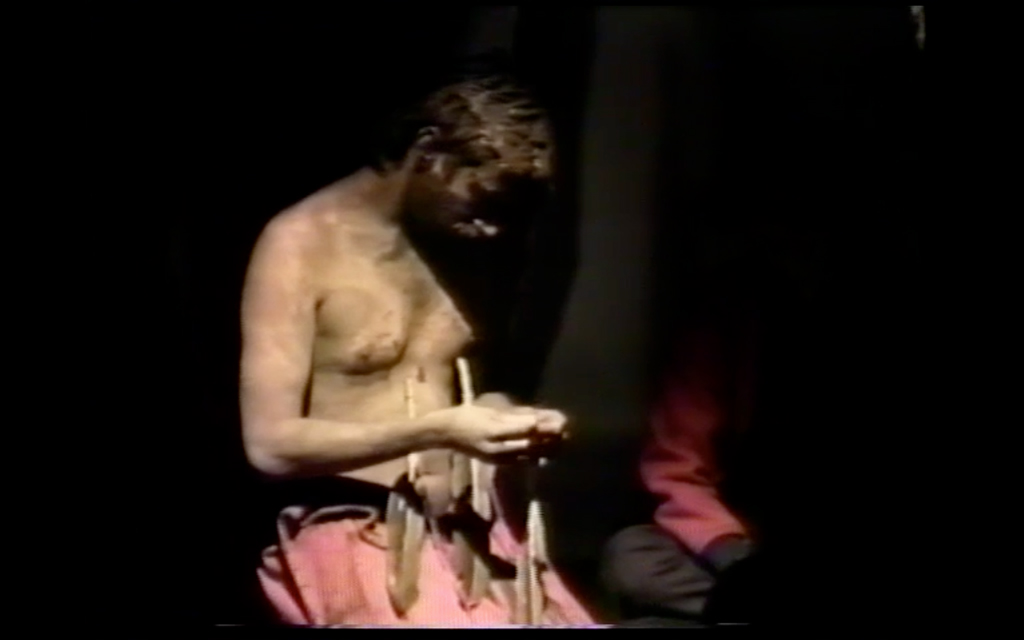 Âhasiw Maskêgon-Iskwêw, White Shame (1992). Video Still. Courtesy of grunt Gallery.
Performed at the grunt Gallery, Vancouver, British Columbia, Canada, 1992

35 Minutes

Performed at grunt gallery in 1992, this brilliant multimodal work begins with a moving poem in both Cree and English, and then moves into a combination of slides, painting, video and performance, all describing different narratives of suffering under colonial Canada. The performance then shifts as Ghostkeeper takes a number of traditional eagle feathers and stitches them to his chest while a constant drum beat plays in the background. Ghostkeeper then continues on, involving the audience in the conclusion of his haunting performance.

Âhasiw Maskêgon-Iskwêw (1958 - 2006) was a Cree/Métis writer, editor, performance and spoken word artist, video and visual artist, curator and teacher. A graduate of Emily Carr College of Art and Design (now Emily Carr University of Art + Design), Maskêgon-Iskwêw was a participant in the two year Equity Internship Program at the Canada Council for the Arts that included work with the Saskatchewan Indian Federated College, Circle Vision Arts Corporation, and the Aboriginal Film and Video Art Alliance. He then became Program Coordinator and Assistant Editor of the Talking Stick First Nations Arts Magazine and later developed the position of Production Manager for SOIL at Neutral Ground Digital Media Production Suite. He also worked as web editor for the Aboriginal Peoples Television Network. His critical writing has been published in Mix and Fuse Magazine and in the anthology The Multiple and Mutable Subject: Postmodern Subjectivity and the Internet (2002), published by the St. Norbert Arts Centre. His fictional work Cannibals was presented by the Art Gallery of Calgary as part of the Storybook Story project.
White Shame Re-worked (2012). Video of the performance by Adrian Stimson
Adrian Stimson, White Shame Re-visited (2012). Photograph by Paul Wong.
Courtesy of the artist.
30 minutes

Adrian Stimson writes - "To be asked to revisit Âhasiw Maskêgon-Iskwêw's work has been a great honour. Having curated a show at the Mendel Art Galley in 2007, called Express: Celebrating Âhasiw, I became familiar with his work and history, his impact on the First Nation art scene in Saskatchewan and beyond, which still resonates today. As a performance artist I am struck by Âhasiw's work, how he fused traditional knowledge with contemporary meme's. In particular I was drawn to the performance White Shame. This gentle yet visceral performance struck a cord, it spoke to shame, our combined histories, the church, intergenerational pain, conflicts such as Oka, it spoke to acts of sacrifice for the greater good, the idea of transcendence, the seven generations, it was an act of revealing, regeneration and renewal. The original performance was over an hour with many actions, for White Shame Re-visited, I have chosen a segment of that original performance to recreate. This performance is not only homage to Âhasiw, it is taking his original performance and making it my own, to rework his ideas in our time. For this performance, I will be repeating a number of acts such as writing on the walls, cleansing with clay and ash and piercing my skin. As a Blackfoot person traditional acts of piercing relate to the Sundance, an act that is to benefit the community. My act of piecing 7 times will be to renew Âhasiw's original performance, to honour friends suffering from disease, for missing and murdered aboriginal women, for my brother Faron who was tragically killed last summer, for our earth, for the animals and for all the shame that plague the people. It is my hope that this performance will bring us transcendence through time, to bring Âhasiw into the present, to acknowledge his presence and how he touched us all then, now and into the future."

Adrian Stimson is a member of the Siksika (Blackfoot) Nation in southern Alberta. He is an interdisciplinary artist, curator and educator with a BFA with distinction from the Alberta College of Art & Design and MFA from the University of Saskatchewan. As an interdisciplinary artist, Adrian's work includes paintings, installations, collodion wet plate photography, sculpture and performance. Recent exhibits and performances include, Witnesses at the Belkin Gallery, UBC, Vancouver, Reconsidering Reconciliation, TRU, Kamloops, The Shaman Exterminator, On the Trail of the Woodcraft Indians with the Buffalo Boy Scouts of America, Paved Arts, Saskatoon, Making Treaty 7, Calgary, "Suffer little children…", ARNICA, Kamloops, Buffalo Boy's Coal jubilee, House of the Wayward Spirits- ANDPVA, Toronto, White Shame Re-Worked, Grunt Gallery, Vancouver, Holding Our Breath (Canadian Forces Artist Program-Afghanistan tour), Grunt Gallery, Vancouver and Neutral Ground, Regina, Beyond Redemption at the Mendel Art Gallery, Saskatoon, Photo Quai, Musee du quai branly and Unmasking at the Canadian Cultural Centre in Paris, France, "The Life and Times of Buffalo Boy", The Works, Edmonton, Pink Panther, Open Space, Ft. Simpson, Kentucky Fried Chicken Dance, Two Story Café, Prince Albert, Brave Seduction, Gallery 101, Ottawa and "Buffalo Boy's You can roller skate in a Buffalo herd", Harbourfront, Toronto. He is a regular participant at Burning Man and was featured in the 2007 summer issue of Canadian Art: Buffalo Boy at Burning Man and Spring issue of FUSE magazine: Buffalo Boy Then and Now 2009. Adrian was awarded the Blackfoot Visual Arts Award in 2009, the Queen Elizabeth II Golden Jubilee Medal in 2003 and the Alberta Centennial Medal in 2005 for his human rights and diversity activism in various communities. He is represented by the Darrell Bell Gallery in Saskatoon, Saskatchewan, where he currently resides.
Courtesy of Open Space Arts Society, and grunt Gallery.