LADA Live Art Development Agency
2014 OPEN ACCESS LIBRARY + SCREENING
2016 SCREENING PROGRAM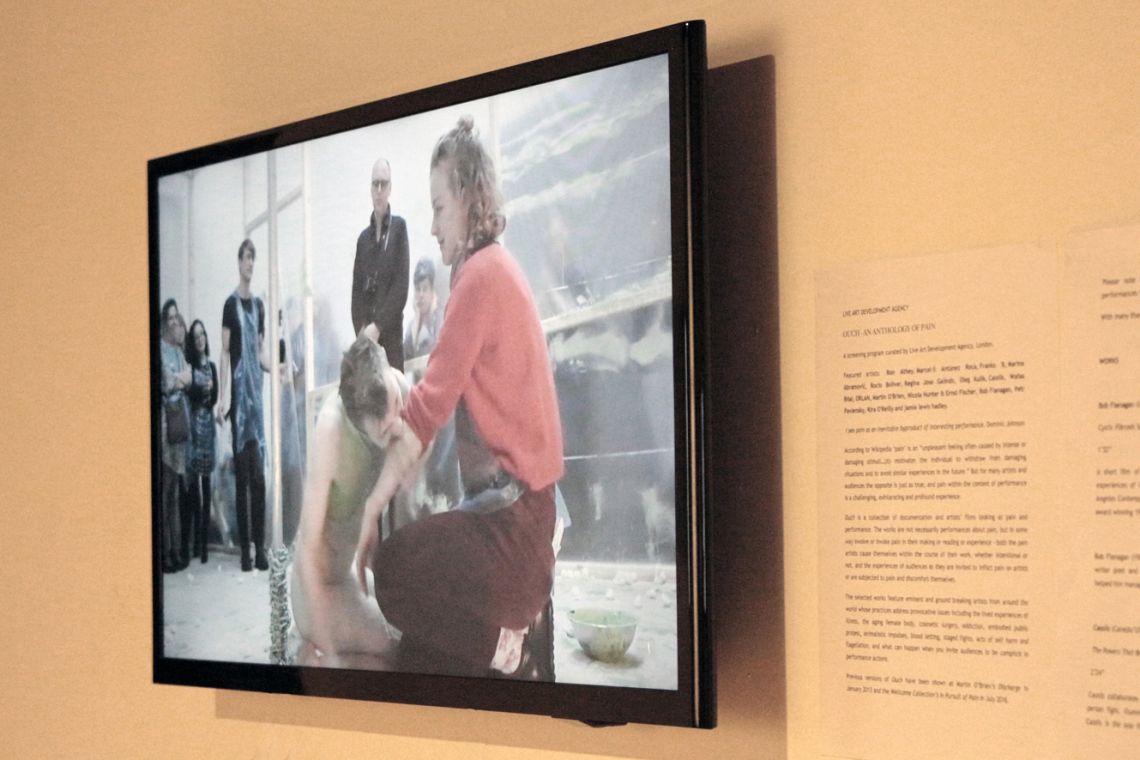 LADA. Exhibition view of the curated screening program
OUCH - An Anthology of Pain
at the III Venice International Performance Art Week 2016. Photograph by VestAndPage.
The Live Art Development Agency (LADA) is a Centre for Live Art: a knowledge centre, a production centre for programmes and publications, a research centre setting artists and ideas in motion, and an online centre for digital experimentation, representation and dissemination. LADA works to supports those who make, watch, research, study, teach, produce, present and write about Live Art in the UK and internationally, and to create new artistic frameworks, legitimize unclassifiable art forms, give agency to underrepresented artists, and generate the conditions in which diversity, innovation and risk in contemporary culture can thrive. LADA houses an open access research library, runs an online shop; develops models of development and discourse, contributes to research and education, increases access to Live Art through projects and publishing, and coordinates the Live Art UK network.
2016 SCREENING PROGRAM
OUCH - An Anthology on Pain. Featured artists include Ron Athey, Marcel•Li Antunez Roca, Franko B, Marina Abramović, Rocio Boliver, Regina José Galindo, Oleg Kulik, Cassils, Wafaa Bilal, ORLAN, Martin O'Brien, Nicola Hunter (formerly Canavan) & Ernst Fischer, Bob Flanagan, Petr Pavlensky, Kira O'Reilly, jamie lewis hadley. Courtesy LADA and the artists.
At the VENICE INTERNATIONAL PERFORMANCE ART WEEK 2016, LADA curates and presents the screening program Ouch – Pain and Performance: "I see pain as an inevitable byproduct of interesting performance." Dominic Johnson
According to Wikipedia 'pain' is an "unpleasant feeling often caused by intense or damaging stimuli… (it) motivates the individual to withdraw from damaging situations and to avoid similar experiences in the future." But for many artists and audiences the opposite is just as true, and pain within the context of performance is a challenging, exhilarating and profound experience.
Ouch is a collection of documentation and artists' films looking at pain and performance. The works are not necessarily performances about pain, but in some way involve or invoke pain in their making or reading or experience - both the pain artists cause themselves within the course of their work, whether intentional or not, and the experiences of audiences as they are invited to inflict pain on artists or are subjected to pain and discomfort themselves.
The selected works feature eminent and ground breaking artists from around the world whose practices address provocative issues including the lived experiences of illness, the aging female body, cosmetic surgery, addiction, embodied public protest, animalistic impulses, blood letting, staged fights, acts of self harm and flagellation, and what can happen when you invite audiences to be complicit in performance actions.
Ouch featured artists: Ron Athey, Marcel•Li Antunez Roca, Franko B, Marina Abramović, Rocio Boliver, Regina José Galindo, Oleg Kulik, Cassils, Wafaa Bilal, ORLAN, Martin O'Brien, Nicola Hunter (formerly Canavan) & Ernst Fischer, Bob Flanagan, Petr Pavlensky, Kira O'Reilly, jamie lewis hadley.
Previous versions of Ouch have been shown at Martin O'Brien's Discharge in January 2013 and the Wellcome Collection's In Pursuit of Pain in July 2016. Please note that this screening contains documentation of some historical performances for which the films are of variable quality. With many thanks to all of the featured artists, Sheree Rose, and Janez Janša.
Bob Flanagan (USA)
Cystic Fibrosis Song, 1990s

1'32"

A short film of Bob Flanagan parodying a famous Disney song to convey his experiences of living with Cystic Fibrosis. The performance took place at Los Angeles Contemporary Exhibitions (LACE) in the early 1990's and is featured in the award winning 1997 film Sick: The Life and Death of Bob Flanagan, Supermasochist.

Bob Flanagan (1952 – 1996) was an American performance artist, stand-up comic, writer poet and lifelong sufferer from cystic fibrosis, whose S&M experiences helped him manage the pain of his illness.
Cassils (Canada/USA)
The Powers That Be, 2016

2'24"

Cassils collaborates with fight choreographer Mark Steger to stage a brutal two-person fight. Illuminated by car headlights in the depths of a parking garage, Cassils is the sole figure, sparring with an invisible force. The stereos of the surrounding cars broadcast a multi-channel score of static noise and radio samples designed by Kadet Kuhne. By amplifying the sociopolitical conflicts at each performance location with sound, The Powers That Be explores the radical unrepresentability of certain forms of trauma and violence. Here the radio signal is a transmission of site-specific issues, both proximate and distant. The Powers That Be addresses the mediation of violence by calling into question the roles of witness and aggressor on the part of the spectator.

Cassils is an artist who uses the physical body as sculptural mass with which to rupture societal norms. Forging a series of powerfully trained bodies for different performative and formal purposes; it is with sweat, blood and sinew that they construct a visual critique and discourse around physical and gender ideologies and histories.
Oleg Kulik (Russia)
Dog House, 1996

4'10"

A short extract from documentation of Kulik's participation in Manifest 1's Interpol group exhibition in Fargfabriken, Stockholm in 1996. It was suggested that Kulik produce his Doghouse project within Interpol, an exhibition devoted to the problem of communication. The artist was invited as a sort of a ready-made to stay in a specially built house. The audience was warned that any communication with the artist who denounced the language of culture is dangerous and that no one should cross the borders of his territory. Following the logic of this action Kulik bit a Mr. Lindquist who had neglected the warning. Kulik was arrested by the Swedish police. This performance and the exhibition as a whole aroused scandalous response from the media. Interpol was called an event that divided the art world into East and West.

Oleg Kulik is a Moscow based performance artist, photographer and curator, most renowned for his performances as a dog, including Mad Dog, Reservoir Dog and I Bite America and America Bites Me.
Marina Abramović (Serbia/USA)
On 'Rhythm O' 1974, 2013

3'07"

A short film in which the artist talks about one of her most famous works, a six-hour performance at Galleria Studio Morra in Naples during which Abramović allowed herself to be used by the public in any way they chose, using 72 objects of pleasure and pain placed on a table, including a rose, perfume, honey, wine, scissors, a scalpel, nails, a metal bar, and a gun loaded with one bullet.

RHYTHM 0 Documentary, 2013. Directed and Edited by Milica Zec. Video courtesy of Marina Abramovic Institute

RHYTHM 0, 1974. Studio Morra, Naples. Ph: Donatelli Sbarra. Courtesy Marina Abramovic and Sean Kelly Gallery New York

Marina Abramović is one of the seminal artists of our time. Since the early 1970s she has pioneered the use of performance art as a visual art form. Exploring the physical and mental limits of her being, she has withstood pain, exhaustion, and danger in the quest for emotional and spiritual transformation.

http://www.mai-hudson.org
Wafaa Bilal (Iraq/USA)
On 'Shoot An Iraqi', 2007

2'21"

The artist discusses his provocative interactive performance in which, over the course of 30 days, members of the public were invited to fire a paintball gun at him over the internet. He was shot at 60,000 times.

The award-winning Iraqi-born artist Wafaa Bilal is known internationally for his on-line performative and interactive works provoking dialogue about international politics and internal dynamics. Bilal's work is constantly informed by the experience of fleeing his homeland and existing simultaneously in two worlds – his home in the "comfort zone" of the U.S. and his consciousness of the "conflict zone" in Iraq.

http://wafaabilal.com
ORLAN (France/USA)
Successful Operation, 1990

6'16"

A short film of the artist preparing for cosmetic surgery in which the operating theatre is turned into a different kind of theatrical space.

ORLAN is an artist working between Paris, Los Angeles and New York. She creates sculptures, photographs, performances, videos, videogames, and augmented reality, using scientific and medical techniques like surgery and biogenetic. Always mixed with humor, often-on parody or even grotesque, her provocative artworks can shock because she shakes up the pre-established codes.

http://www.orlan.eu
Ron Athey (USA)
Ron's Story, 2001

4'44"

A short film of early performances by Ron Athey on his experiences of addiction and self harm, created by Janez Janša of Aksioma, Slovenia, with original music by BAST.

Ron Athey is an iconic figure in contemporary art and performance. In his frequently bloody portrayals of life, death, crisis, and fortitude in the time of AIDS, Athey calls into question the limits of artistic practice. These limits enable Athey to explore key themes including gender, sexuality, radical sex, queer activism, postpunk and industrial culture, tattooing and body modification, ritual, and religion.
Rocio Boliver (Mexico)
Times Go By and I Can't Forget You: Between Menopause and Old Age, 2013

4'18"

Extract from documentation of a performance at Grace Exhibition Space, New York in which the artist parodies a catwalk show and critiques representations and expectations of the (ageing) female body.

Rocío Boliver's practice is a sharp and focused critique of the many repressive ideologies that burden the lives of women in Mexico. "In this pasteurized society, I prefer to cause disgust, hatred, rejection, confusion, weariness, anxiety, hostility, fear... to further promote mental asepsis."
Petr Pavlensky (Russia)
Radical Artist In Court – Ukraine Today News Item, 2015

1'57"

A Ukrainian TV news feature from November 2015 about Pavlensky's arrest and trial for a performance action in which he set fire to the wooden entrance doors of the Federal Security Service building (former KGB headquarters) on Lubyanka Square in Moscow to draw attention to the terror tactics employed by the Russian Security Services.

Petr Pavlensky is a Russian performance artist and political activist. His works include Seam (2012) in which he sewed his mouth shut in protest at the imprisonment of Pussy Riot, Carcass (2013) in which he was wrapped naked in barbed wire, and Fixation (2013) in which he nailed his scrotum to Red Square as "a metaphor for the apathy, political indifference and fatalism of modern Russian society". He was awarded the Václav Havel Prize for Creative Dissent in 2016.
Martin O'Brien (UK)
Taste of Flesh, 2015

2'59"

A durational performance in which O'Brien turned his attention to the theme of contagion extending to the fear of contamination associated with both the sick body, and our virtual online (projected) identity. In doing so, he highlighted recent acute public anxiety around the risk of infection and invasion, both IRL and online as he references the surge in depictions of the zombie in popular culture. The traditional sci-fi figure of contagion – the zombie - often reflects environmental, political, or societal concerns, all of which are referenced in this piece.

Commissioned by The Arts Catalyst for the European project – Trust me, I'm an Artist: towards an ethics of art/science collaboration.

Martin O'Brien's practice uses physical endurance, disgust and pain-based practices to explore the meaning of being born with a life threatening disease (cystic fibrosis) by confronting others' responses to illness.

http://www.martinobrienperformance.com
Franko B (UK/Italy)
Don't Leave Me This Way, 2009

5'03"

Don't Leave Me This Way marked a shift in Franko B's performance practice, formalising his departure from blood-based work. Here he allows the viewer time to look at his naked body and approach it as a sculptural form; heavily tattooed and scarred, voluptuous in shape and size. Franko B's performances have always left metaphorical marks on the psyches of vulnerable spectators, moving empathetic viewers with the visceral charge of the prone body. If the ways in which he could exact this effect through bleeding were exhausted, then Don't Leave Me This Way continued the scene of wounding in the realm of the metaphorical, inscribing his form in painful vision.

Franko B makes drawings, installations, sculpture and performance as well as working in many other mediums and disciplines. He lives and works in London. He is Professor of Sculpture at Professor of Sculpture at l'Accademia di Belle Arti di Macerata.
Marcel.li Antunez Roca (Spain)
Epizoo, 1994

8'29"

Epizoo is a real life videogame in which the spectator controls Marcel.li's body by means of a mechatronic system involving a computer, a mouse, a robotic exoskeleton and a set of pneumatic mechanisms. The pneumatic devices move the artist's nose, buttocks, pectorals, mouth and ears while he remains upright on a rotating circular platform, taking whatever pain is inflicted upon him. Epizoo was one of the first artistic applications of computer technology to the human body. The work caused a sensation in the 1990s as it reflected what can happen when people are given permission to control another's body and the ironic, and even cruel, paradox rising from the coexistence between virtual digital iniquity and the performer's physical vulnerability.

Marcel.li Antunez Roca is widely known as a founder of La Fura dels Baus and for his mechanotronic performances and robotic installations. Since the 1980s Antúnez's work has been based on a continuous observation of how human desires are expressed and in what specific situations they appear. In 2014, the exhibition and publication Systematurgy. Actions, Devices and Drawings focused on his Dramaturgy based on computational systems.
Regina José Galindo (Guatamala)
Lucha, 2002

3'37"

A performance in which Galindo wrestles a female professional wrestler.

Regina José Galindo is a Guatemalan performance artist known for the political themes of her work. In her work Who Can Erase the Traces (2003) she walked from the Congress of Guatemala building to the National Palace, dipping her bare feet at intervals in a white basin full of human blood as a protest against the presidential candidacy of Guatemala's former dictator José Efraín Ríos Montt. She received the Golden Lion award for artists under 30 at the Venice Biennale in 2005 for her video Himenoplastia which depicted the surgical reconstruction of her hymen.
Ernst Fischer and Nicola Hunter (UK/Germany)
Passion/Flower, 2012

4'02"

A man and a woman, sitting on suitcases, are engaged in an act of ritual self-flagellation, which is periodically interrupted and thus never reaches the level of passionate intensity it is meant to induce. After some time, first one, then the other, cover their body, pack up their belongings and leave, the secret flower of their failure burning on their skin.

Videographer: Manuel Vason. Editor: Michelle Outram.

Over the last 10 years Nicola Hunter has been developing a feminist practice which is rooted in action based performance and spans live work, documentations of its products and traces and the re-presentation of these in other forms. With performance at its core, she investigates themes around abjection and ritual with a focus on interpreting or creating experiences in her own body.

http://www.nicolahunter.com

Ernst Fischer was born in Germany and moved to the UK in 1979. Between 1986 and 1997 he staged performances in his home in South London, which was renamed Brixton heArt Room. He is particularly concerned with issues of belonging, domesticity and homeliness, and his work seeks to explore how we occupy as well as 'uncannily' disrupt a variety of spaces – from our own bodies to social conventions and political/ideological systems.

http://www.ernstfischer.com
Kira O'Reilly (UK/Ireland)
Wet Cup, 2000

2'29"

A performance which draws on the ancient medical technique of wet cupping for the treatment of hysterical women. Heated glass 'cups' are placed over small cuts on O'Reilly's body, and as they cool they create a vacuum which slowly extracts the artist's blood.

"From my perspective my art works have ever been about pain, but I remember at a talk years ago Susan Hiller commenting that the artist's intention and ideas are only one of the many possibilities of understanding any artwork, a view which I find very inspiring. Later, when looking at art works by and reading about Gina Pane I realised that really the art and meaning of the work occurs somewhere between the art work and the viewer. The works I have made that have involved explicit interventions into my body via openings and bleedings were a series of enquires, the doing of each one opening up a new question that could only be responded to in the act of another performance i.e. a live and actual doing with an audience/viewer/witness. These were questions specific to the era these works were being made and were concerned with themes like but not exclusively; how do we view and watch bodies – in particular female ones? What are the dynamics of power that are active when we watch and what happens when ones body-as-image's interior is revealed? Then, where does a subject end and begin? Does one's subjectivity end at the skin? What is it when one's bodily substance i.e. blood is spilt, is it still oneself? How might we understand the materiality of The Body and ones own intimate and acutely specific and personal body? How might one consider it sculpturally with its intrinsic qualities of mutability and its biological and physiological functions? To attribute meanings of pain to these art works seemed to me to be to problematic, to remove their joy, expansion and jouisssance, their curiosity and generative potentials, their erotic possibilities and dynamic ambivalence; and instead to collapse them into narrow parameters of easy diagnosis. And of course the works were not painful, at least not for me." Kira O'Reilly, Helsinki, October 2016

Kira O'Reilly's practice, both wilfully interdisciplinary and entirely undisciplined, stems from a visual art background; it employs performance, biotechnical practices and writing with which to consider speculative reconfigurations around The Body. Recent works have seen her practice develop across several contexts from art, science and technology to performance, Live Art, combat sports and martial arts, and movement work.

http://www.kiraoreilly.com
jamie lewis hadley (UK)
this rose made of leather, 2012

9'10"

Competing against and subverting the use of a stack of ceramic tiles - exactly his height - lewis hadley explores the politics of blood and masculinity through strategies of repetition and a display of physical endurance. The performance also aims to highlight the functionality of the body, with each tile documenting the body's ability to heal.

jamie lewis hadley utilises his career as a former professional wrestler as a departure point to create performances, actions and installations that explore, both aesthetically and thematically, issues of deterioration, endurance, pain and violence. His recent research and creative output is concerned with performing medicine and the history of bloodletting as a medical practice. He values blood as a communicative tool and attempts to use it to create images that are affective, challenging and beautiful.

Video by SPILL TV.
2014 OPEN ACCESS LIBRARY + SCREENING
At the VENICE INTERNATIONAL PERFORMANCE ART WEEK 2014, LADA presents the Study Room in Venice, the core resource of the Live Art Development Agency and a free, open access research facility used by artists, students, curators, academics and other arts professionals. Further a talk by co-founder and the Director Lois Keidan, and Politics of the Body - A screening of documentation and performance to camera curated by the Live Art Development Agency, including the following works:
THE EXTREME BODY
Ron Athey, Solar Anus (1998)

Kira O'Reilly, Wet Cup (2000)

Franko B, I Miss You (2003)

Rocio Boliver, Performances

jamie lewis hadley, This Rose Made of Leather (2012)
THE RACIALIZED BODY
La Pocha Nostra, Ex Centris: A Living Diorama of Fetish-ized Others (2003)

Harminder Judge, Live Sermon

Stacy Makishi, You Are Here, But Where Am I? (2006)

Rajni Shah, Dinner With America (2009);

Harold Offeh, Selected Video Works (2001-2009)

Oreet Ashery, Marcus Fisher's Wake (2000)

Pacitti Company, Finale (2009)

George Chakravarthy, Selected Works

Nando Messias, Walking Failure (2008)
THE GENDERED BODY
Bobby Baker, Spitting Mad (1997)

La Ribot, Panoramix (1993-2003)

The Famous Lauren Barri Holstein, How 2 Become 1 (2011)

Anne Bean, Extracts from 8 projects (2001-2007)
THE RITUAL BODY
Jordan McKenzie, Interior Die (2003)

LABOUR, The Lab (2012)

Shaun Caton, A Glimpse Inside The Grotto (2014)

Eloise Fornieles, Sacrificial Dance (2008)

Aaron Williamson, Lives of the Saints (2002)

Noemi Lakmaier, Undress/Redress (2011)

Martin O'Brien, Mucus Factory (2013)

Disabled Avant Garde, Institutional Classics (2009-2015)

the vacuum cleaner, A Load Of Rubbish

Monica Ross, Acts of Memory (2008)

Richard DeDomenici, Cable-Tie (2007)

Leibniz, Book of Blood: Human Writes (2014)
THE PUBLIC BODY
Mad For Real, Soya Sauce and Ketchup Fight (2004)

Aine Phillips, Red Weight (2005)

Blast Theory, Can You See Me Now (2002)

Joshua Sofaer, What is Live Art? (2002)