FUNDACION ALUMNOS47
Fundación Alumnos47 is a non profit organization that stimulates the creation and exchange of knowledge in order to explore current issues through contemporary art. Its programs are held both in its cultural space as well as in a mobile device that goes around Mexico City. The cultural offer of the Foundation is developed by its education, curatorial, editorial and sponsorship programs all based on research processes. Its venue, located in the San Miguel Chapultepec neighbourhood, is a Resource Centre for Research and Learning (CRAI in Spanish) that houses a library and archive specialized in contemporary art and artists' books. Fundación Alumnos47 welcomes everyone!
For the VENICE INTERNATIONAL PERFORMANCE ART WEEK 2014, Fundación Alumnos47 talks on its mission, creative processes and commitment to exploring relationships and knowledge through contemporary art. The Foundation presents the documentary and book of its first curatorial project in 2012: Proyecto Líquido. Miedo.

I

magine

, by artist

Pedro Reyes, a piece commissioned by the foundation for Proyecto Líquido, is on exhibit. Since it is a series of instruments

created from firearms, a concert with the musicians who designed the pieces and other experimental musicians in Venice is the final closure of the ART WEEK 2014.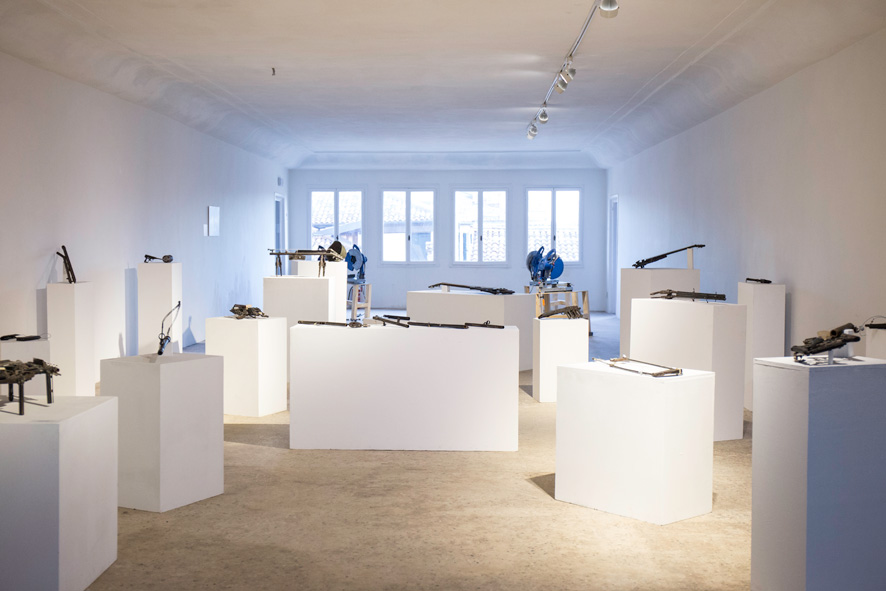 Pedro Reyes, Imagine. Exhibition view at the
Venice International Performance Art Week (2014). Photograph by Samanta Cinquini.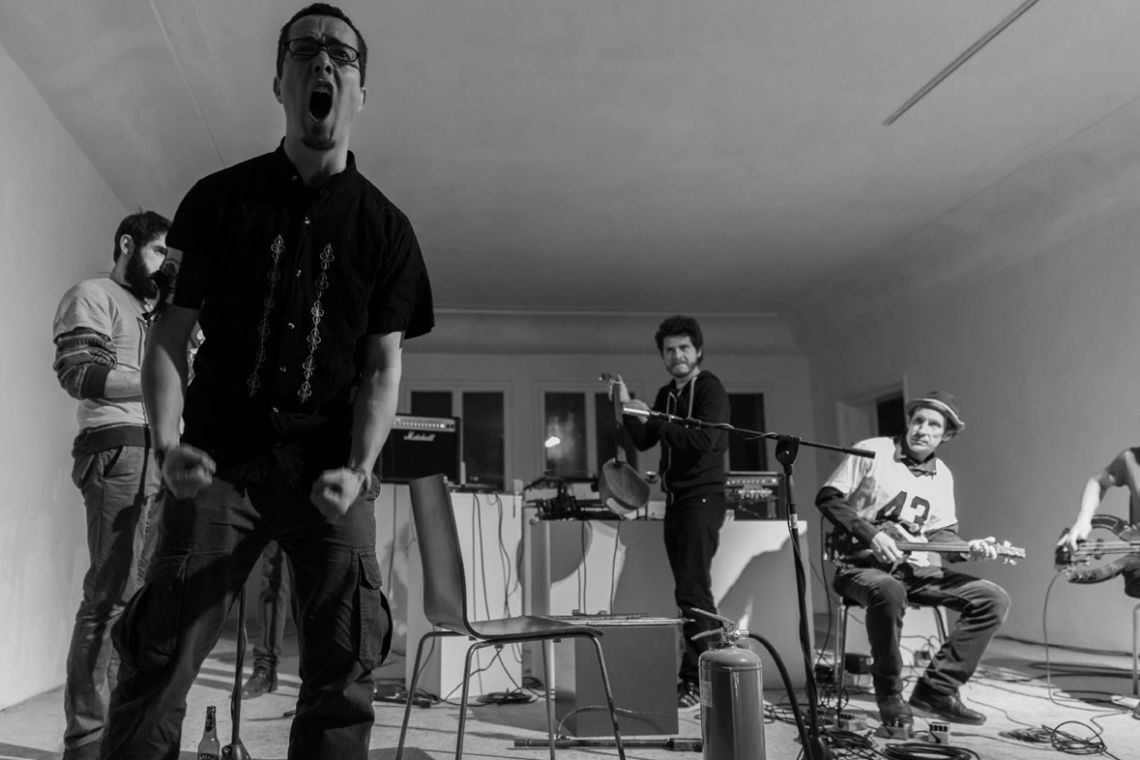 Pedro Reyes, Imagine - Concert.
Venice International Performance Art Week (2014). Photograph by Monika Sobczak.
Enrique Jezik

, an artist who has worked closely with Alumnos47, presents the live performance and installation Círculos Concéntricos [Concentric Circles], curated by Jessica Berlanga Taylor, curator for the Foundation.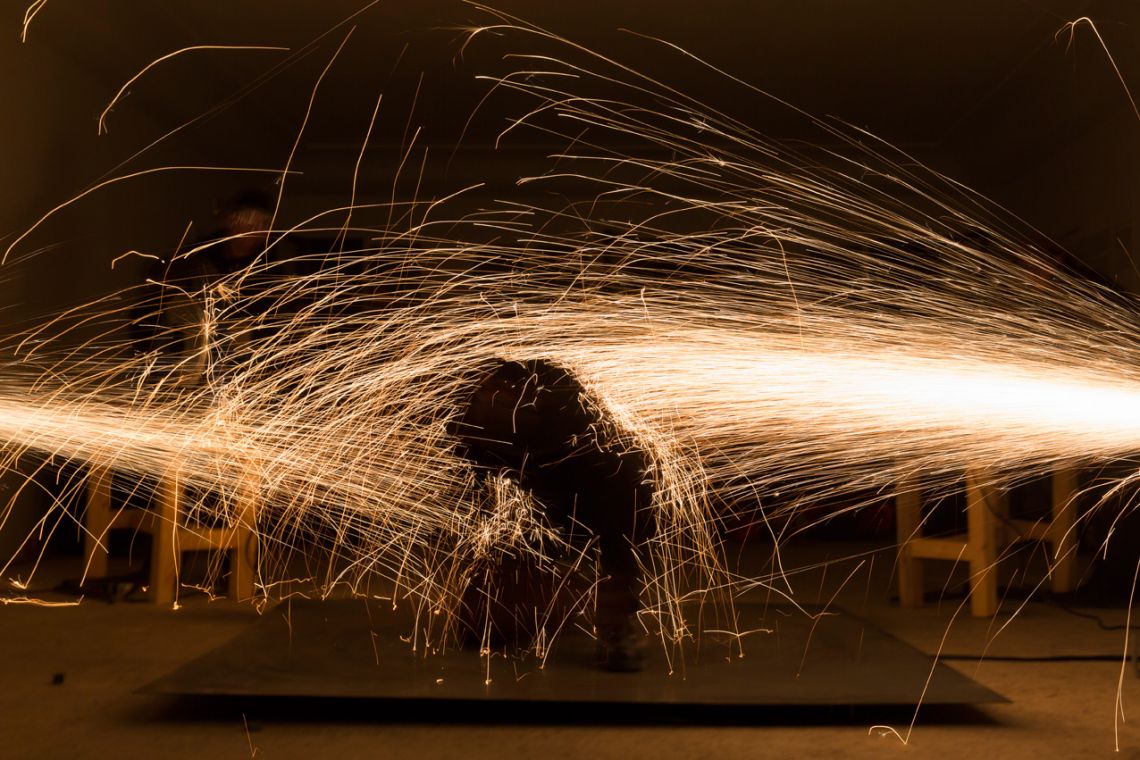 Enrique Ježik,
Círculos Concéntricos [Concentric Circles]
.
Venice International Performance Art Week (2014). Photograph by Monika Sobczak.
Returning to the ART WEEK in 2016 Fundación Alumnos47 presents, curated by Jessica Berlanga-Taylor, a live performance by the Mexican artists Noé Martínez and María Sosa. Four proposals to feel-think

is a

performance that focuses on the human body and four orientations or themes that the artists have identified as historically, politically and spiritually vital, both to the history of Mexico and the moment of impact or collision between its indigenous cultures and the Spanish, and the consequences of this in our present day. Human rights, slavery and exploitation in Mexico, loss of language and identity, ritual, memory and substance are some of the issues the two young artists touch upon. The objects, used to create diverse read outs, moving sculptures, plays with words and translation, body gestures and movements reminiscent of ancient clay and pottery pieces are being produced in Mexico City in their studio (cloth, a clay piece and a print on paper). Fiercely poetic, María Sosa and Noé Martinez's work tells the other side of many stories, and highlights the misunderstandings created by colonialism.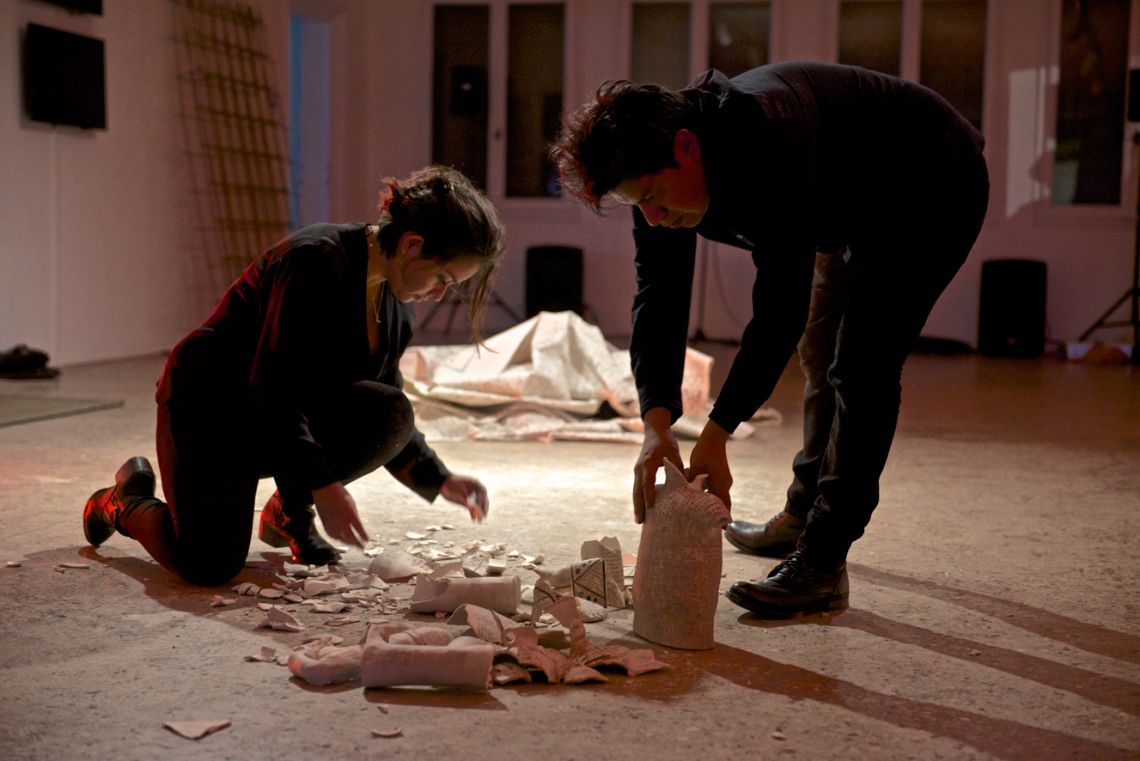 Noé Martínez & María Sosa, Four Proposals To Feel-Think. Performance at the III Venice International Performance Art Week 2016. Image © Edward Smith
Through this participation, Fundación Alumnos47 hopes to be able to share some of its projects, expand its network of collaborators and exchange deeply felt experiences with everyone attending the ART WEEK.
www.alumnos47.org